Image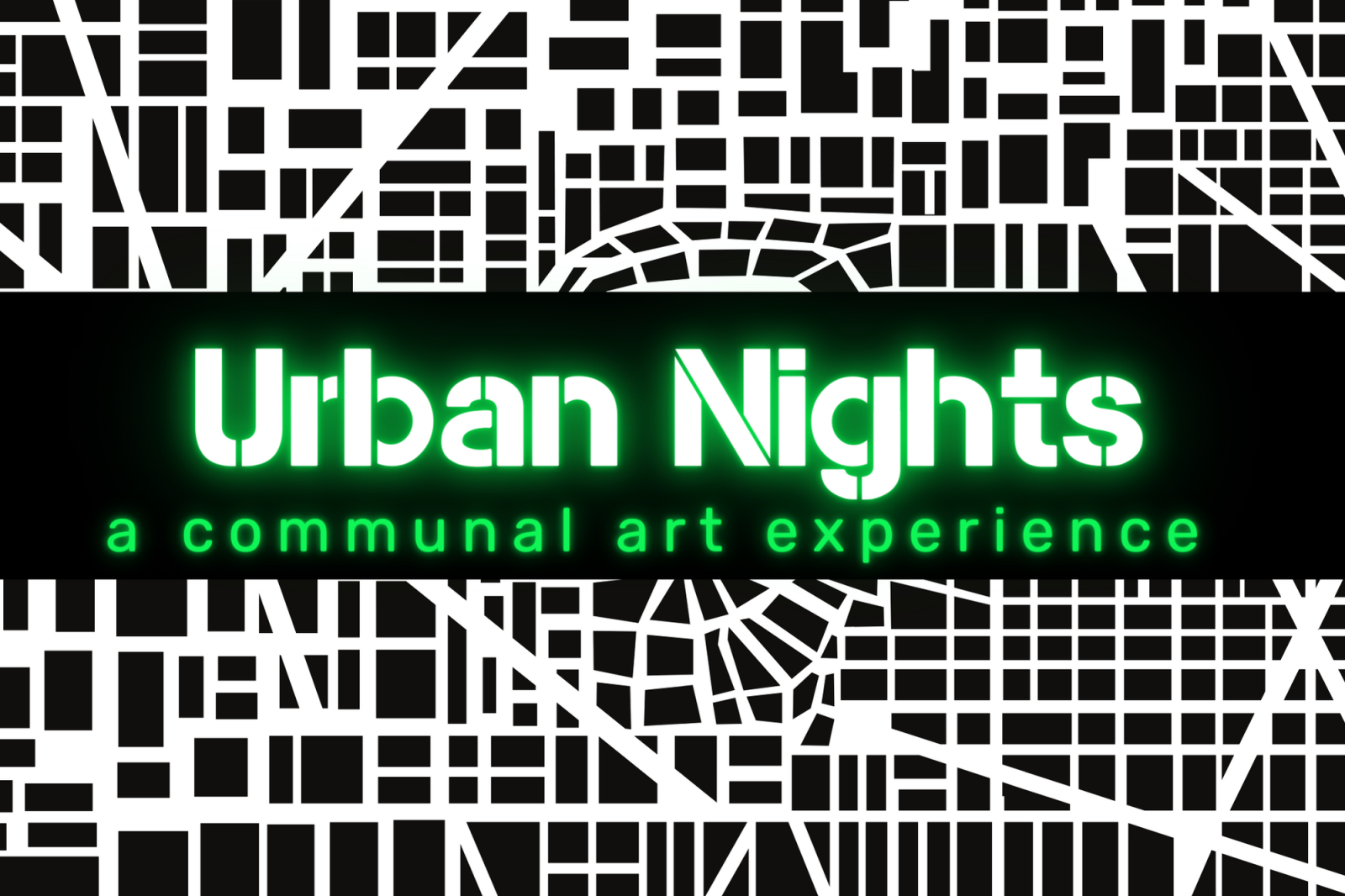 Urban Nights
A Communal Art Experience
Saturday, November 05, 2022 | 6:00pm-10:00pm
Moody Center for the Arts
Enjoy an evening journey through this multi-site, outdoor presentation of food, dance, music, spoken word, and art installations. Organized in conjunction with the exhibition, Urban Impressions: Experiencing the Global Contemporary Metropolis, this free and open event celebrates urban life as experienced through the visual, performing, and culinary arts.
Headlined by Houston's own Lil' Flip, featuring a food truck rally, complimentary beer tasting of Japa, an art beer by Nigerian artist Emeka Ogboh, a video installation by Sindhu Thirumalaisamy, and site-specific performances by the Texas Poet Laureate Lupe Mendez, jazz musician Jalen Baker, and hip hop collective Breakfree Worldwide, this event spotlights the diversity, inclusiveness, and international creative exchange that defines Houston.
The Schedule
Transit Fare: Beer tasting and food truck rally
6 - 7 pm Astral Brewing Japa Beer Tasting
6 -10 pm International Food Truck Rally
The evening starts at 6 p.m. with a beer tasting, hosted by Astral Brewery, where guests will experience the craft stout, "Japa." Commissioned by the Moody and conceived by Nigerian artist Emeka Ogboh, the beer reflects the influence of the fast-growing Nigerian community in Houston through its bold flavors. The custom beer can be paired with any of the many dishes available from the food truck favorites on-site. JQ's Tex Mex BBQ, Salem, and Lemond Kitchen are some of the food offerings that will be available which exemplify the diversity of Houston's vast culinary community.  The free beer tasting ends at 7, but drinks and food for purchase will be available through 10 p.m.
Scenic Routes: Dance, jazz, and spoken word art walk
6:30 – 8:30 p.m.
Beginning at 6:30 p.m., guests can join a progressive, multi-site art walk to three activated locations on Rice's campus that will feature performances and visual art. These successive events include a BreakFree dance performance led by Moy Rivas; a jazz concert by Jalen Baker; and a spoken word performance by Texas Poet Laureate Lupe Mendez. The outdoor sculpture, installations, and murals of artists Beverly Pepper, Rana Begum, Royal Sumikat, Hedwige Jacobs, and Robert Hodge will provide the vivid backdrop for these engaging performances. Guests will return to the Moody for the 9 p.m. performance by Lil' Flip.
Detours: Open exploration of art & activations on view at the Moody 
6 – 8:30 p.m.
Throughout the evening guests can explore the Moody building on their own, taking time to walk through galleries and open spaces. The international showcase of artwork in Urban Impressions will be on view in the main galleries and media galleries; the video installation by Sindhu Thirumalaisamy, Objects in The Mirror: Notes for a Houston Road Movie, will be projected onto the north arcade of the building; and the community mural by poet Deb Mouton will be on view in our flex space. Guests can take in these installations at their leisure, in between enjoying food, drink, and dominos on the terrace, with a local DJ spinning throughout the night.
Final Stop: Lil' Flip
9 – 10 p.m.
At 9 p.m. the terrace of the Moody Center for the Arts will be transformed into a music venue for the legendary rap artist Lil' Flip. Wesley Eric Weston, Jr., better known by his stage name, is not only an original member of the genre-creating Screwed Up Click, but he also counts two platinum records to his award-winning career. Lil' Flip's longstanding influence on hip hop highlights the energy, creativity, and talent of Houston.
The Performers
Jalen Baker
Jalen Baker, an HSPVA alumnus, is an awarded vibraphonist, percussionist, educator, and composer.
 
Lupe Mendez
Originally from Galveston, TX, Lupe Mendez is the 2022 Texas Poet Laureate and winner of the 2019 John A. Robertson Award for Best First Book of Poetry from the Texas Institute of Letters.
 
Break Free Worldwide
Break Free Worldwide, founded by  Moises "B-boy Moy" Rivas, is a Hip Hop education corporation focusing on Hip Hop career development and competition performance.
 
Lil' Flip
Wesley Eric Weston, Jr., better known by his stage name, Lil' Flip is a Houston born rapper, rising to fame as a freestyler before landing a record deal with Suckafree Records in 1999. Not only is Lil' Flip an original member of the genre-creating Screwed Up Click, he counts two platinum records to his award-winning career.