Image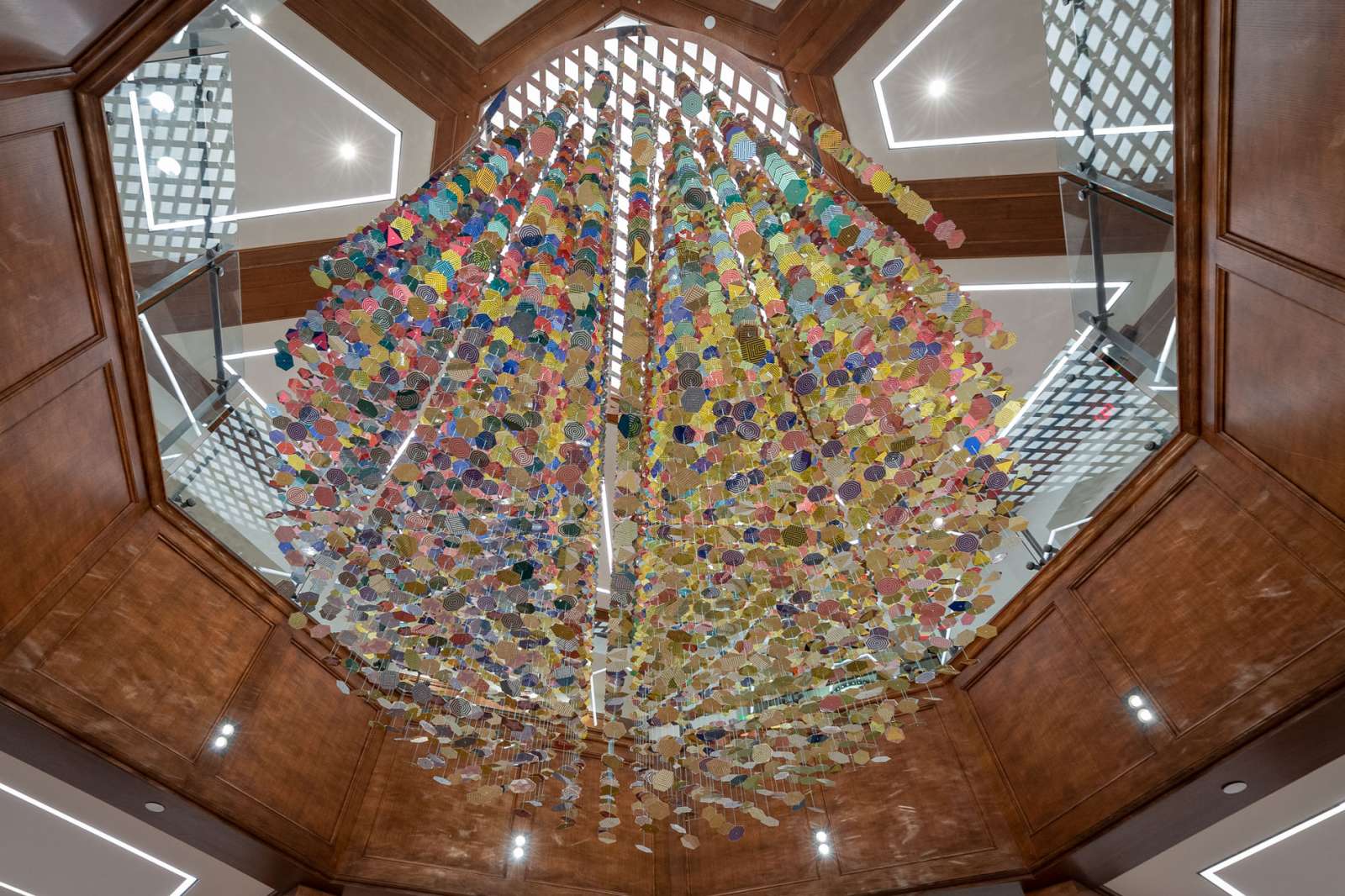 Image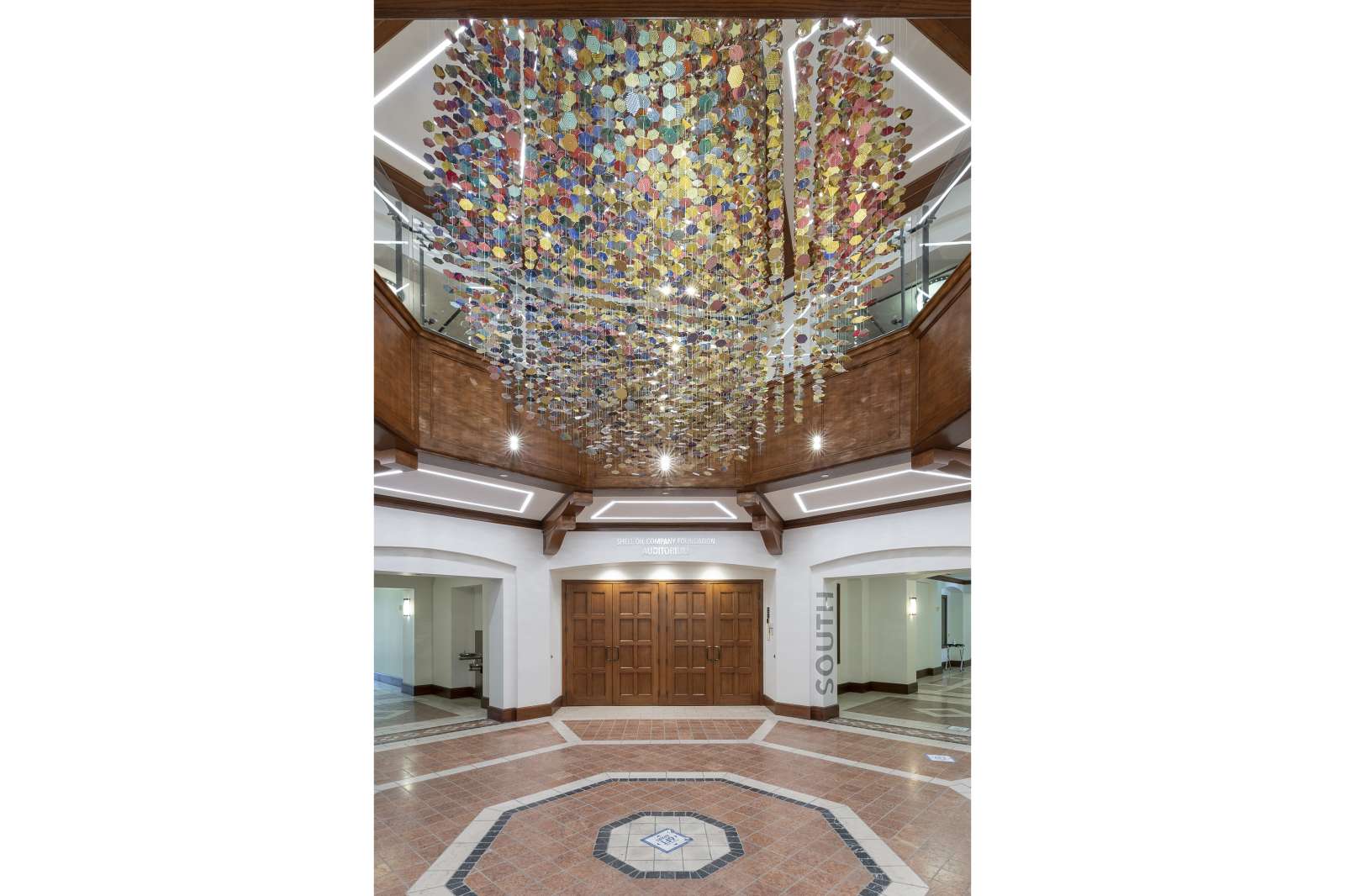 Image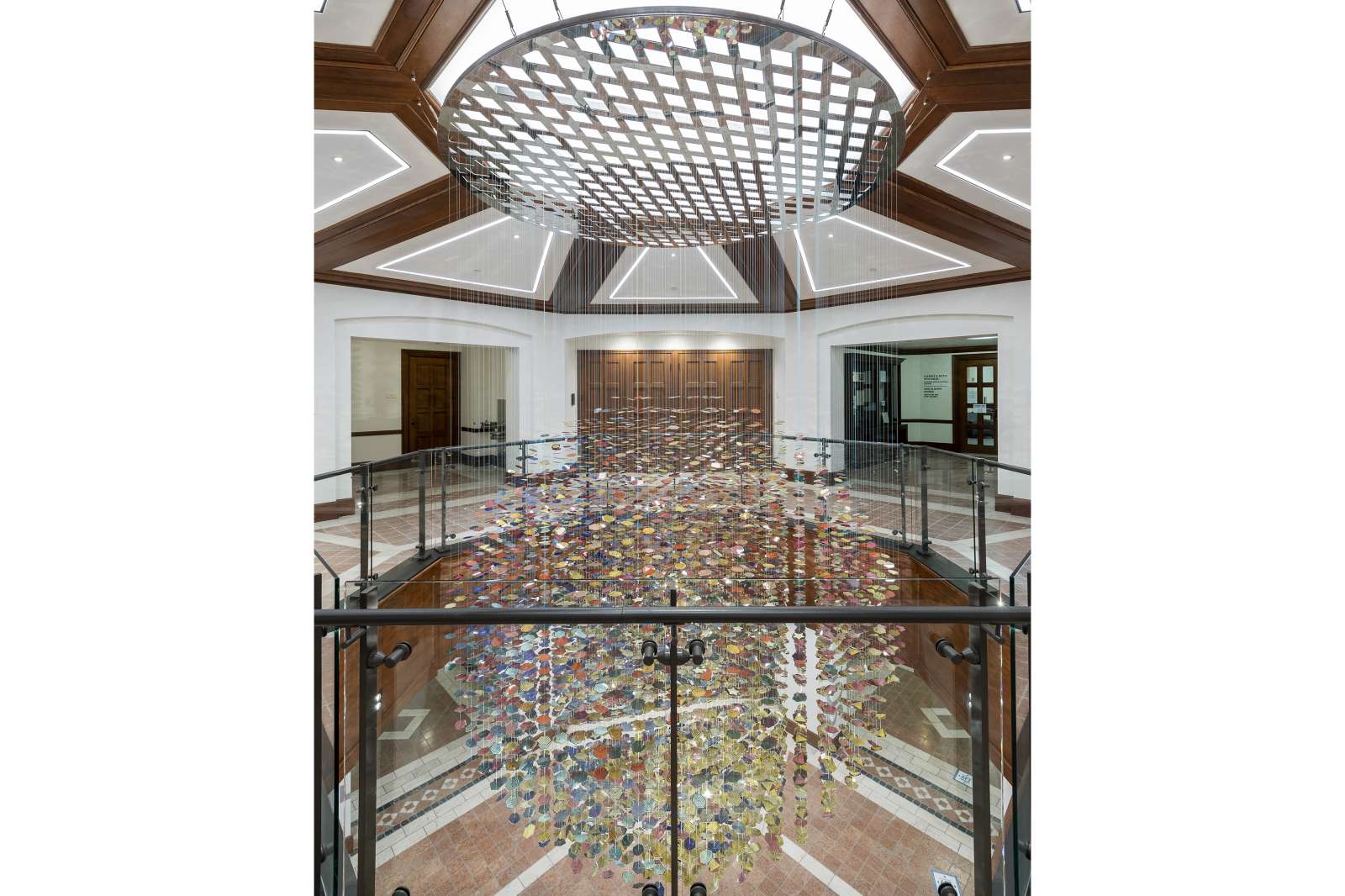 Pae White
Triple Virgo, 2021
Ink on polished and electroplated stainless steel elements, cable
Jones Graduate School of Business, McNair Hall
Made possible by the Jones Graduate School of Business
Pae White's practice often explores the spaces between ordinary objects, subverting expected relationships and inviting viewers to reconsider established perceptions. Through installations that are both playful and poetic, her work explores the intersection between everyday materials and universal ideas through diverse media including aluminum, ceramic, clay, glass, marble, paper, porcelain, thread and neon.
Triple Virgo is a site-specific installation created for the rotunda of McNair Hall, home of the Jones Graduate School of Business. Responding to the existing architecture, ambient light, and the relationship between the elements and the viewer, colorful disks suspended from the ceiling form a dynamic, ever-changing sphere. Echoing the international background and global outlook of the students, faculty, and staff of Rice University's Jones School of Business, the suspended sculpture invokes the broader world, ideas of the future, and the scale of thought that can inspire positive change.
According to the artist, "My hope is that the artwork will reference a globe in flux, a globe where nothing is solidified or congealed, a colorful, shifting sphere of excitement, intrigue and agility. Surprise blushes of color and unexpected pattern groupings that change depending upon one's viewing position reference a world of rewarding mysteries and surprises; a world worth exploring."
About the Artist: Pae White (b. 1963, Pasadena, CA) received an MFA from the Art Center College of Design in Pasadena and a BA from Scripps College in Claremont, California, and has studied at the Skowhegan School in Maine. She has been featured in numerous solo museum exhibitions around the world and has presented major projects at the Whitney Biennial (2010), the Venice Biennale (2009), and Skulptur Projekte Münster (2007), among other venues. Her work is included in the permanent collections of international institutions including the Art Institute of Chicago; the Los Angeles County Museum of Art, Los Angeles; the Museum of Contemporary Art, Los Angeles, the Hammer Museum, Los Angeles; the Museum of Modern Art, New York; the Jumex Collection, Mexico City; the Stedlijk Museum, Amsterdam; and the Tate Modern, London, among many others. White lives and works in Los Angeles.