Image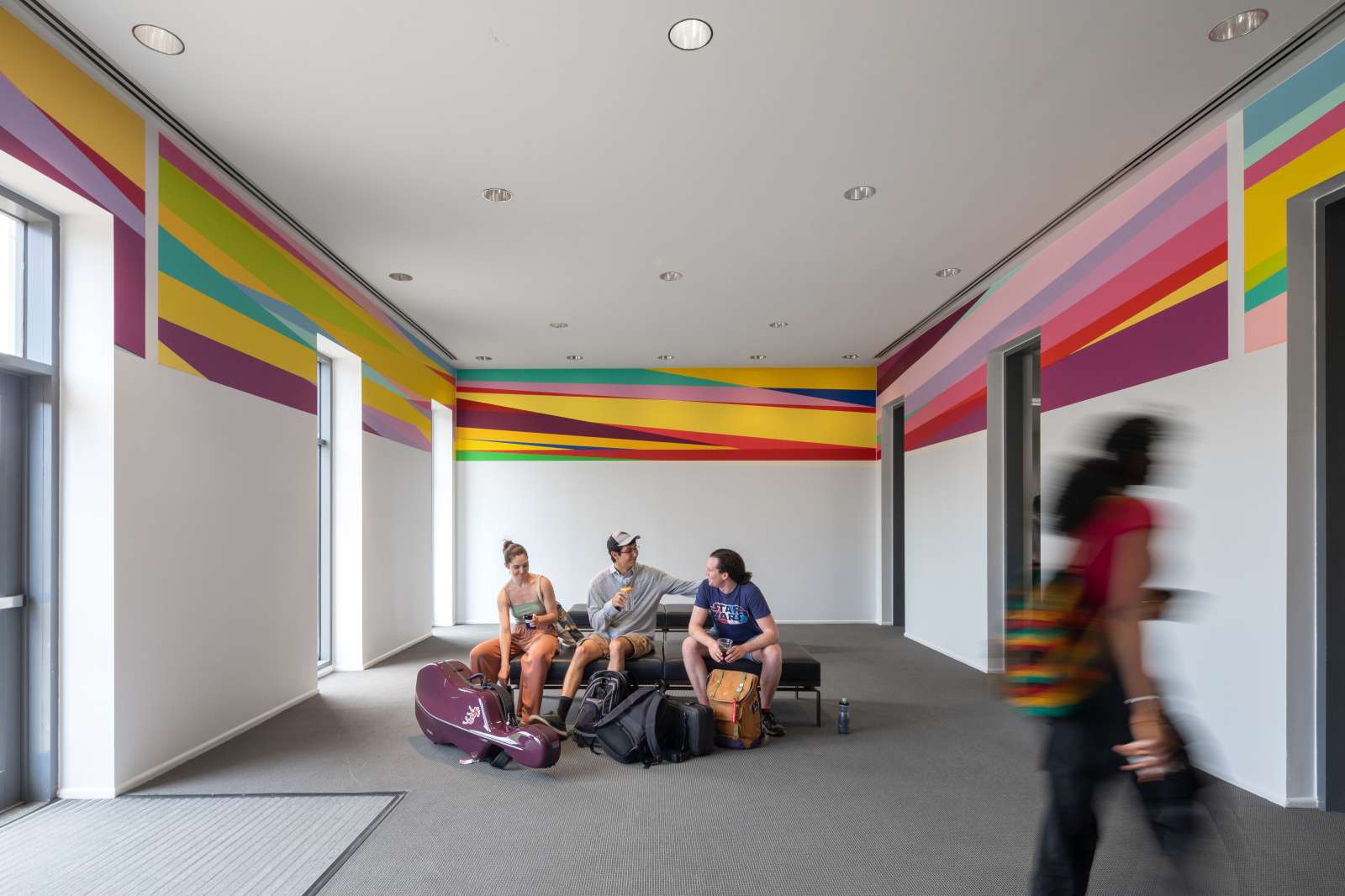 Image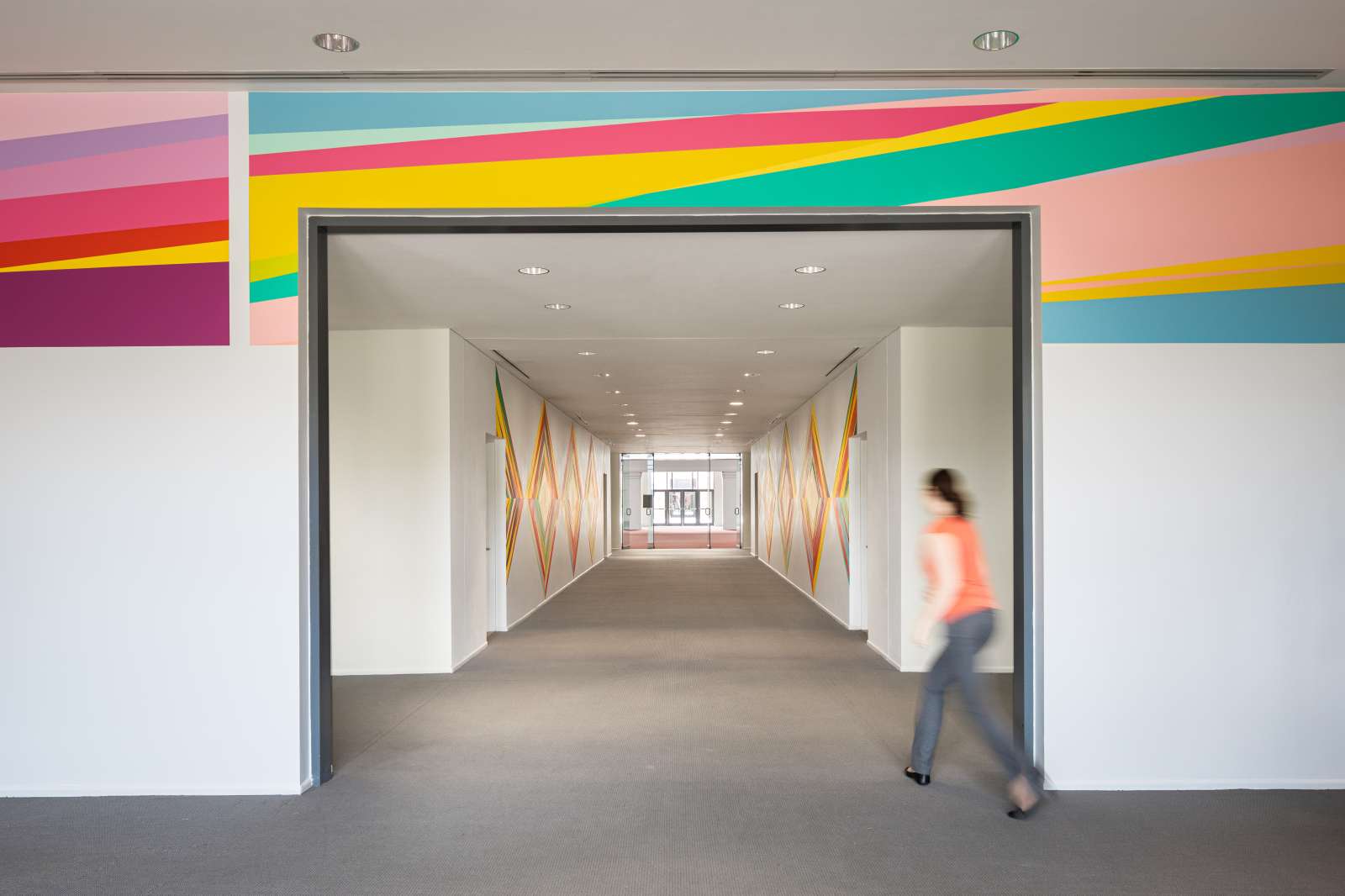 Image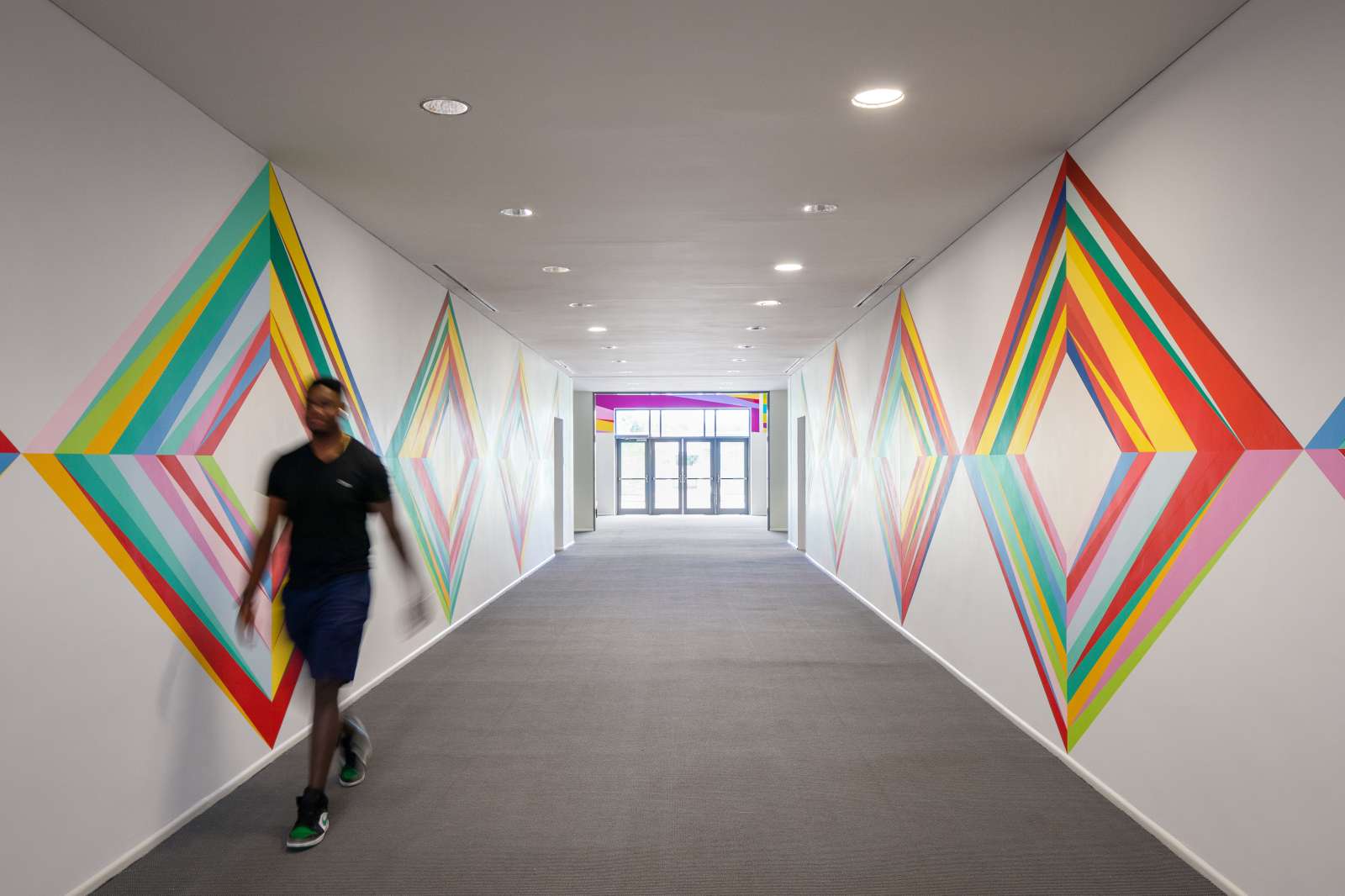 Image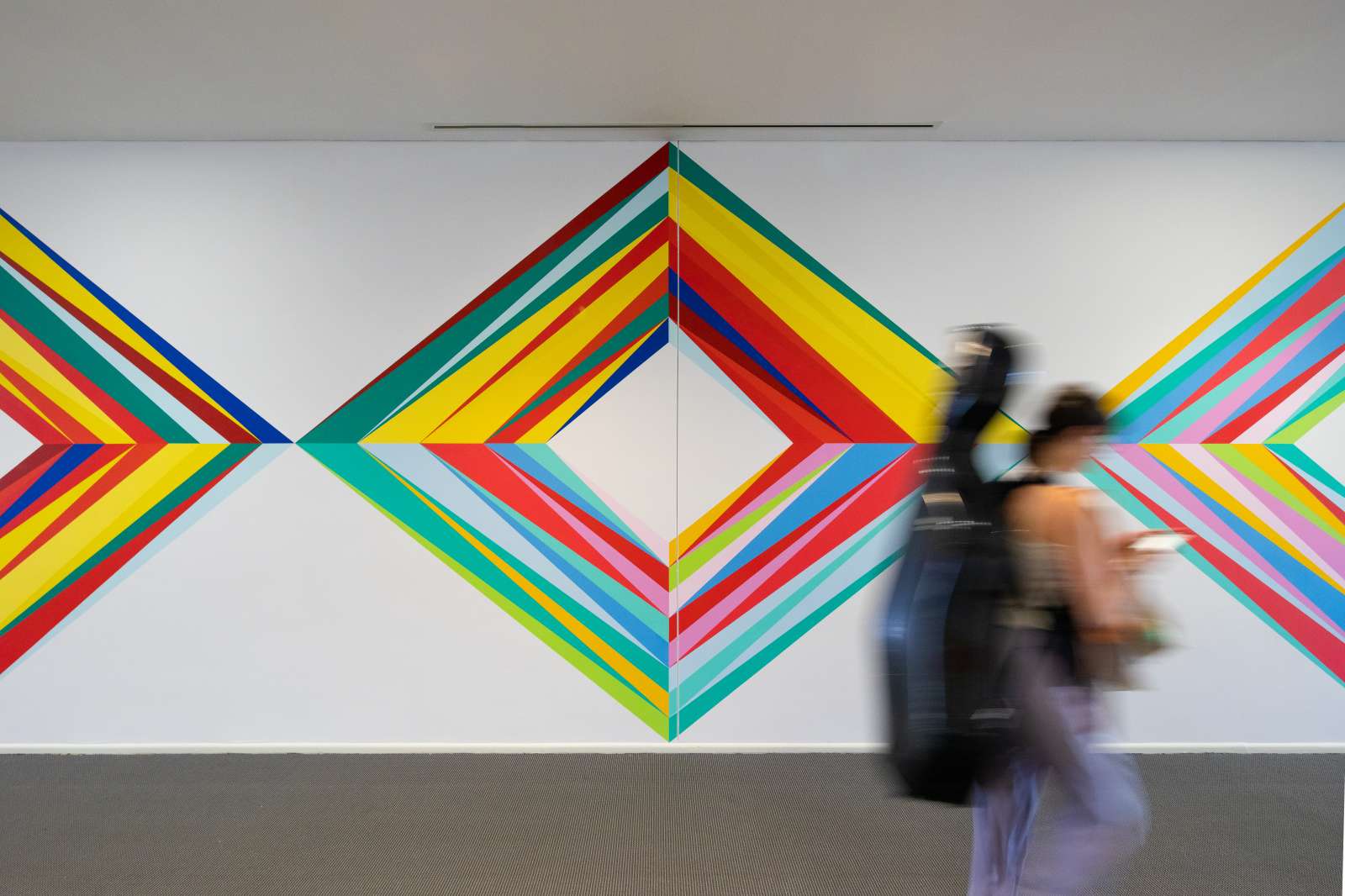 Image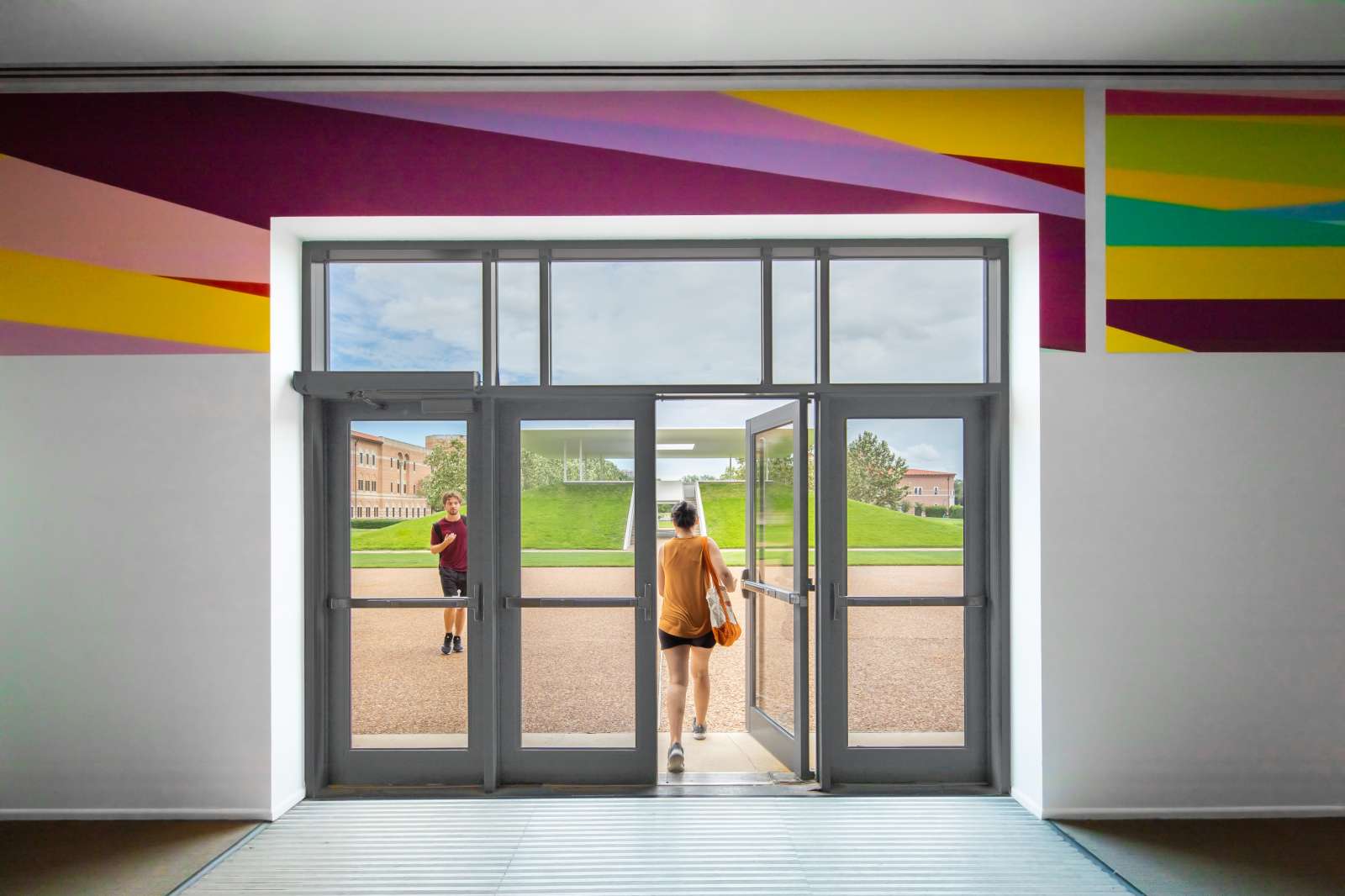 Odili Donald Odita
Meeting Place / Painting with Changing Parts, 2022
Acrylic latex wall paint on wall
Alice Pratt Brown Hall
Commissioned by the Moody Center for the Arts, Rice University
Made possible by H. Russell Pitman. Major support provided by the Booth Art Preservation Fund, Susan and Raymond Brochstein, and Ellen Susman. Additional support provided by Susanne and William Pritchard and Leslie and Brad Bucher.
Combining aspects of Western abstract painting with elements of traditional African cultures, Odili Donald Odita's compositions speak to the ways in which color, form, and scale can convey complex cultural heritages of the United States. Rooted in civic engagement, Odita's large-scale installations heighten our awareness of physical space to illuminate our relationship to the broader world.
This site-specific wall painting activates the lounge and central hallway of the Shepherd School of Music with its vibrant colors and geometric forms. Created for Alice Pratt Brown Hall, the work responds to architecture on campus, as well as the building's focus on music. The title Meeting Place / Painting with Changing Parts references the Turrell Skyspace and its origins in Quaker meeting houses, as well as the 1971 album by American composer Philip Glass, Music with Changing Parts. Here, experimentation and innovation within structured and often repeating forms, reminiscent of  Glass, combine with large-scale fields of color to create a space for gathering, conversation, and inspiration.
About the Artist: Odili Donald Odita (b. 1966, Enugu, Nigeria) earned his BA with distinction from Ohio State University, OH, in 1988 and his MA in Fine Arts from Bennington College, VT, in 1990. He has been the subject of solo exhibitions and site-specific commissions at various institutions including the Philadelphia Museum of Art (2021); the Virginia Museum of Fine Arts, Richmond (2020); the Institute of Contemporary Art, Miami (2019); the Nasher Museum of Art at Duke University, Durham (2015); and the Contemporary Arts Museum Houston (2010), among others. Odita's work is held in the permanent collections of numerous museums, including the Baltimore Museum of Art; the Pérez Art Museum, Miami; the Philadelphia Museum of Art; the San Francisco Museum of Modern Art; and The Studio Museum in Harlem, New York. Odita lives and works in Philadelphia where he is a Professor of Painting at Tyler School of Art, Temple University