Image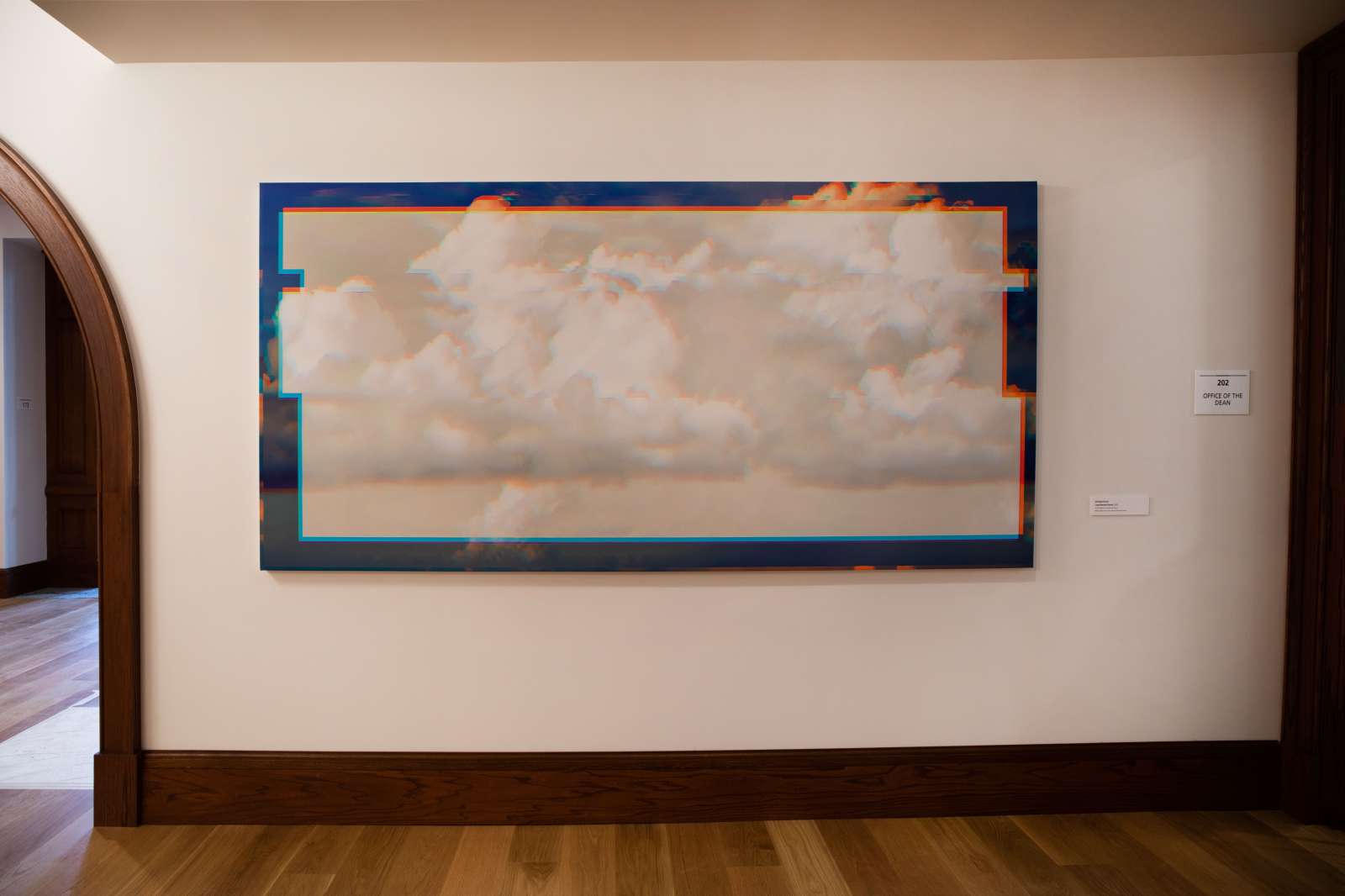 Christian Eckart
Long Clouds Glitched, 2022
Archival digital print on canvas
Jones Graduate School of Business, McNair Hall, second floor
Made possible by the Jones Graduate School of Business
Using traditional media together with highly-refined industrial materials such as formica, automotive lacquer, aluminum, and steel, Christian Eckart creates precisely-executed objects, remarkable for their immaculate surfaces and dynamic spatial engagement. He investigates concepts and material processes throughout histories of Western art, from Italian Trecento painting to North American Minimalism, while interrogating the boundaries of pictorial space.
In Long Clouds Glitched Eckart reflects on global warming. According to Eckart: "Most of my recent work has been generated in relation to the climate crisis. In particular, my interest has been with a kind of re-framing of the Western Enlightenment sublime in the context of the unprecedented challenge (and opportunity) presented by this emergent reality . . . As these are digitally produced works, the underlying metaphor has generally been that of the damaged or corrupted file."
Eckart created Long Clouds Glitched using stock imagery from the Internet that he digitally manipulated and printed on canvas. The monumental work, both painterly and photographic, raises questions about authorship while blurring distinctions between media. Reflecting his interest in the interaction of natural, cultural, and virtual elements, the artist distorted the image of nebulous clouds by introducing linear irregularities, an effect known as "screen tearing" in video displays. As the title of the work indicates, Eckart embraces this technological glitch, inviting the viewer to consider the process and meaning of image-making, while reflecting on the precarious beauty of the natural world.
About the artist: After completing his BFA in sculpture at Alberta College of Art and Design in 1984, Christian Eckart (b. 1959, Calgary, Alberta, Canada) moved to New York, where he received his MFA from Hunter College in 1986. In the 1990s, Eckart spent time in Europe, living in Berlin, Germany, and Amsterdam, the Netherlands. Since 2003, the artist has been based in Houston. His work has been included in various solo and group exhibitions internationally and can be found in numerous collections, including the Museum of Modern Art, New York; Solomon R. Guggenheim Museum, New York; Museum of Fine Arts, Houston; Art Institute of Chicago; Museum Moderner Kunst, Vienna, Austria; Musée d'Art Contemporain, Grenoble, France; and National Gallery of Canada, Ottawa. Eckart has taught at the School of Visual Art, New York; the Glassell School of Art, Museum of Fine Arts, Houston; University of Houston; and Rice University. In 2015, the artist realized a major site-specific dichroic glass installation, Cloud Room Field, at William P. Hobby Airport, Houston.