Image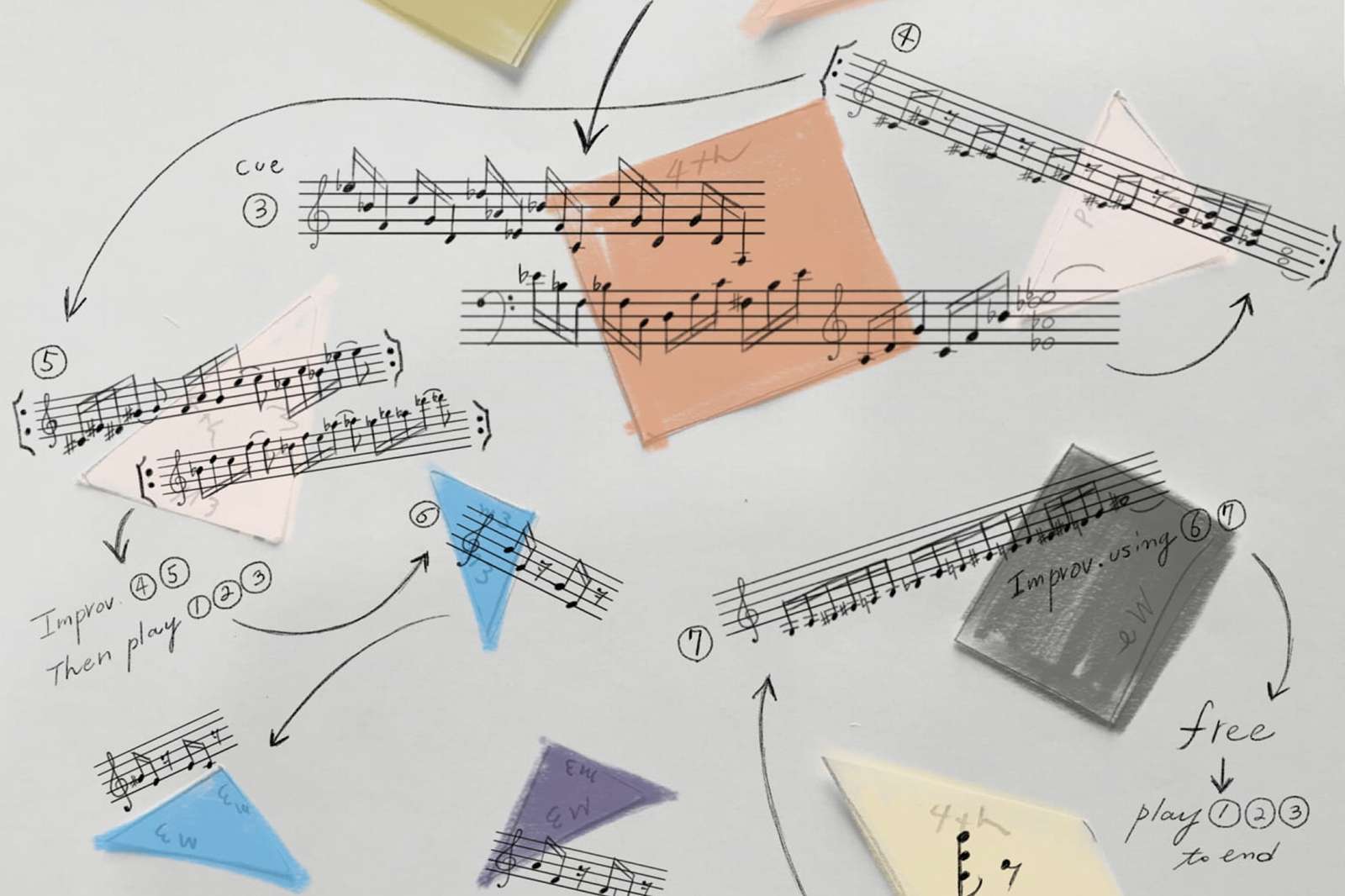 An Evening of Graphic Scores and Avant-Garde Jazz
Thursday, October 11, 2018 | 7:00pm
Lois Chiles Studio Theater
Join us for an unforgettable evening of jazz with world-renowned musicians Karlton Hester, Motoko Honda, Vinny Golia, Danny Kamins, and Garrett Wingfield together for one night. Improvising from graphic scores, the musicians will present compositions that unfold in unexpected yet collaborative ways.
About the musicians
Karlton E. Hester, Ph.D. (composer/flutist/saxophonist), began his career as a composer and recording artist in Los Angeles where he worked as a studio musician and music educator. He received his Ph.D. in composition from the City University of New York Graduate Center and is currently Director of "Jazz" Studies (and member of the Digital Arts and New Media faculty) at the University of California in Santa Cruz. As a performer on both flute and saxophone, he is founding music director of the Fillmore Jazz Preservation Big Band (in San Francisco), director of Hesterian Musicism, and served as the Herbert Gussman Director of Jazz Studies at Cornell University from 1991-2001. Hester specializes in premeditated, spontaneous and electro-acoustic composition. His compositions span a wide range; from numerous solo cycles for various woodwinds to chamber configurations, music videos and electro-acoustic symphonic works written in an eclectic array of styles.
Motoko Honda is a concert pianist, composer, and interdisciplinary artist who has created a distinctive sound through her holistic approach to music, and her exceptional sensitivity in relating to other art forms and technologies. Employing a "virtuoso technique paired with her intensely imaginative mind" (Susan Dirende, L.A. Splash Magazine), and with stylistic influences ranging from jazz to Indonesian music to contemporary prepared piano with electronics, Motoko's compositions and structured improvisations are intended to affect the skin, organs, and minds of the listener rather than simple recitations of rhythmic and harmonic themes. Called both a "keyboard alchemist" (Chris Barton, L.A. Times) and the "embodiment of a muse" (Greg Burk, Metaljazz), Motoko's performances transport audiences on sonic adventures that transcend the boundaries and conventions of contemporary music. At home in classical, improvised, or electronic music, Motoko is a musical force of nature.
Vinny Golia is a composer, bandleader, educator, and multi-woodwind performer who fuses the rich heritage of jazz, contemporary classical, and world music into his own unique compositions. He has presented his music to concert audiences around the world, and his recordings have consistently been picked by critics and readers of music journals for their yearly "ten best" lists, including winner of the Jazz Times TDWR award for Bass Saxophone (1990); 1st in the Cadence Magazine Writers and Readers Poll (1998); winner of LA Weekly's Award for "Best Jazz Musician (1999); and winner of the Downbeat Critic's Poll I the "New Star" category for Baritone Saxophone (2013). The Jazz Journalists Association honored him with a Lifetime Achievement Award in 2006. Golia has also contributed original compositions and scores to ballet and modern dance works, video, theatrical productions, and film. Golia currently teaches at California Institute for the Arts and in 2009 was appointed the first holder of the Michel Colombier Performer Composer Chair.
Danny Kamins is an improvising saxophonist based out of Houston, TX. His current musical endeavors include playing in the bands CARL and Etched in the Eye as well as directing two ensembles at Rice University. He also maintains a studio of 25 young private saxophone students from the Houston, Klein, and Cypress areas. He holds his B.M. in Jazz Saxophone Performance from Oberlin Conservatory and is a graduate of Houston's High School for the Performing and Visual Arts. He has performed and/or recorded with musicians, including Damon Smith, Alvin Fielder, Joe Hertenstein, Nicola Hein, Luther Gray, Jon Lundbom, Sandy Ewen, Robert Pearson, David Dove, and NewMusic groups Le Train Bleu and Loop 38.
Saxophonist and composer Garrett Wingfield's musical journeys weave through a magnitude of different genres, aesthetics, and performance mediums. Fulfilling his interest in the intersection of playing and writing, Wingfield leads, plays with, and composes for multiple ensembles that perform around the United States, including his avant-garde jazz octet, The Octopod, and his punk-minded, Los Angeles based, and co-led quartet, Off Cell. Wingfield and his working jazz quartet regularly play both original music, jazz standards, and the repertoire of great jazz composers such as Wayne Shorter, Ornette Coleman, and Thelonious Monk. As a composer, Garrett's interests extend well beyond the world of jazz into mediums such as saxophone quartet, chamber ensembles, orchestra, and electronics. Garrett received a Bachelor's degree in music composition from Texas Christian University and a Master's degree in jazz composition at the University of North Texas.
Organized by Danny Kamins. Co-presented with the Moody Center for the Arts.
This program is made possible by Rice University's Arts Initiative Fund.