Image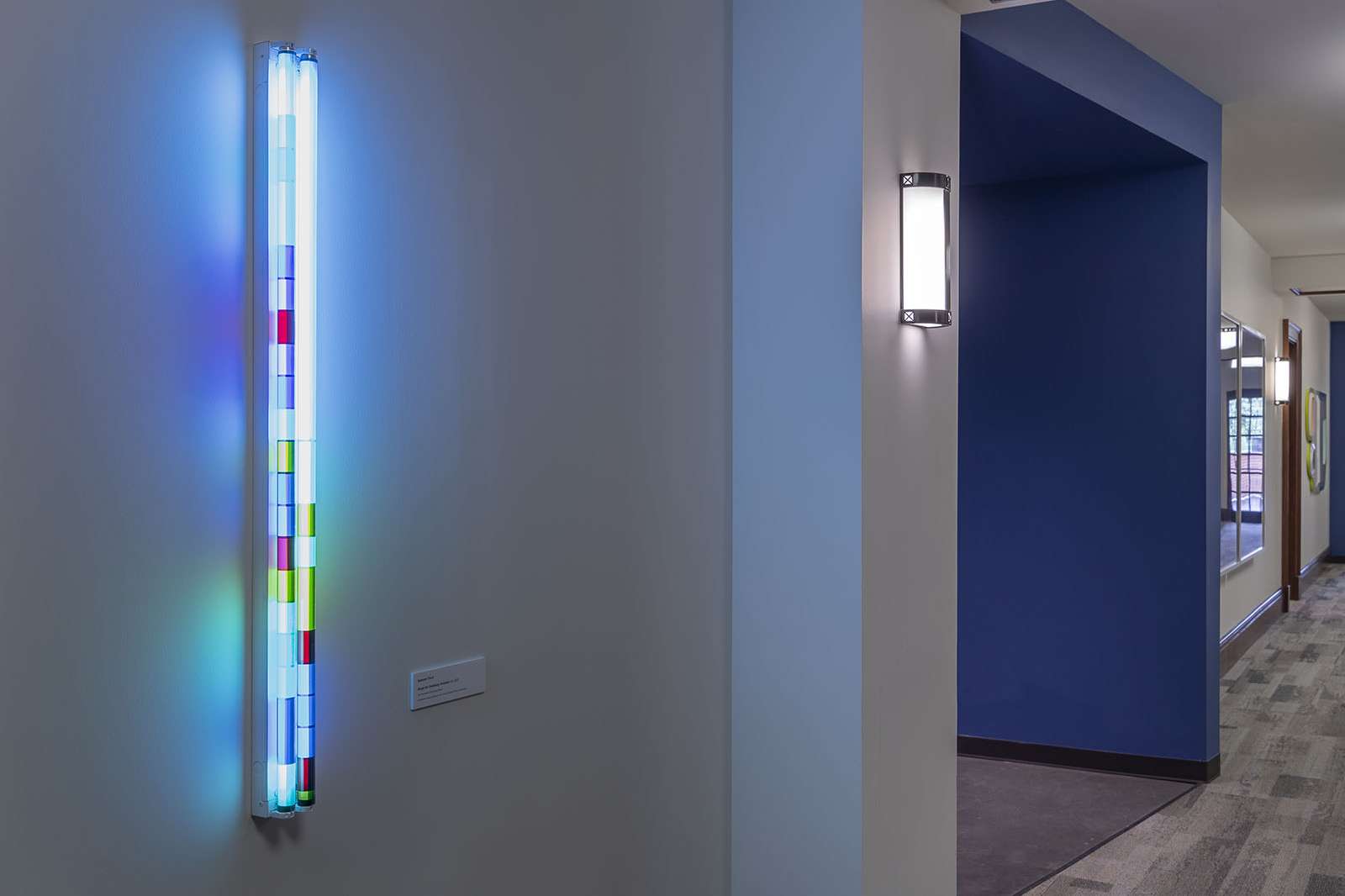 Image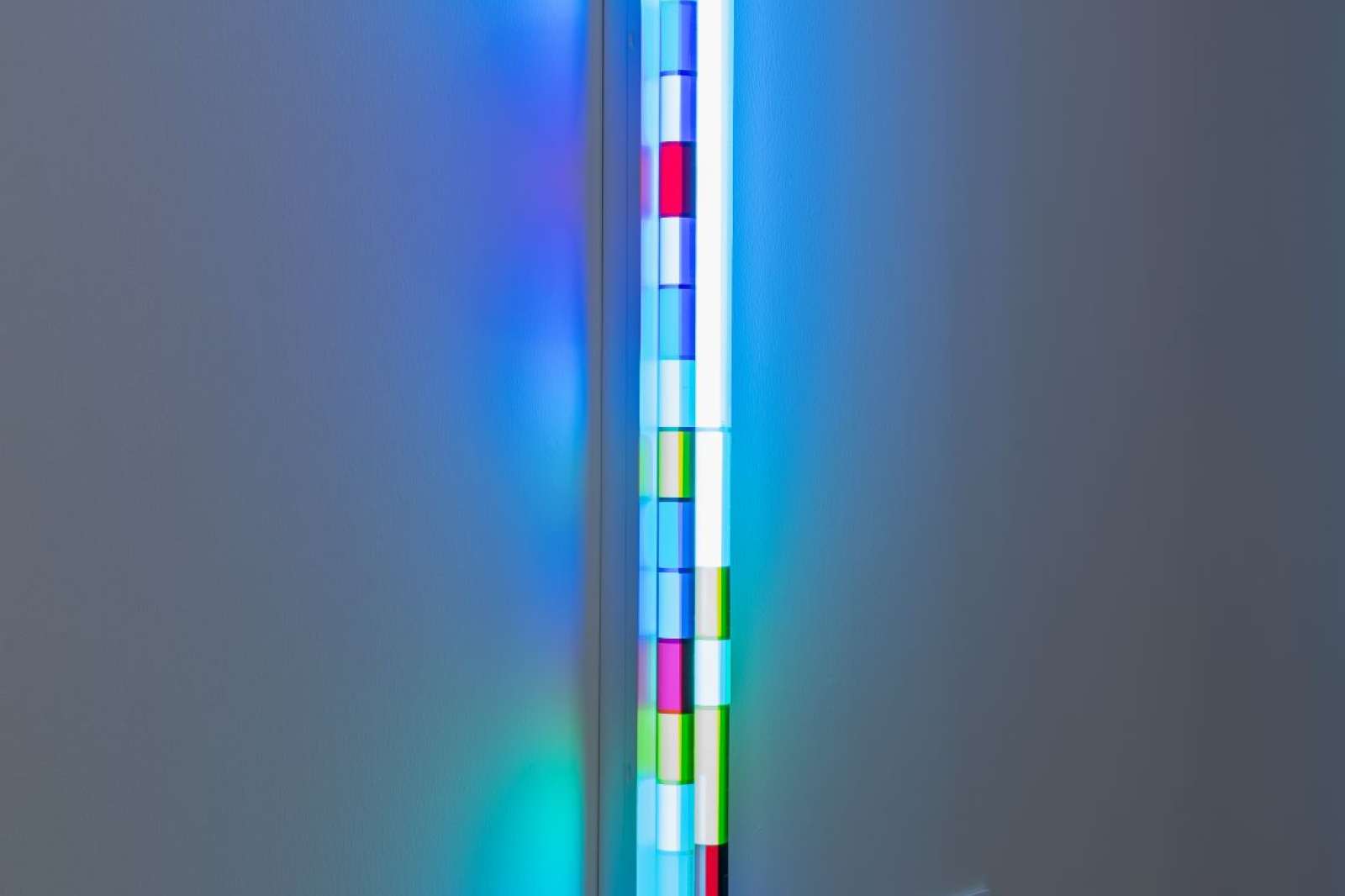 Spencer Finch
Study for Goldberg Variation 12, 2020
Two fluorescent fixtures and filters
Corridor adjacent to Audrey's at the Jones Graduate School of Business
Acquisition made possible by the Jones Graduate School of Business
Through sculptural light installations, drawings and site-specific installations, Spencer Finch investigates ephemeral experiences and transforms them into sequences of color and light. Informed by his travels to various countries and by his own sensorial experiences of nature, music, and literature, Finch translates his observations of the world into two- and three-dimensional objects. In the spirit of scientific inquiry, Finch studies light and color, filtering his impressions through a personal cultural and historic lens. Finch's work often reflects this dual approach of empirical study and subjective interpretation.  
Inspired by Johann Sebastian Bach's Goldberg Variations, Finch has created a series of fluorescent light fixtures responding to the complex and multilayered musical composition.
Using Isaac Newton's color wheel wherein each color is assigned to a musical note, Finch matched Newton's colors to the music of each Goldberg Variation, according to the length of the individual notes. In Study for Goldberg Variation 12, Finch employs two fluorescent light fixtures to capture the opening minutes of the musical composition, representing both the left and right-hand notes, as written for harpsichord. Just as each musician's interpretation of Bach's score is slightly different, Finch's work provides a new vision of the Goldberg Variations. Like the music itself, the immersive play of light and color creates a physiological reaction unique to each viewer. 
About the artist: Spencer Finch (b. New Haven, CT, 1962) earned a BA in comparative literature from Hamilton College, Clinton, NY, and received an MFA in sculpture from the Rhode Island School of Design, Providence, RI. Finch has exhibited both domestically and internationally, including at the Whitney Biennial, New York, the Turin Triennale, Italy, Folkestone Triennial, UK , and the 53rd Venice Biennale, Italy.
Important solo exhibitions of his work have been held at the Utah Museum of Fine Arts, Salt Lake City, UT, MASS MoCA, North Adams, MA , the Seattle Museum of Art, WA, at the Art Institute of Chicago, IL, and at other museums. Finch has also received numerous commissions for public artworks and interventions, including at the Fundació Mies van der Rohe, Barcelona, Spain, at London's Paddington Station, UK, at the 9/11 Memorial, New York, NY, and at the Morgan Library, New York, NY.
His work can be found in various national and international collections including the Hirshhorn Museum and Sculpture Garden, Washington, D.C.; National Gallery of Art, Washington, D.C.; Kemper Museum of Art, St Louis, MO; Museum of Contemporary Art Chicago, IL; Solomon R. Guggenheim Museum, New York, NY; the Whitney Museum of American Art, New York, NY; Museum für Moderne Kunst, Frankfurt, Germany; and the Art Gallery of New South Wales, Australia. Spencer Finch lives and works in Brooklyn, New York.