Image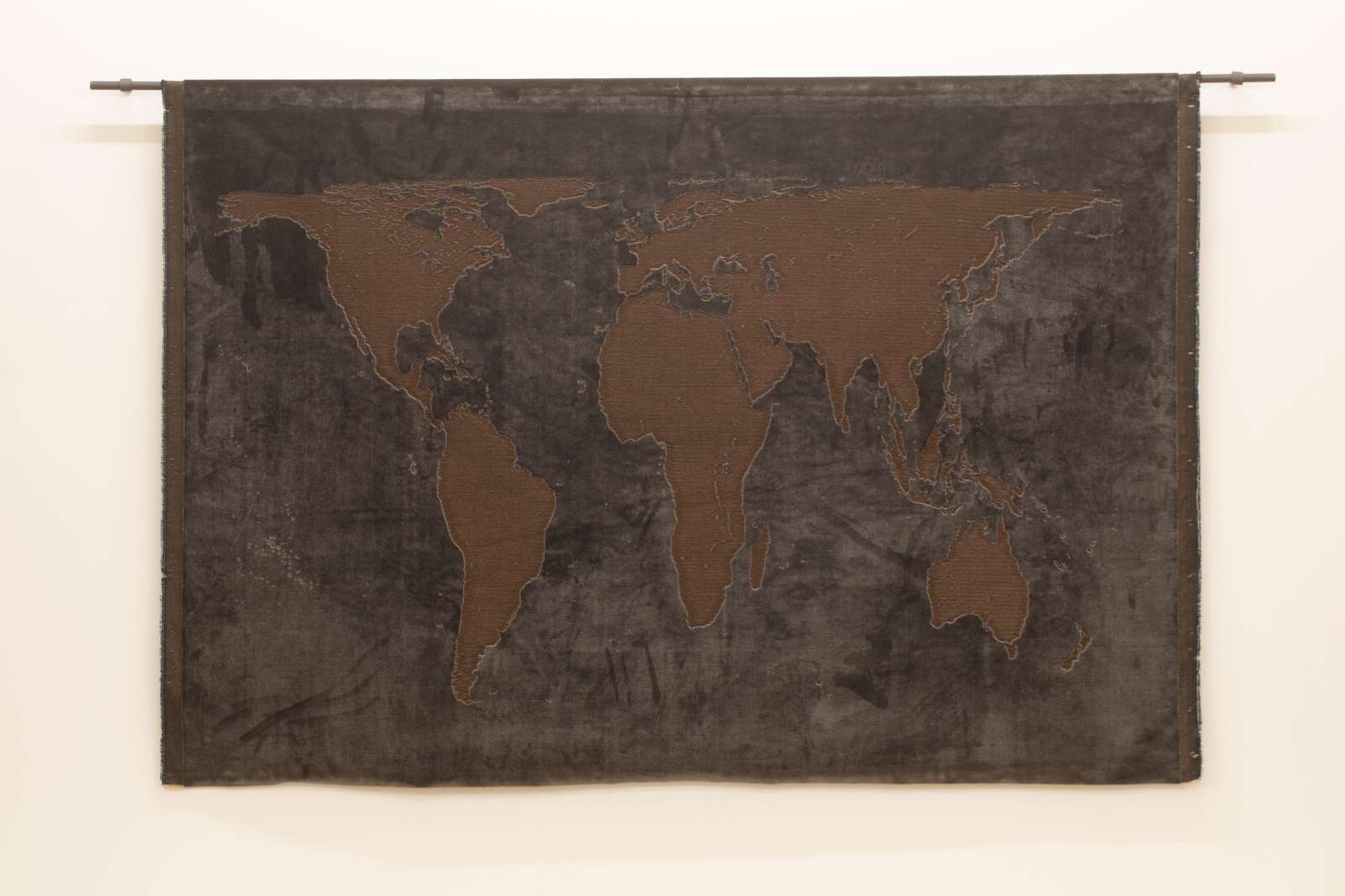 Image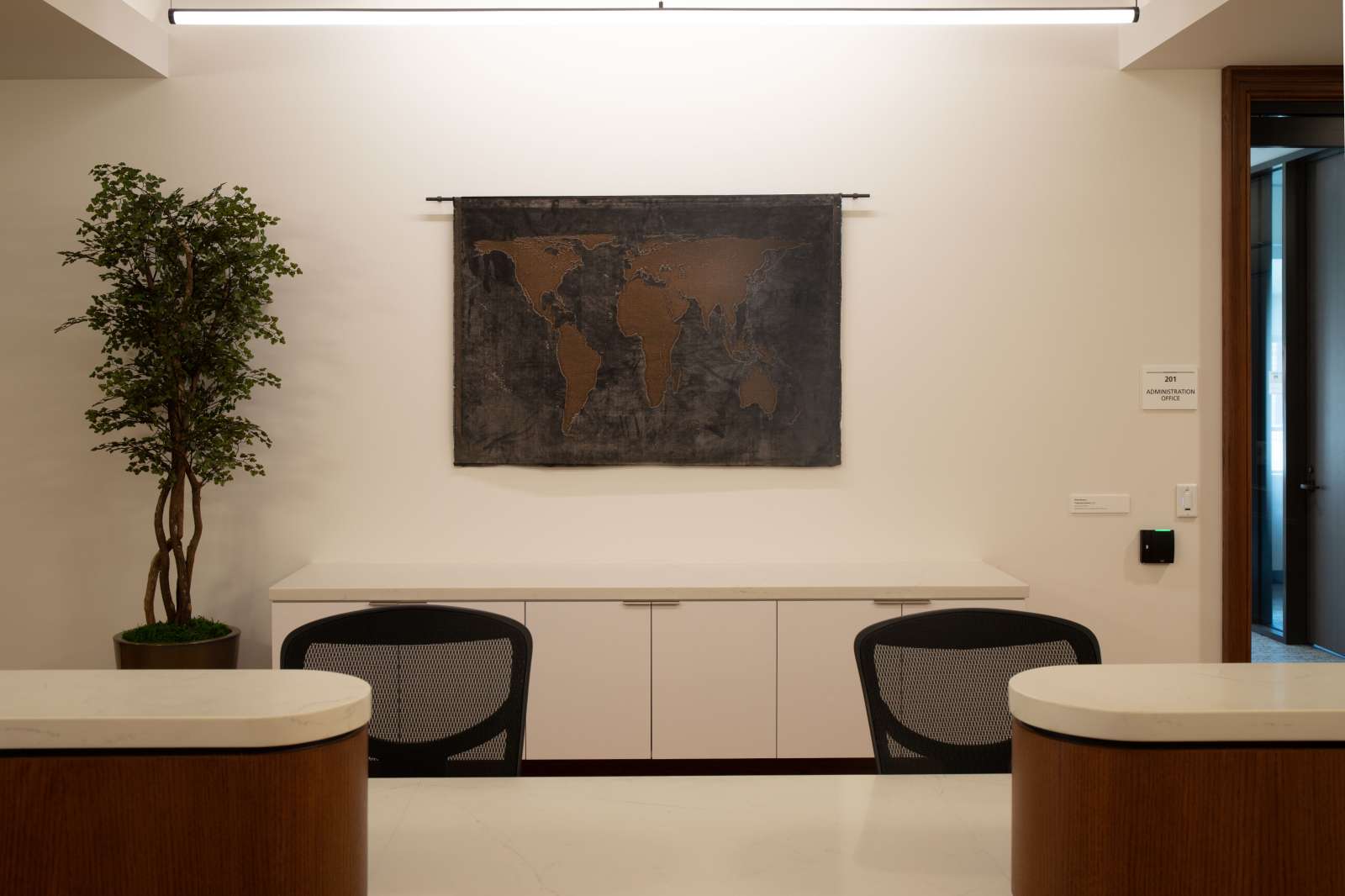 Image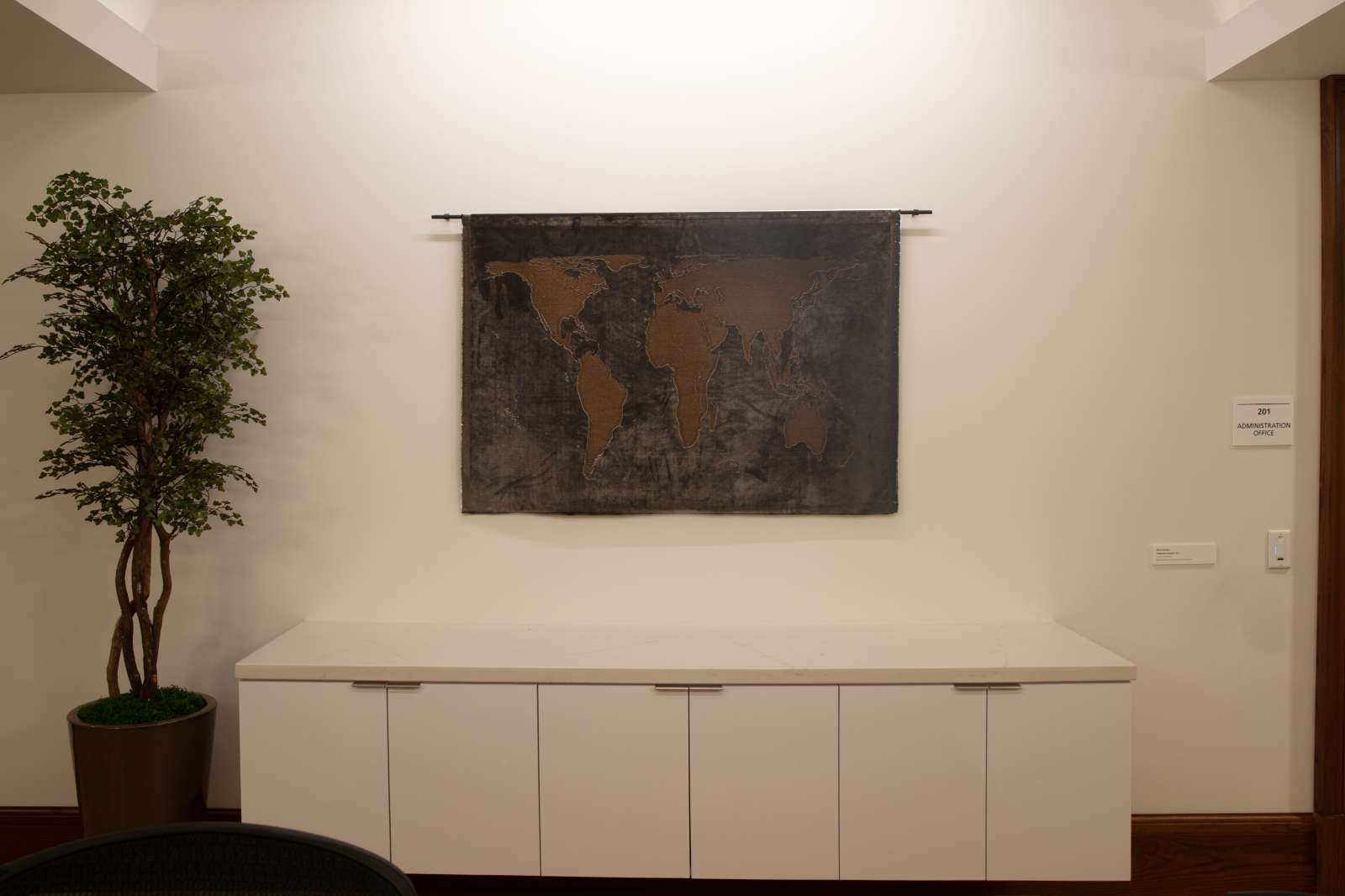 Mona Hatoum
Projection (velvet), 2013
Silk velvet and mild steel
Dean's Suite, Jones Graduate School of Business, McNair Hall, second floor
Acquisition made possible by the Jones Graduate School of Business
The work of London-based artist Mona Hatoum critically examines the contradictions and uncertainties of our contemporary global society. Often referencing domestic and everyday objects, Hatoum creates installations and sculptures that capitalize on unexpected combinations to evoke a range of conflicting emotions such as fear and fascination, or attraction and revulsion. Over her four-decade career, she has continually investigated ideas of home and displacement as experienced through the lens of global instability and political upheaval.
Projection (velvet) reframes the world as unfamiliar and desolate. The dimensions and shapes of the continents on the velvet surface are based on a Gall-Peters Projection, which attempts to present landmasses according to their relative proportional sizes, rather than those of the more familiar Mercator Projection, which alters the size and shape of continents and makes Northern-hemisphere territories appear larger than they are. Hatoum's landforms, which have been laser burned on the surface of the velvet, resemble worn-out patches that come together to form a scorched geography of depleted terrains or eroded landscapes. The recessed outlines of the map appear to be submerged into protruding bodies of water. The title of the work evokes questions and uncertainties regarding our future rather than providing answers.
About the artist: Mona Hatoum (b. 1952, Beirut, Lebanon) is the child of a Palestinian family, born in Beirut, and has lived and worked in London since 1975. She attended Beirut University College, and then pursued her studies in Great Britain at the Byam Shaw School of Art from 1975 to 1979 and at the Slade School of Art, London, from 1979 to 1981. After choosing performance and video as her predominant media forms throughout the 1980s, she turned to sculptural installations and objects in 1989. 
Hatoum's art has been the subject of numerous solo museum exhibitions in Asia, Australia, Europe, the Middle East, and North and South America. A major survey exhibition was organized by the Centre Pompidou, Paris, and traveled to the Tate Modern, London, and the Kiasma Museum of Contemporary Art, Helsinki, in 2016. Hatoum was awarded the Joan Miró Prize from the Fundació Joan Miró, Barcelona, in 2011, and she was the recipient of the 10th Hiroshima Art Prize, and a solo exhibition of her work was held at the Hiroshima City Museum of Contemporary Art in 2017. In 2018, Mona Hatoum: Terra Infirma, the first major solo exhibition in the United States in more than twenty years was presented at both the Menil Collection in Houston and the Pulitzer Arts Foundation in St. Louis.