Image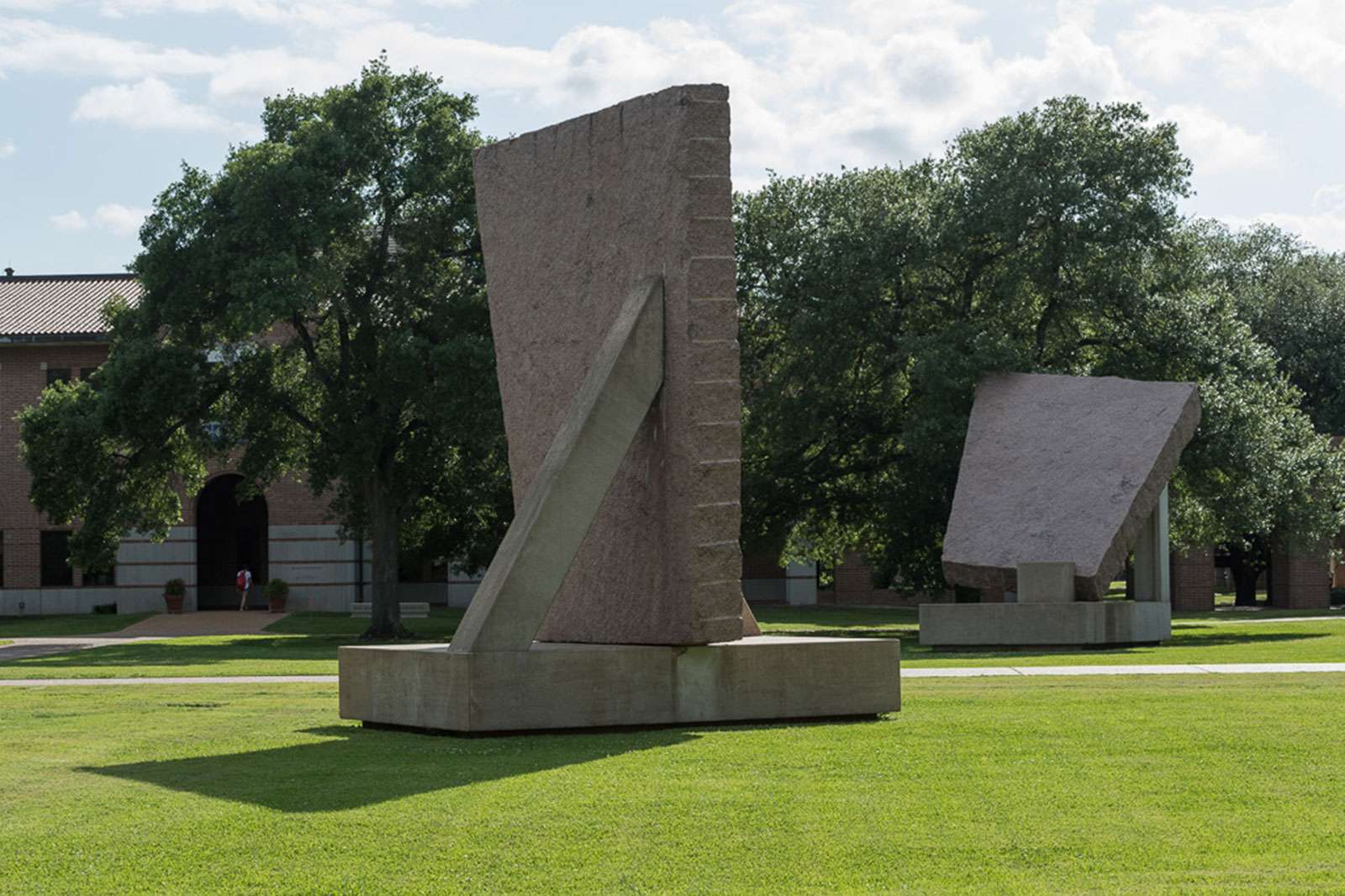 Image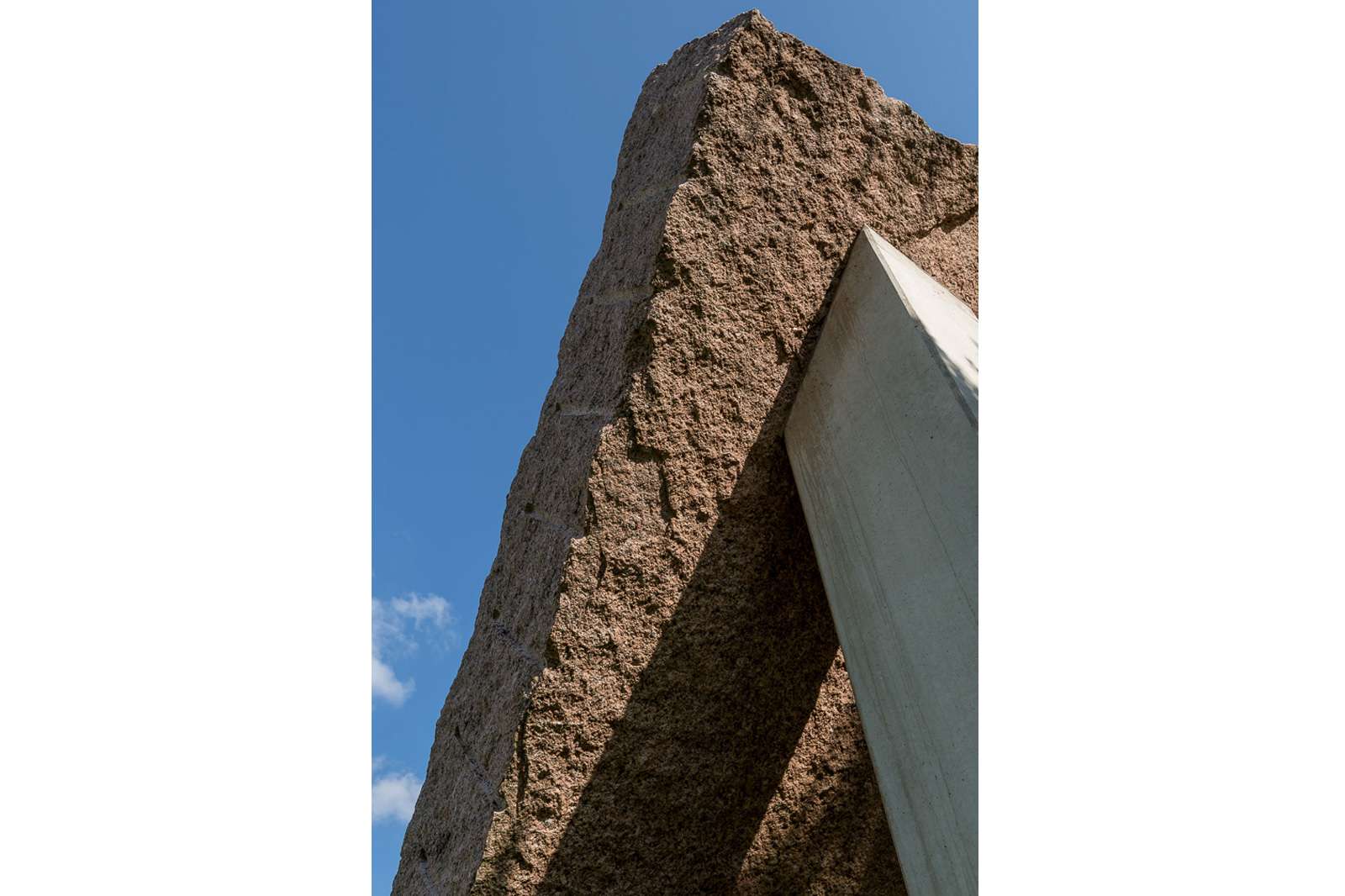 Image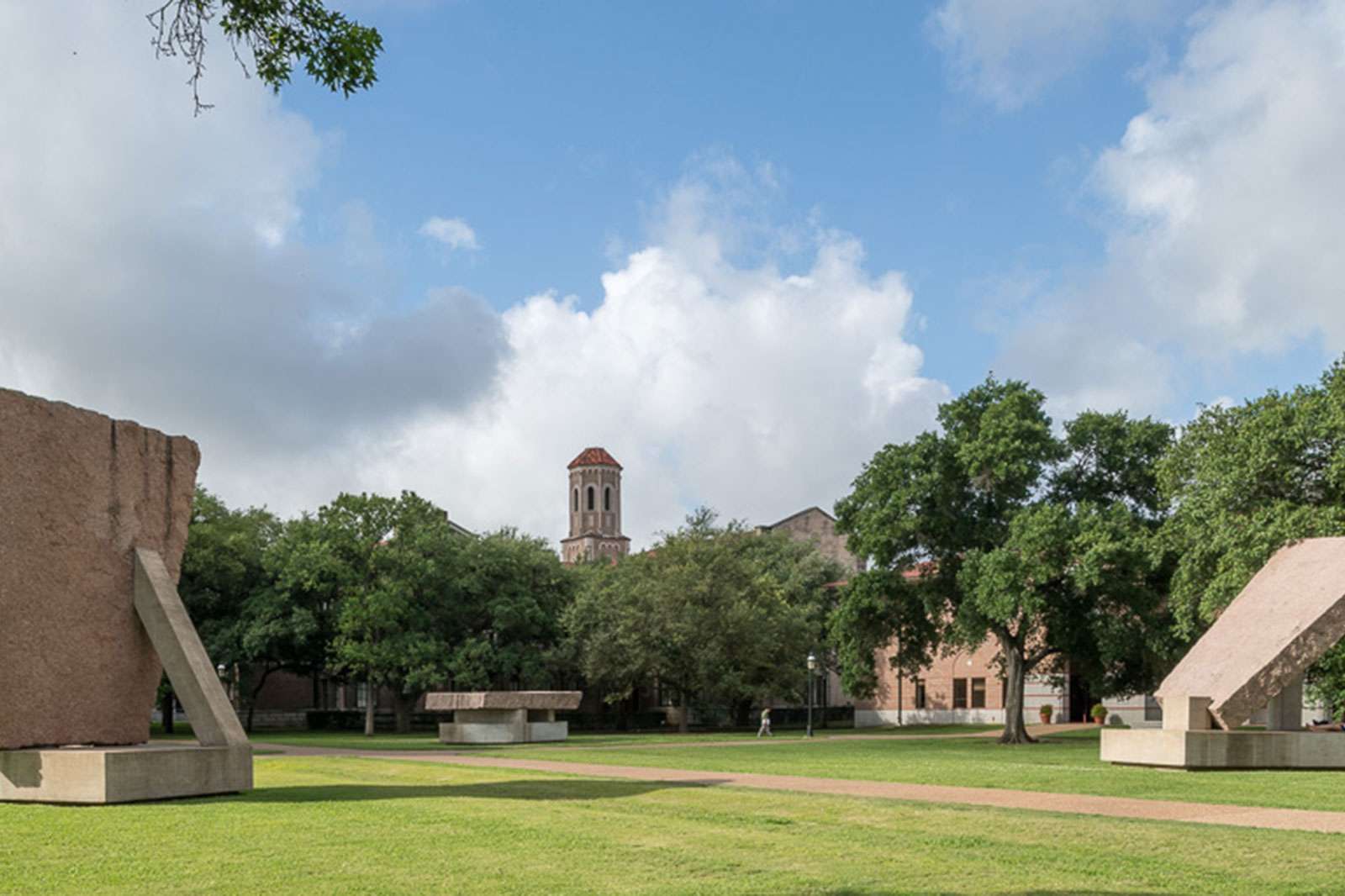 Image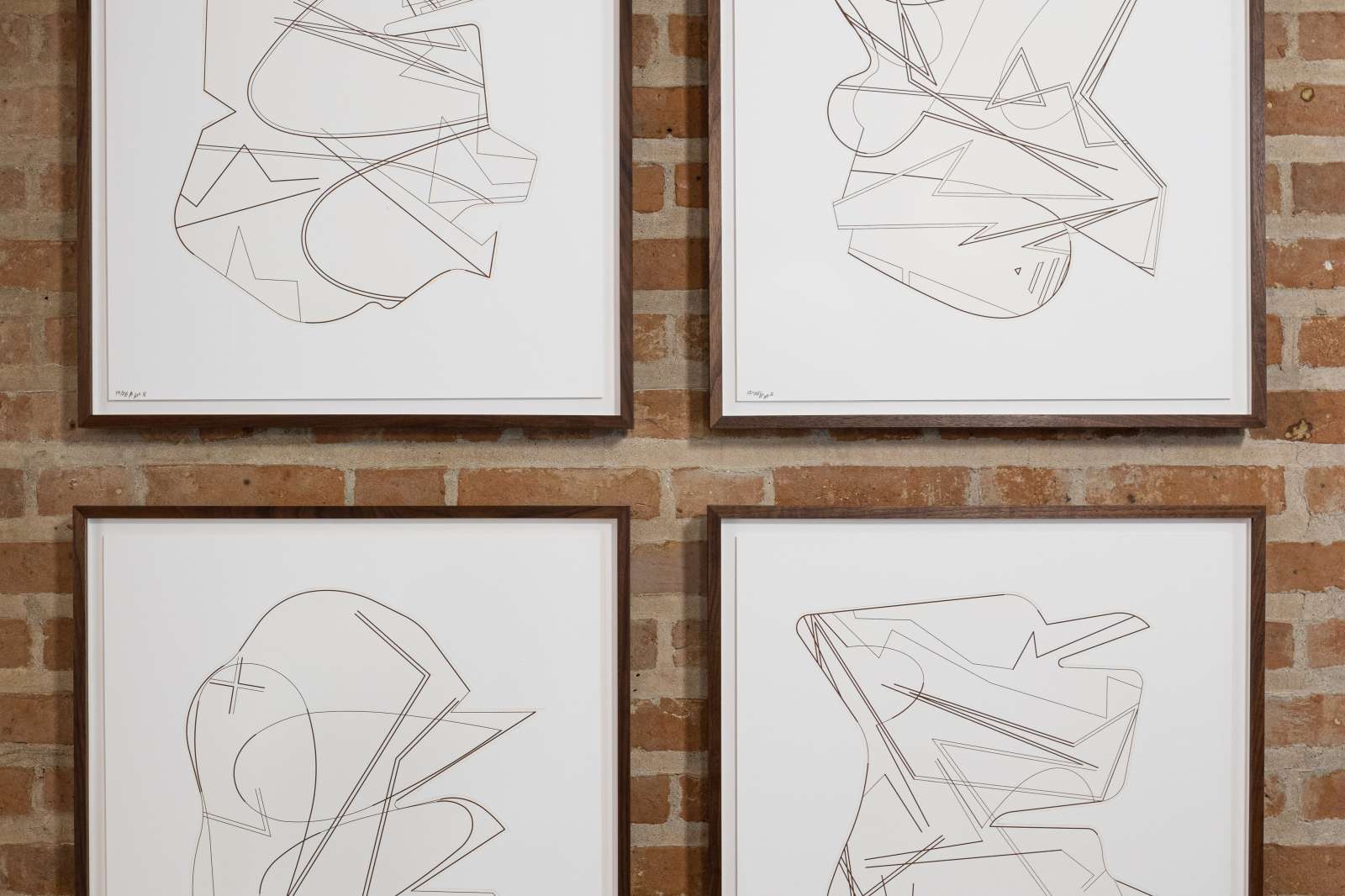 Image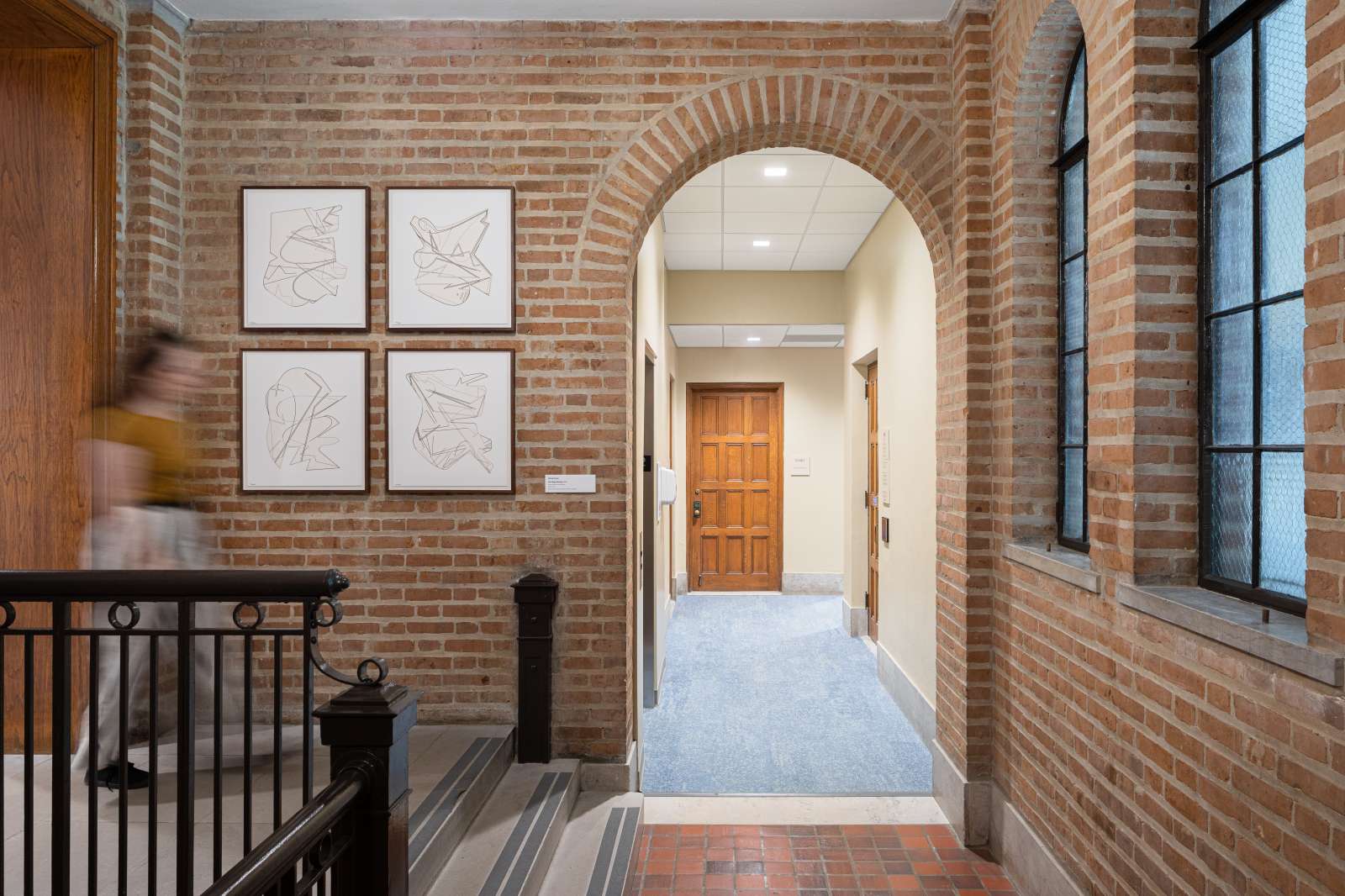 Michael Heizer
45°, 90°, 180°, 1984
Granite monoliths and concrete
Engineering Quadrangle
Commissioned by Alice Pratt Brown in honor of George R. Brown ('20)
Hard Edge Etchings, 2016
Shaped-Plate Etchings with Aquatint
Edition 14/28
Maxfield Hall – Second Floor
Made possible by Rice University's percent-for-art program
Michael Heizer, a pioneer of Land Art, is known for site-specific sculptures and environmental interventions that illustrate his sustained exploration of the dialogue between positive and negative space. Inviting viewers to contemplate their relationship to space through geometry and natural materials, Heizer's unconventional approach has made him one of the foremost American artists of the late twentieth and early twenty-first centuries.
A massive triptych of granite monoliths by Heizer, 45°, 90°, 180° was the first major commission of public art on the Rice University campus in 1984. Initiated and overseen by noted arts patron Alice Pratt Brown, and later dedicated in honor of her husband and philanthropist George R. Brown after his death in 1983, Heizer's project was selected for its innovative and exceptional engineering difficulty. Three pink granite slabs, each weighing several tons, are positioned at three basic degree measurements used in engineering, each resting on giant concrete plinths designed by the artist.
45°, 90°, 180° is a delicate balance of art, mathematics, and physics. Each monolith was perfectly excised from the earth in sheet form at a quarry in Marble Falls, Texas, transported to campus on an 18-wheel truck, and carefully lifted into place in Rice's Engineering Quadrangle. These monoliths describe the relationship between natural objects and the work of man, and drill marks on their edges describe each geological specimen in terms of its head grain and how it breaks. The drill holes also constitute sculptural work by the artist.
"What the sculpture is basically trying to do is demonstrate all the attitudes an object can take," Heizer said of the work in 1985. "You can lean it, lay it down, or stand it up. That's what the sculpture is all about. The 45° element is dynamic, leaning, with the potential to continue to move. The 90° element is static, held in a static moment. All movement is arrested although it also has the potential for movement. The 180° element is inert. There is no potential for movement. The subject is therefore sculpture itself, if sculpture is material."
Heizer's interests in geometric abstraction and spatial relationships continue in this portfolio of four works on paper titled Hard Edge Etchings, located in Maxfield Hall. Each intaglio print was made from a custom-cut, shaped copper plate with a unique silhouette, and finished with a walnut wood frame specified by the artist. The energetic lines and organic shapes activate the visual field and reflect the artist's study of ancient rocks and enigmatic natural forms, a lifelong fascination inspired by childhood expeditions to archaeological sites in Latin America.
About the artist: Since the late 1960s, Michael Heizer (b. 1944, Berkeley, CA) has explored the relationship between solid and void through monumental sculptures and two-dimensional forms. Born in Northern California, Heizer studied briefly at the San Francisco Art Institute and lived in New York before moving west, ultimately settling in Nevada. His massive installation City, begun in 1972 in Lincoln County, Nevada, exemplifies his rejection of traditional forms of sculpture in favor of site-specific earth works.
His works have been featured in various solo exhibitions, and in site-specific installations, notably at the Los Angeles County Museum of Art (2012) and the Whitney Museum of American Art (1985 and 2016), and are held in numerous private and public collections, including Dia Beacon, NY; the Museum of Modern Art, NY; the Metropolitan Museum of Art, NY; the Fondazione Prada, Milan, Italy; the National Gallery of Australia, Canberra, Australia; and the Menil Collection, Houston.