Image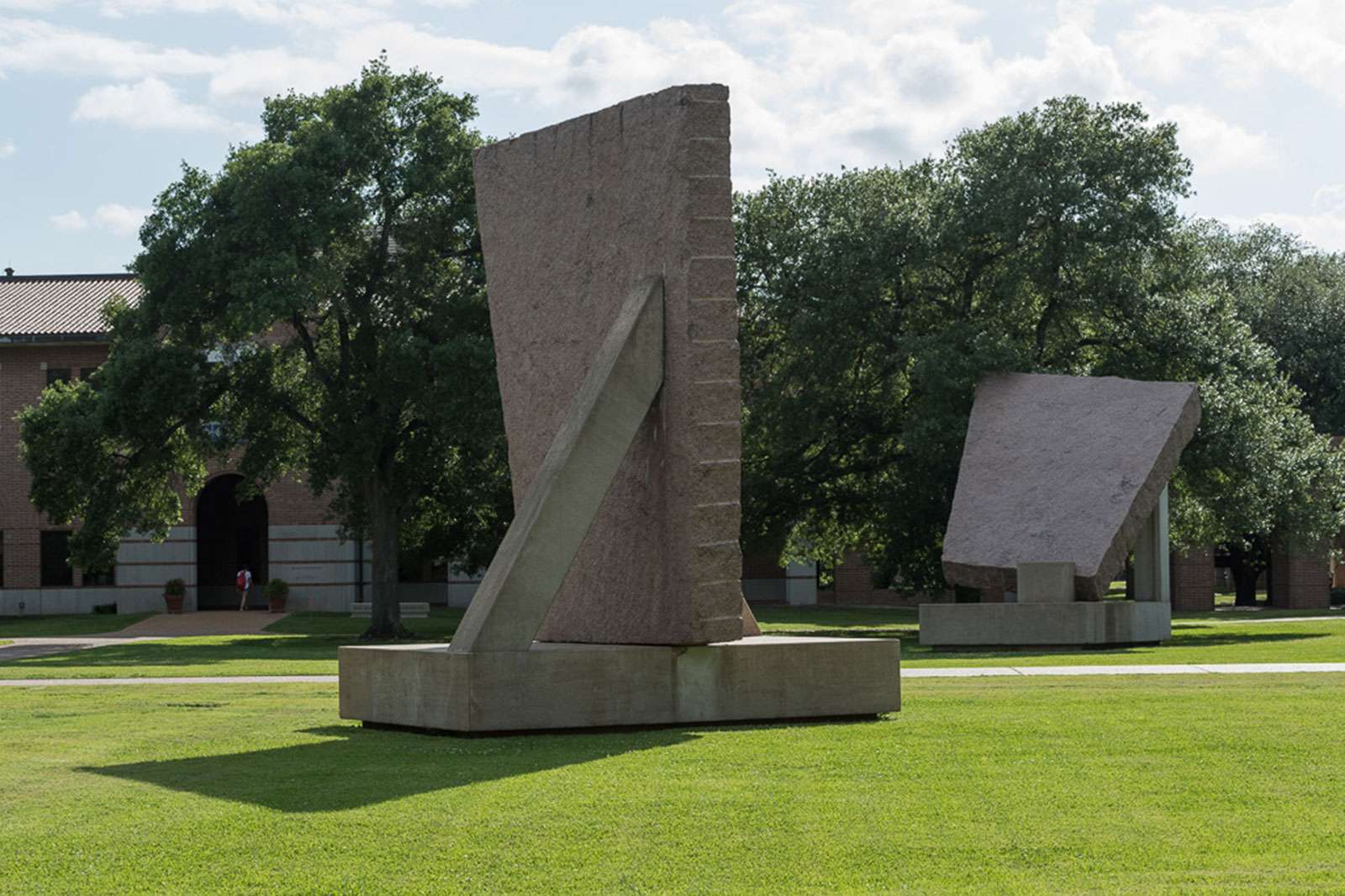 Image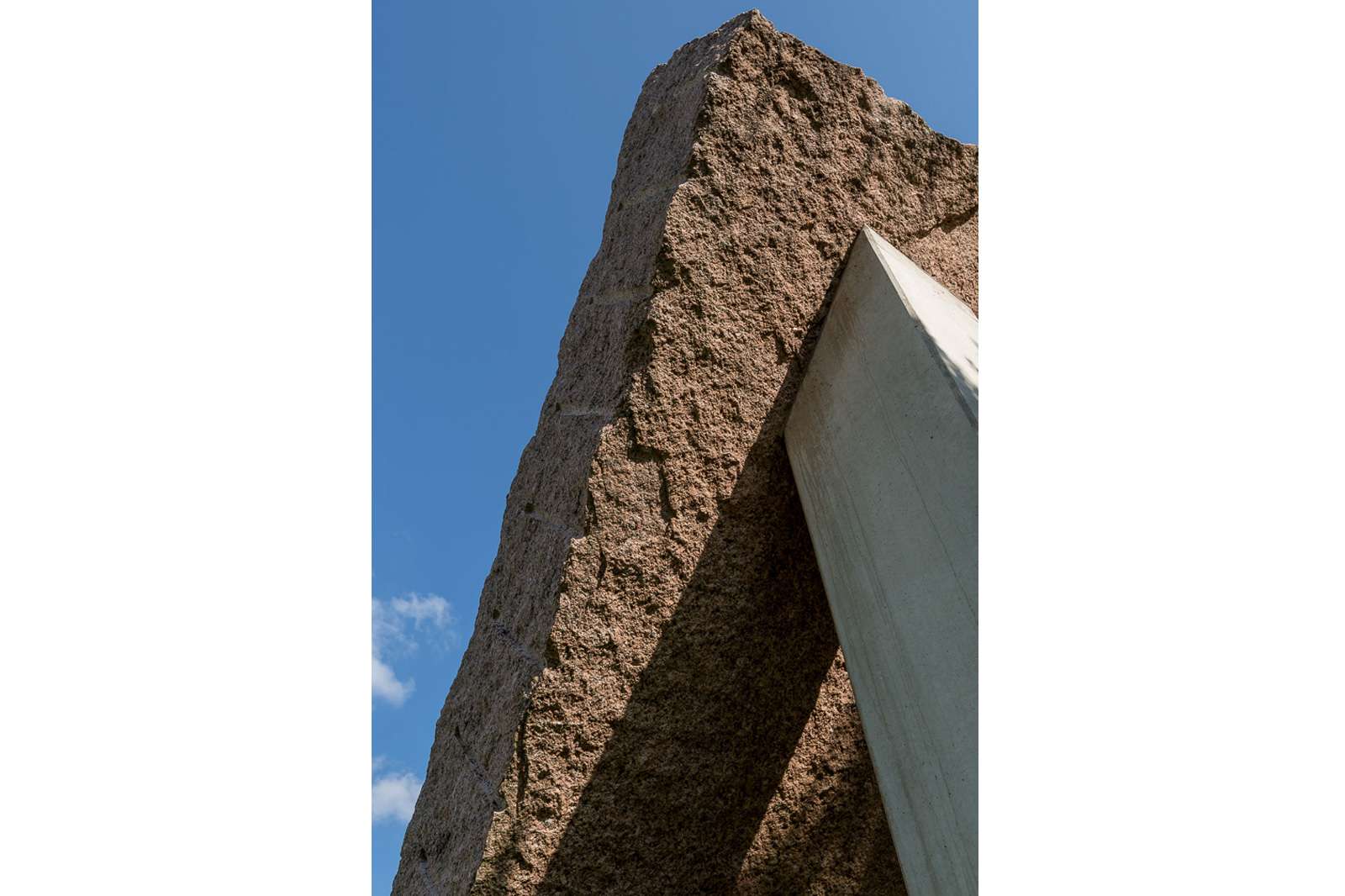 Image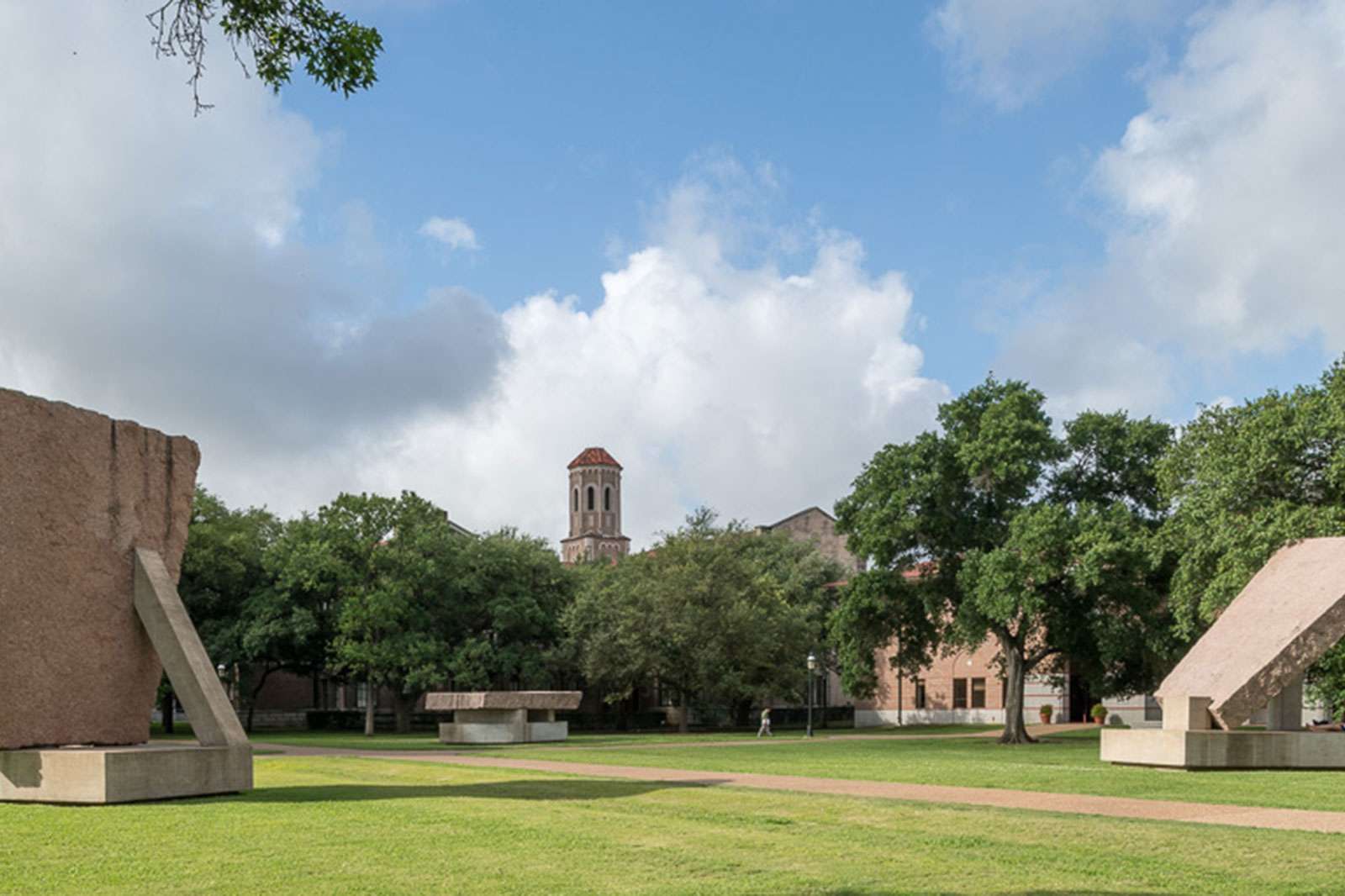 Michael Heizer
45°, 90°, 180°, 1984
Granite monoliths and concrete
Engineering Quadrangle
Commissioned by Alice Pratt Brown in honor of George R. Brown ('20)
This massive triptych of granite monoliths by Michael Heizer was the first major commission of public art on the Rice University campus in 1984. Initiated and overseen by noted arts patron Alice Pratt Brown, and later dedicated in honor of her husband and philanthropist George R. Brown after his death in 1983, Heizer's project was selected for its innovative and exceptional engineering difficulty. Three pink granite slabs, each weighing several tons, are positioned at three basic degree measurements used in engineering, each resting on giant concrete plinths designed by the artist.
45°, 90°, 180° is a delicate balance of art, mathematics, and physics. Each monolith was perfectly excised from the earth in sheet form at a quarry in Marble Falls, Texas, transported to campus on an 18-wheel truck, and carefully lifted into place in Rice's Engineering Quadrangle. These monoliths describe the relationship between natural objects and the work of man, and drill marks on their edges describe each geological specimen in terms of its head grain and how it breaks. The drill holes also constitute sculptural work by the artist.
"What the sculpture is basically trying to do is demonstrate all the attitudes an object can take," Heizer said of the work in 1985. "You can lean it, lay it down, or stand it up. That's what the sculpture is all about. The 45° element is dynamic, leaning, with the potential to continue to move. The 90° element is static, held in a static moment. All movement is arrested although it also has the potential for movement. The 180° element is inert. There is no potential for movement. The subject is therefore sculpture itself, if sculpture is material."
About the artist: For more than fifty years, Michael Heizer (b. 1944, Berkeley, CA) has been a significant figure in public sculpture and is a pioneer of the American earthworks, or Land Art, movement. His practice is defined by its innovative and monumental use of the earth, underscored largely by an interest in the aesthetic possibilities of displacement. Heizer has exhibited at the Whitney Museum of American Art, the Solomon R. Guggenheim Museum, and Ace Gallery (Los Angeles and New York) among many others. In addition to this example of his work at Rice, two other works by Heizer can be seen in Houston near the main entrance to the Menil Collection: Charmstone, 1991, and Isolated Mass/Circumflex (#2), 1968-72.