Image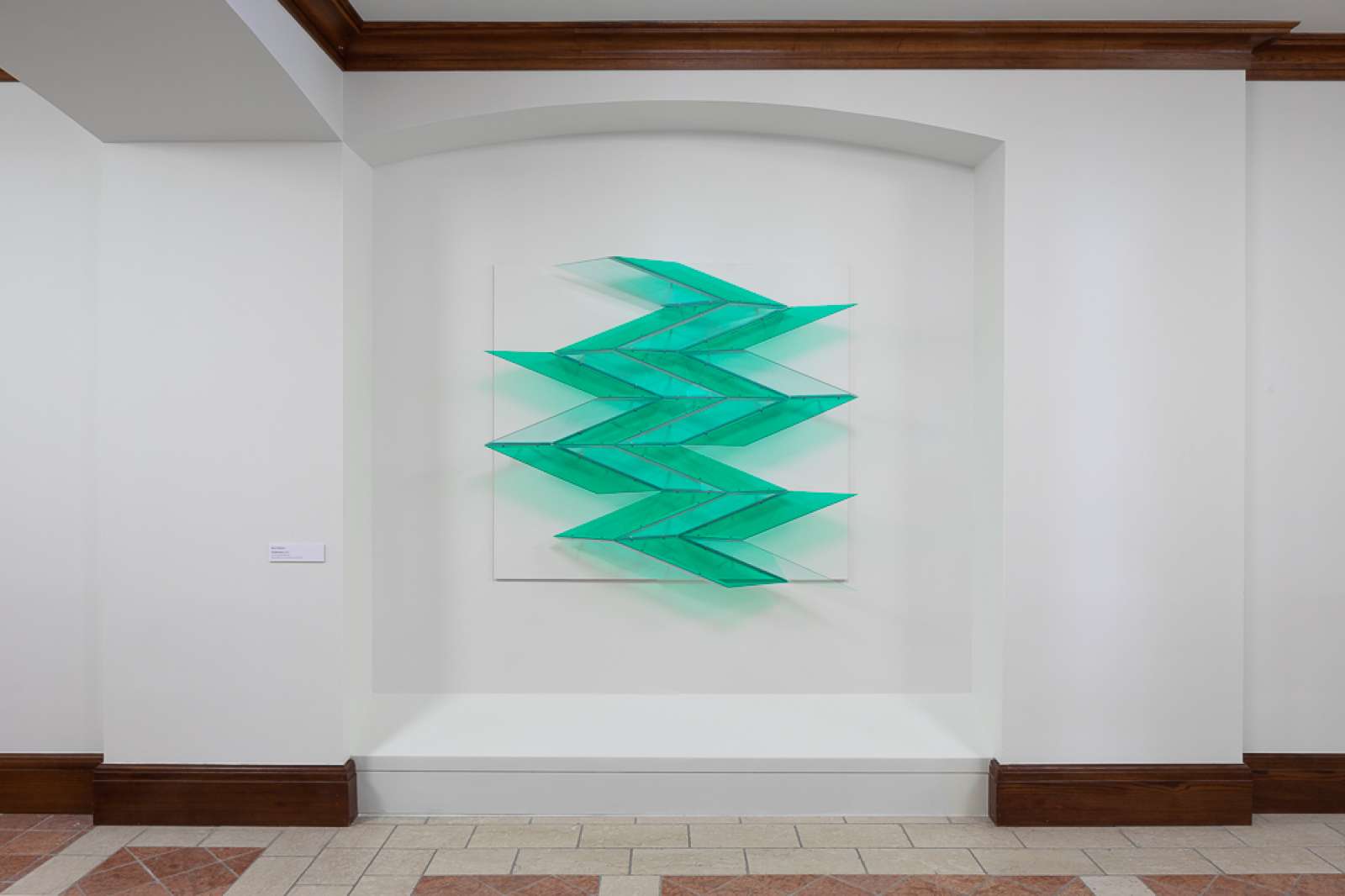 Marta Chilindron
Parallel Greens, 2022
Acrylic and painted stainless steel
Jones Graduate School of Business, McNair Hall, first floor
Made possible by the Jones Graduate School of Business
Marta Chilindron explores perspectival, temporal, and spatial relationships in her sculptural installations. In the 1990s, Chilindron began experimenting with furniture forms, investigating their relation to physical space. She started to work with synthetic and industrial materials, drawing inspiration from artists such as the Russian Naum Gabo, a precursor of Constructivism, the Argentine artist Gyula Kosice, who was part of the kinetic/light art avant-garde movement, and Rogelio Polesello, a pioneer of Optical art in Latin America. Over the past two decades, Chilindron's work has expanded to include the exploration of layered colors and moveable geometric forms. Her collapsible, geometric sculptures made of transparent colored acrylics use hinges to allow movement, thereby creating new shapes. Her planes and volumes consist of thin sheets fastened together by joints that the artist embraces as both aesthetic and functional elements and are an inherent part of the finished sculpture.
Parallel Greens is made of a playful combination of parallelograms created by green and transparent acrylic planes. The white, 3D-printed stainless steel structure is an integral part of the work, and despite the visible assembly, the sculpture seems to float in space. Chilindron was inspired by a visit to the Jones Graduate School of Business at Rice University to create a work that would echo the momentum and mission of the school. According to the artist, "Parallel Greens with its implied movement reflects the energy created by the students, academics, and visitors who pass through this major artery of the school. The work suggests a pathway to sustainability and growth, represents economic success, and with transparency as a vital component, its design evolved naturally."
About the artist: Marta Chilindron (b. 1951, La Plata, Argentina) was raised in Montevideo, Uruguay. She relocated to New York in 1969 and attended the State University of New York and graduated with a BFA in 1980. During her studies she also spent time in the Camnitzer-Porter Studio in Valdottavo, Italy, where she studied printmaking. Over the last decades, Chilindron has shown her work both in the US and abroad. Her sculptures were featured at the Museum of Latin American Art (MoLAA) in Long Beach, CA, in 2013; at New York University's Institute of Fine Arts in 2014; and at Syracuse University, NY, in 2018. She has created various site-specific installations, notably for the Fokus Lodz Biennale in Poland in 2010. In 2019, Chilindron completed a large-scale sculpture titled Houston Mobius commissioned by the University of Houston for the inauguration of their Temporary Public Art Program. Her work has been recognized by various awards including a Joan Mitchell Foundation Ward (2000); an Anonymous Was A Woman grant (2001); an Excellency in Art Award, Alumni Association of the State University of New York (2007); and a Pollock-Krasner Foundation, Grant (1986; 2013). Her works are in the collections of numerous institutions such as the Museum of Fine Arts, Houston, TX; the Blanton Museum of Art, Austin, TX; the Phoenix Art Museum, AZ; El Museo del Barrio, NY; the State University of New York (SUNY), Old Westbury, NY; the Fonds d'art contemporain de la Ville de Genève (FMAC), Switzerland; the IBEU Cultural Institute, Rio de Janeiro, Brazil; and others.