Image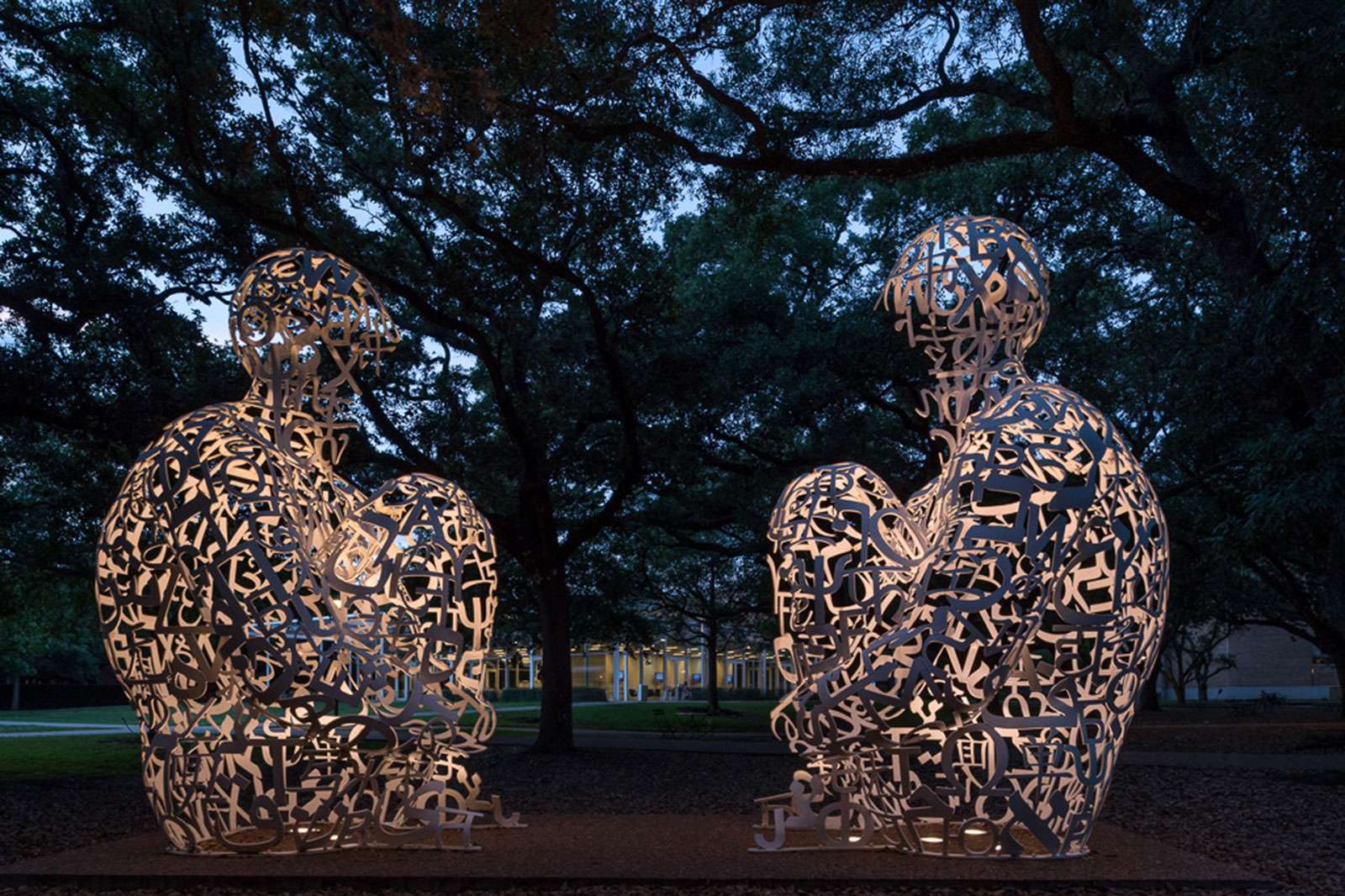 Image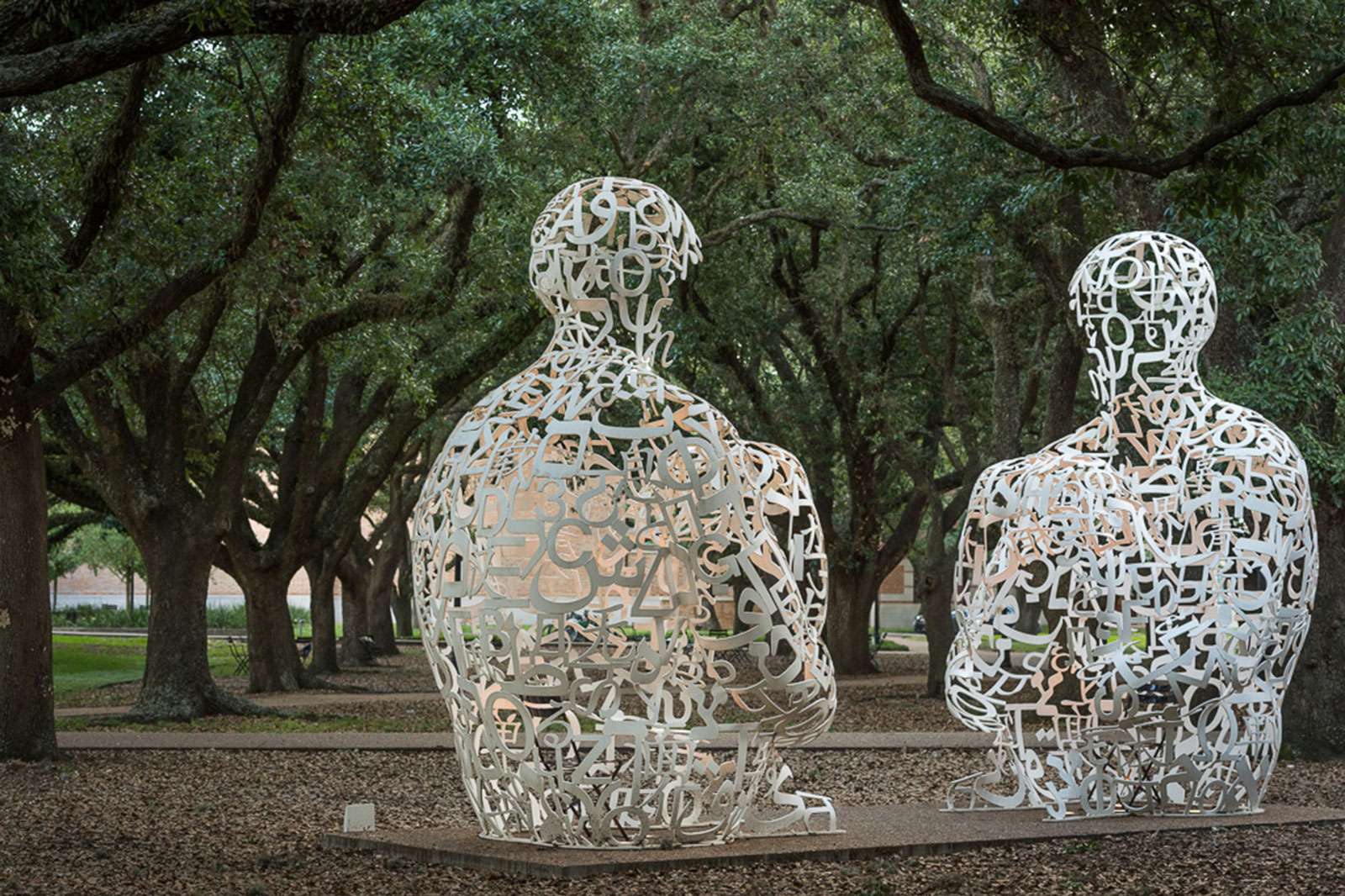 Image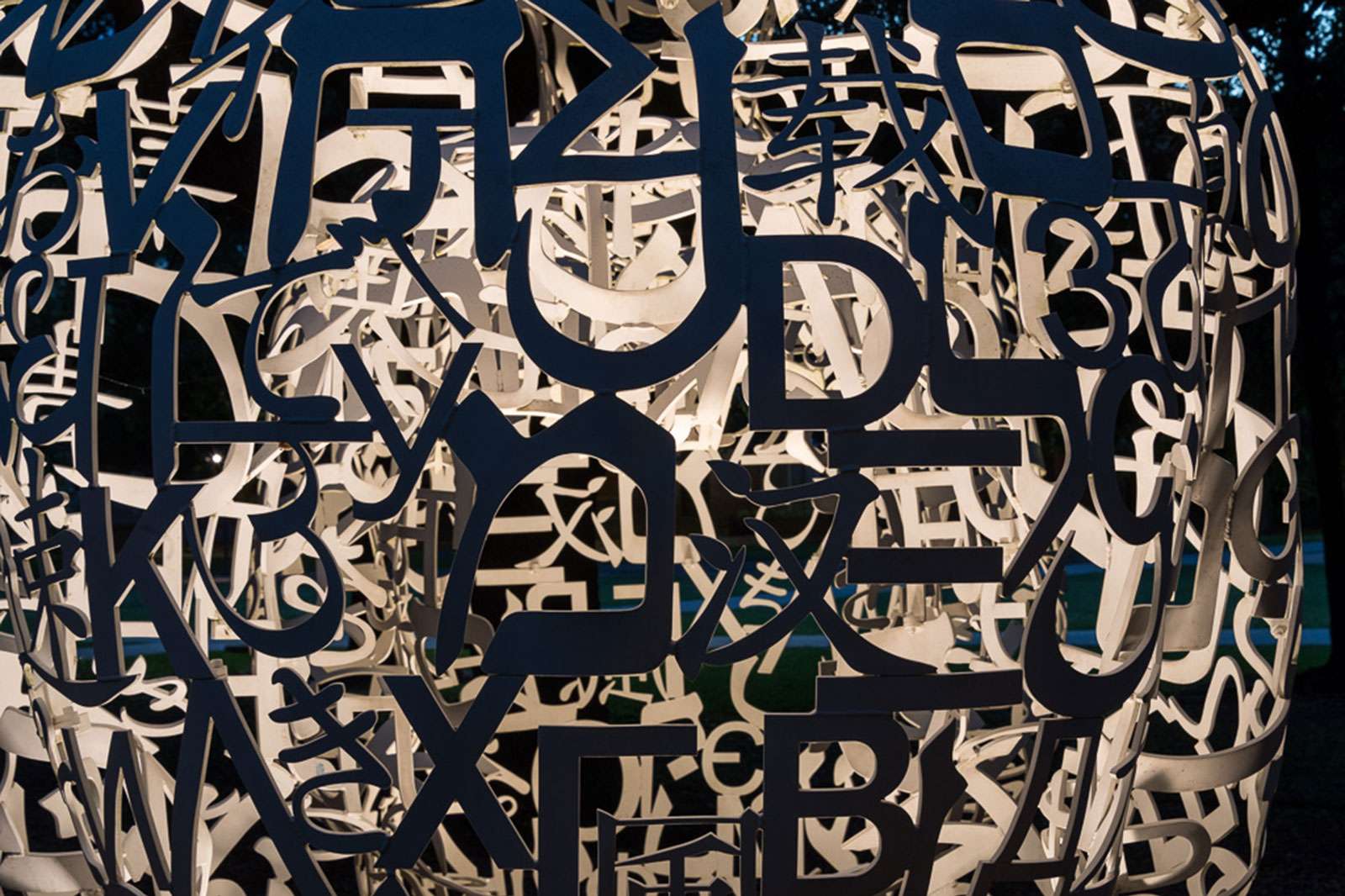 Jaume Plensa
Mirror, 2011
Painted stainless steel
The Reverend William A. Lawson Grove, adjacent Herring Hall
Gift of Bill ('57) and Stephanie Sick
There is an open-ended, dream-like quality to the work of Spanish-born artist Jaume Plensa, one of the most active and celebrated public sculptors in the world. For more than thirty years, the artist has investigated the meeting of spirit, mind, and matter in a diverse array of materials, including steel, cast iron, video, resin, glass, light, water, wood, and sound. His practice both underscores and rejects ideas of classical portraiture, with figures at rest or in contemplation whose forms and identities are left open to interpretation.
Mirror, his work for Rice adjacent to Herring Hall, features two stainless steel figures in seated resting poses, their forms composed of connected letters and symbols from several languages. These genderless "men of letters," as they are sometimes referred to by the artist, appear to be in dialogue. Are these two different individuals? Is one the mirrored reflection of the other? What differences, if any, can be established between them? As with much of Plensa's work, the answer is left to the viewer to determine. The empty space inside each form, which the viewer may physically enter, and the space between the figures is charged with both meaning and silence. Language—be it written or performed by the body—is central to learning and thought. Plensa's forms here present an opportunity to examine the physical weight of identity and how we communicate meaning, in its various forms, to the world around us.
About the artist: Jaume Plensa (b. 1955, Barcelona, Spain) is highly active in projects in public space. His celebrated works can be seen in Buffalo Bayou Park, Houston; Millennium Park, Illinois; Olympic Sculpture Park, Washington; Burj Khalifa, United Arab Emirates; BBC Broadcasting Tower and St. Helens, England; Pearson International Airport, Canada; Daikanyama, Toranomon Hills and Ogijima, Japan; Shanghai IFC Mall, China; Albright-Knox Art Gallery, New York; Bastion Saint-Jaume, France; Raoul Wallenberg Square, Sweden; and Pérez Art Museum Miami, Florida, among many other sites worldwide. The artist has presented solo exhibitions at prestigious institutions around the globe including the Institut Valencia d'Art Moderne, Spain; Nasher Sculpture Center, Dallas; Musée Picasso, Paris; Yorkshire Sculpture Park, England; and the Espoo Museum of Modern Art, Finland. Jaume Plensa: Human Landscape (2015), organized by the Cheekwood Botanical Garden & Museum of Art in partnership with The Frist Center for the Visual Arts, Nashville, traveled to the Tampa Museum of Art, Florida and Toledo Museum of Art, Ohio. Jaume Plensa: Together was presented in 2015 at the Basilica San Giorgio Maggiore in Italy as a collateral event of the 56th Venice Biennale. Plensa lives and works in Barcelona.