Image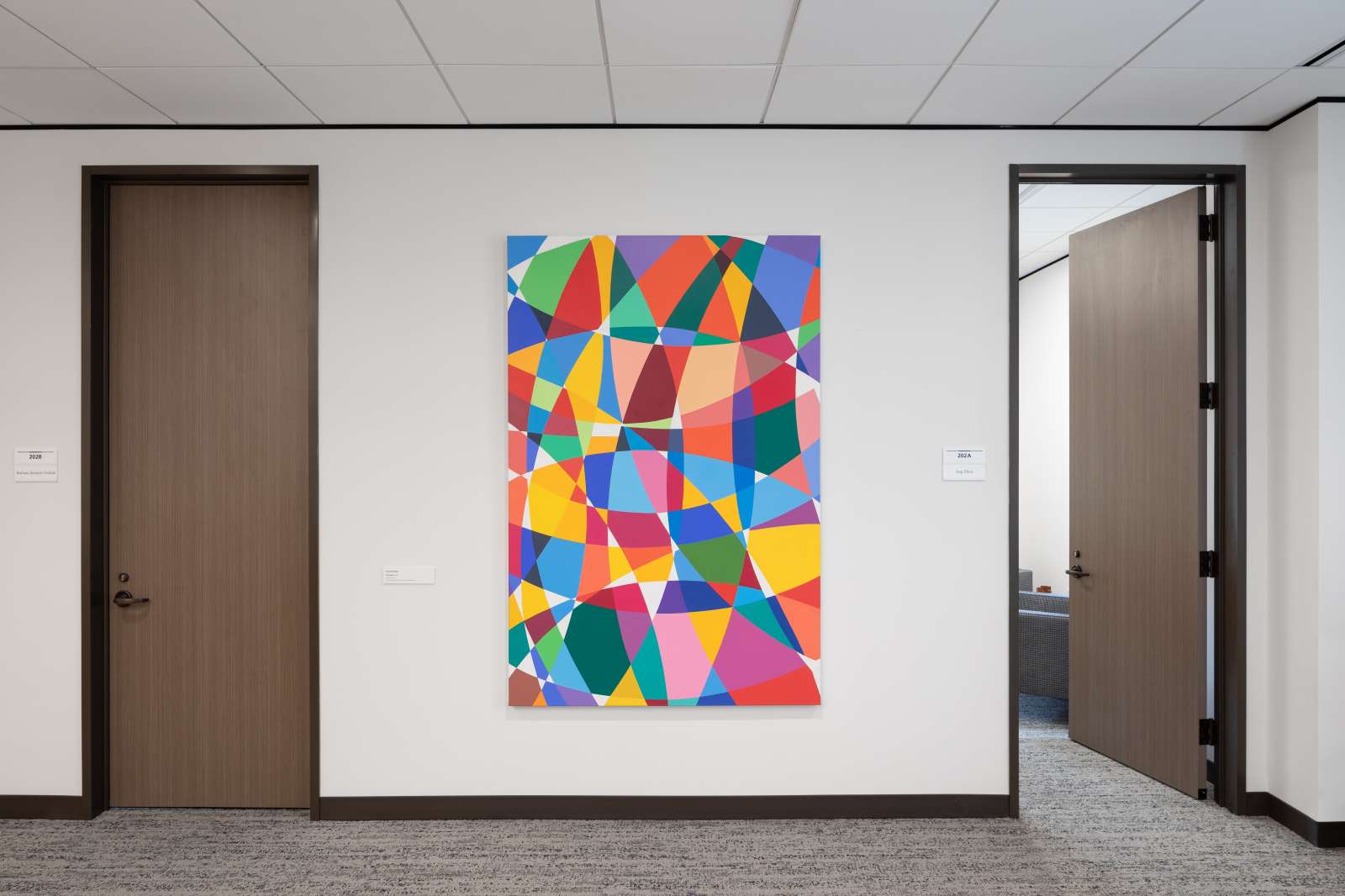 Graciela Hasper 
Sin Titulo, 2013
Acrylic on canvas 
Jones Graduate School of Business, McNair Hall, second floor
Made possible by the Jones Graduate School of Business
Graciela Hasper is known for her bold exploration of abstraction through meticulous, colorful paintings that she has made since the early 1990s. The Argentinian artist draws inspiration from the tradition of geometric abstraction, extending from early twentieth-century European Modernism and the rise of abstraction in Argentina in the 1940s. Building on this lineage, Hasper attempts to create order within her compositions through intricate patterns of vivid geometric shapes. Her work has been defined by her use of a rich chromatic palette, dynamic orthogonal lines, and precise contours. Often responding to architecture and the urban environment, Hasper has recently created site-specific installations of color and light that encompass the viewer's entire body, thereby expanding the boundaries of painting. 
Sin Titulo is a striking example of Hasper's colorful, abstract compositions. The large-scale canvas features intersecting planes of bright color that appear to pulsate as they simultaneously converge and diverge. The canvas can be hung either vertically or horizontally, contributing to the whimsical, non-conformist character of the work. Hasper has said that, "For me, painting happens with your eyes shut. It is not a representation of the world, it is a representation of ideas." In Sin Titulo, flat prismatic shapes in multiple hues are defined by curvilinear crisp lines that, when taken together, create an engaging, multi-faceted dimensionality.
About the artist: Although not formally trained, Graciela Hasper (b. 1966, Buenos Aires, Argentina) studied with artist Diana Aisenberg in Buenos Aires from 1988 to 1991. The same year she finished training with Aisenberg, she was among the first participants in Guillermo Kuitca's residency program for young Argentinian artists. Hasper first exhibited at the Rojas Gallery in Buenos Aires in 1992 and emerged with a generation of artists during a time of sociopolitical transformation in Argentina following the oppressive military dictatorship. Hasper's work was included in the 1994 landmark exhibition, Crimen y Ornamento (Crime and Ornament), at the Centro Cultural Rojas de Buenos Aires. The presentation codified the Rojas group, of which Hasper was one of the sole female members.
In 2000 Hasper received a Fulbright scholarship for a residency at Apex Art in New York and in 2002 she was in residence at the Chinati Foundation in Marfa, Texas. Her work is represented in major collections including Colección Patricia Phelps de Cisneros, New York; Museo de Arte Latinoamericano de Buenos Aires; Museo Arte Contemporáneo de Buenos Aires; Museo Castagnino de Rosario, Argentina; Museo de Arte Contemporáneo, Madrid; Museo de Arte Moderno de Buenos Aires; Museo Nacional de Bellas Artes, Buenos Aires; Philadelphia Museum of Art; and Museum of Fine Arts, Houston. The artist lives and works in Buenos Aires, Argentina.