Image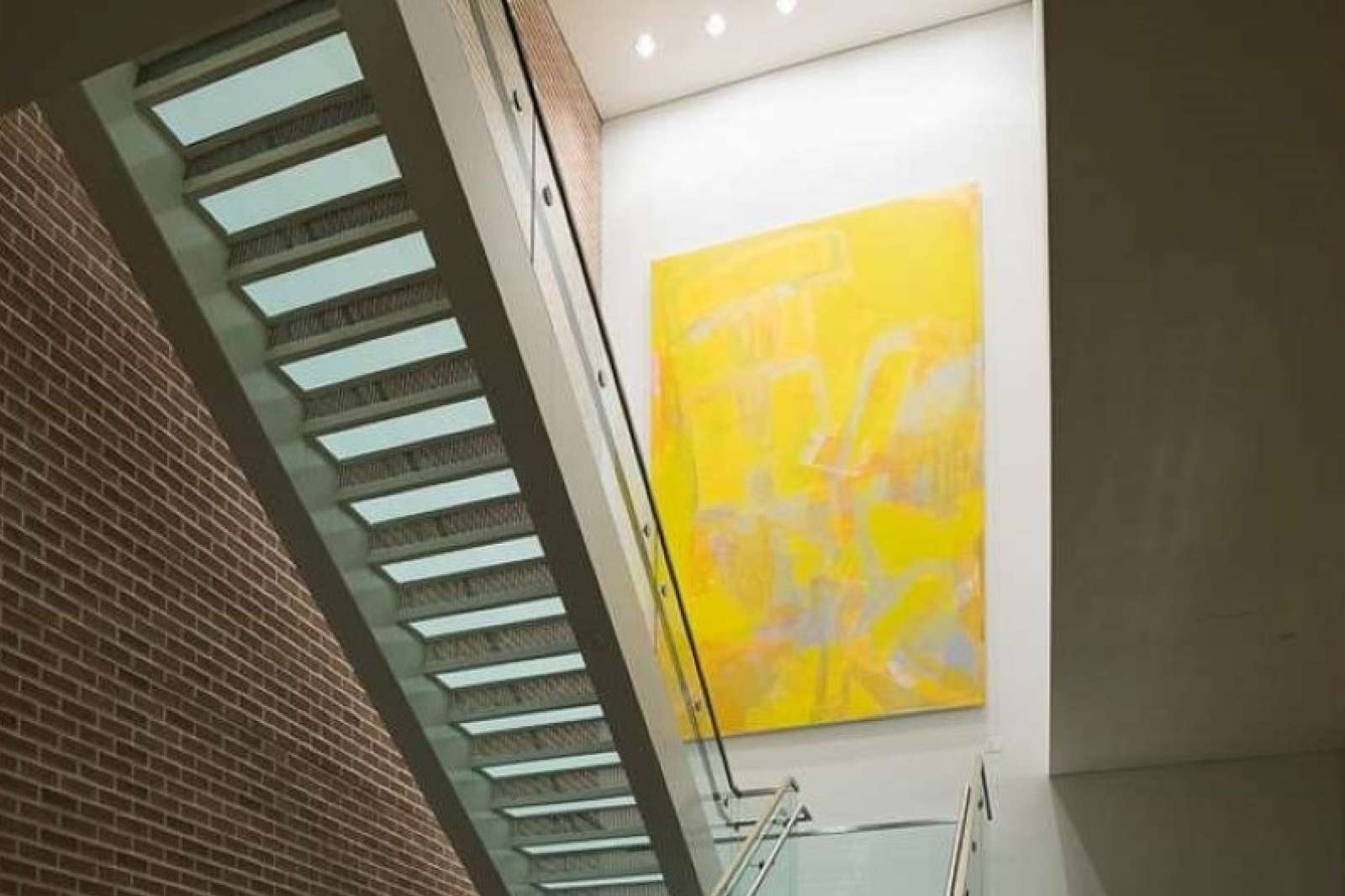 Image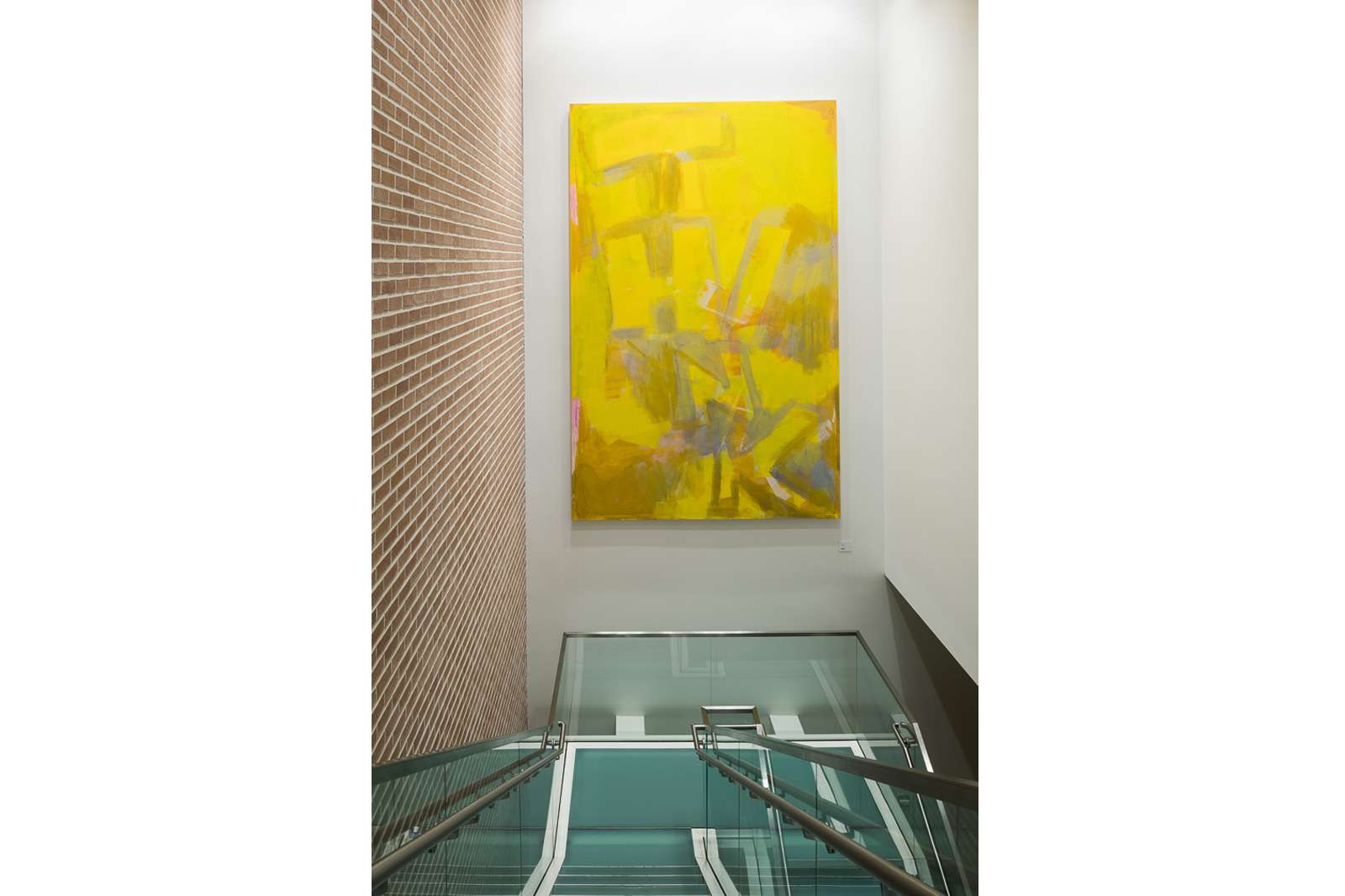 Image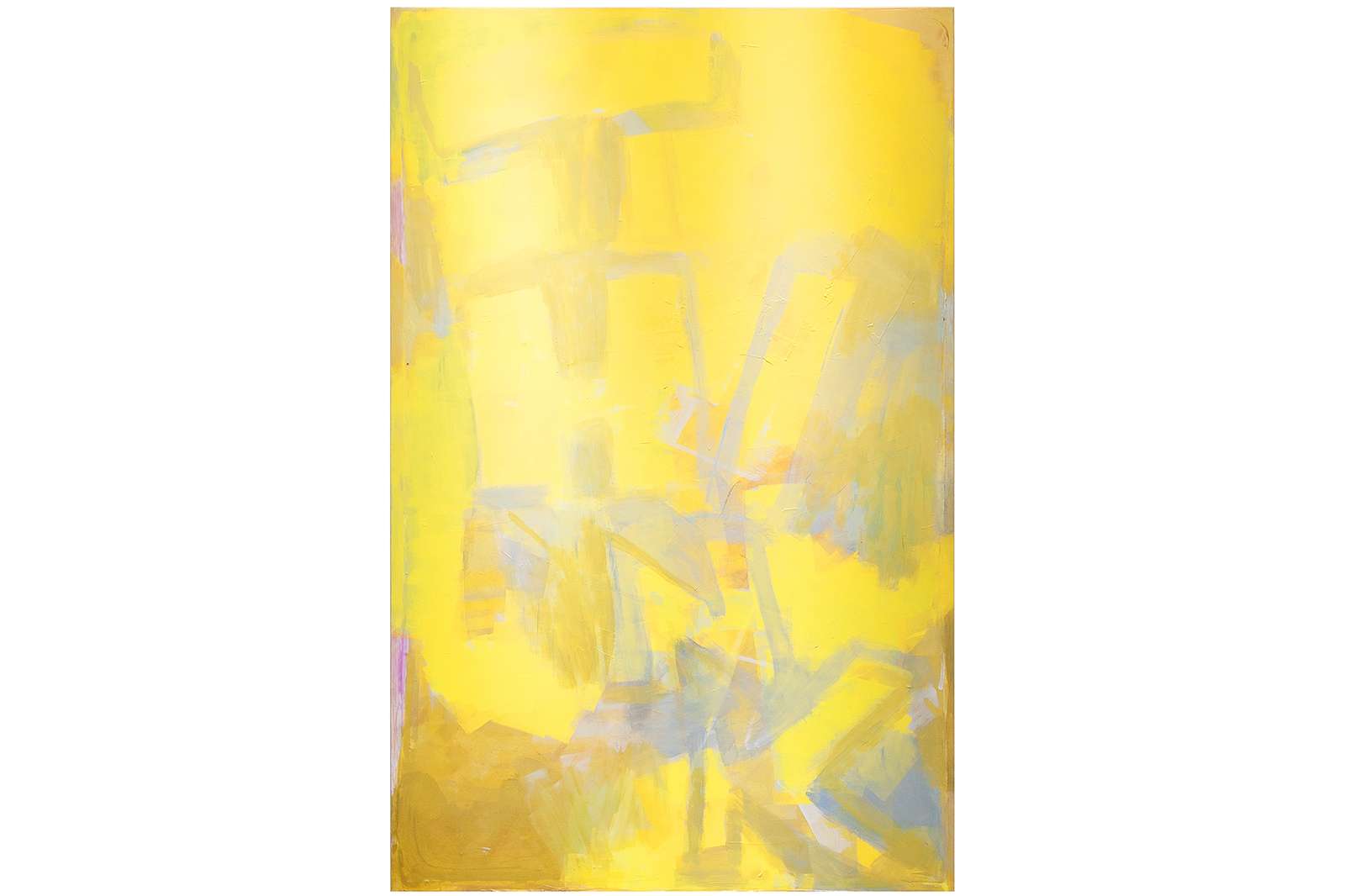 Image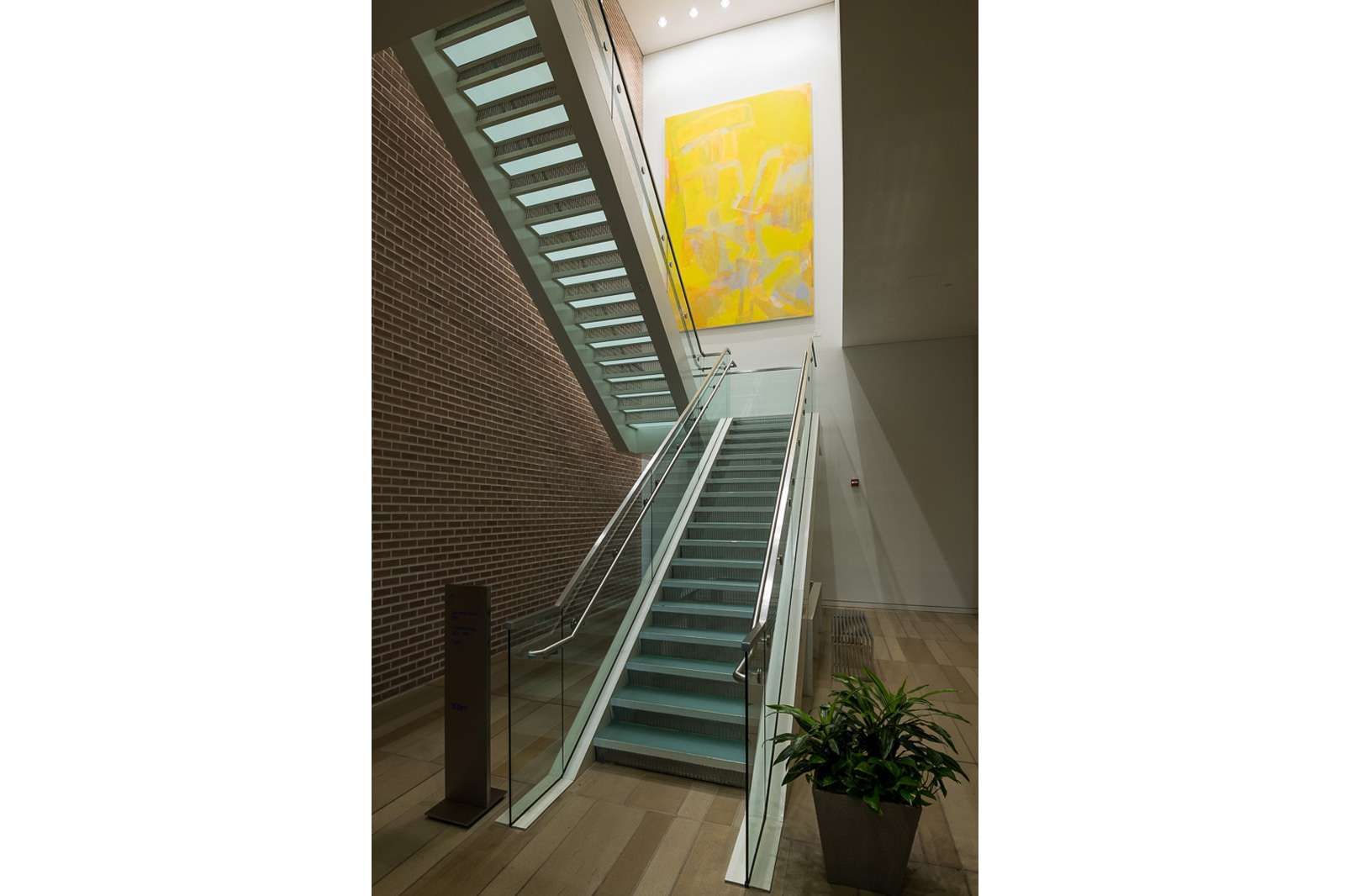 Dana Frankfort
Think, 2012
Acrylic on canvas
BioScience Research Collaborative (BRC) Grand Stairwell
Capital Building Fund Site-Specific Commission
Every viewer brings their own subjective readings and observations to a painting. In doing so, we help complete the work in a way; the viewer determines their own method of navigating the forms, substance, and images the artist has placed before them. The concept and application of abstraction—dealing with ideas rather than specific events, freedom from a reliance on representation—is an invitation for the viewer to stop and consider (even reconsider) the painting itself. Is this type of thinking fundamentally different than if we recognized what was depicted? How does our ability to recognize what we see affect how we see and understand the world around us?
A closer examination of the vivid colors and forms in this work by Dana Frankfort reveals the thin line between recognition, reading, and abstraction. As the viewer walks up and around the stairwell adjacent to the painting, and the light reflected from the painting's surface changes, the fog of abstracted forms is somewhat lifted. Obscured even in plain sight, blocky letterforms suddenly emerge, composed of jagged, hard-edged brushstrokes clouded in layers of bright, shifting color. Like the cloudy and non-linear process of thought itself, "THINK" floats in and out of a field of yellow and not-yellow as if it were emerging from a thick morning fog.
Commissioned specifically for the BRC Grand Stairwell, Think was produced while Frankfort served as an artist-in-residence with Rice Public Art in 2012. As her first project of this scale, Frankfort fashioned her own tools and over-sized paintbrushes to complete the work. During this time, the artist created more than twenty smaller studies to determine the work's final palette and composition. The painting's title (and its painterly rendering in text) becomes a point of departure for the work, a gesture that the viewer examines on his or her own terms—with a little thought.
About the artist: Dana Frankfort (b. 1971, Houston, TX) received an MFA from Yale and attended the Skowhegan School of Painting and Sculpture, both in 1997. From 1999-2000 Frankfort was an MFAH Core Studio Art Resident. One-person exhibitions include The Space Between Paintings, Carillon Gallery, Fort Worth, TX (2014); HIT OR MISS, James Harris Gallery, Seattle, WA (2011); Sorry We're Closed, Brussels (2008); Bellwether Gallery, New York, NY (2007); Inman Gallery (2007); and Kantor/Feuer Gallery, Los Angeles, CA (2006). Her paintings were included in the group exhibition Abstract America: New Painting from the U.S., Saatchi Gallery, London (2009-10); and locally in Learning by Doing: 25 Years of the Core Program, Museum of Fine Arts, Houston, TX (2008-09). Frankfort received a John Simon Guggenheim Memorial Foundation Fellowship in 2006. Her paintings are in the permanent collections of the Museum of Fine Arts, Houston, TX, Rice University, Houston, TX, and The Jewish Museum, New York, NY.