Image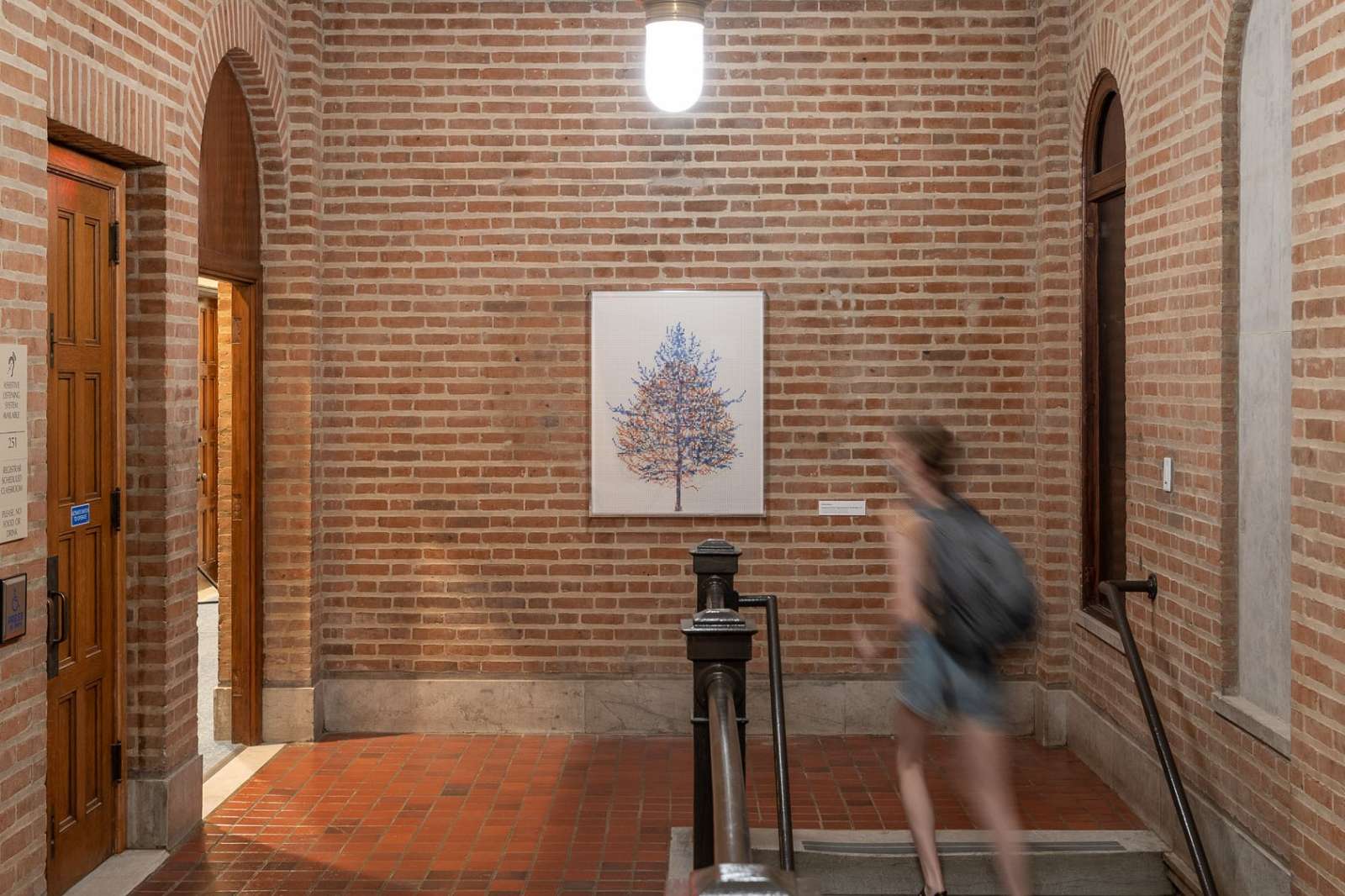 Image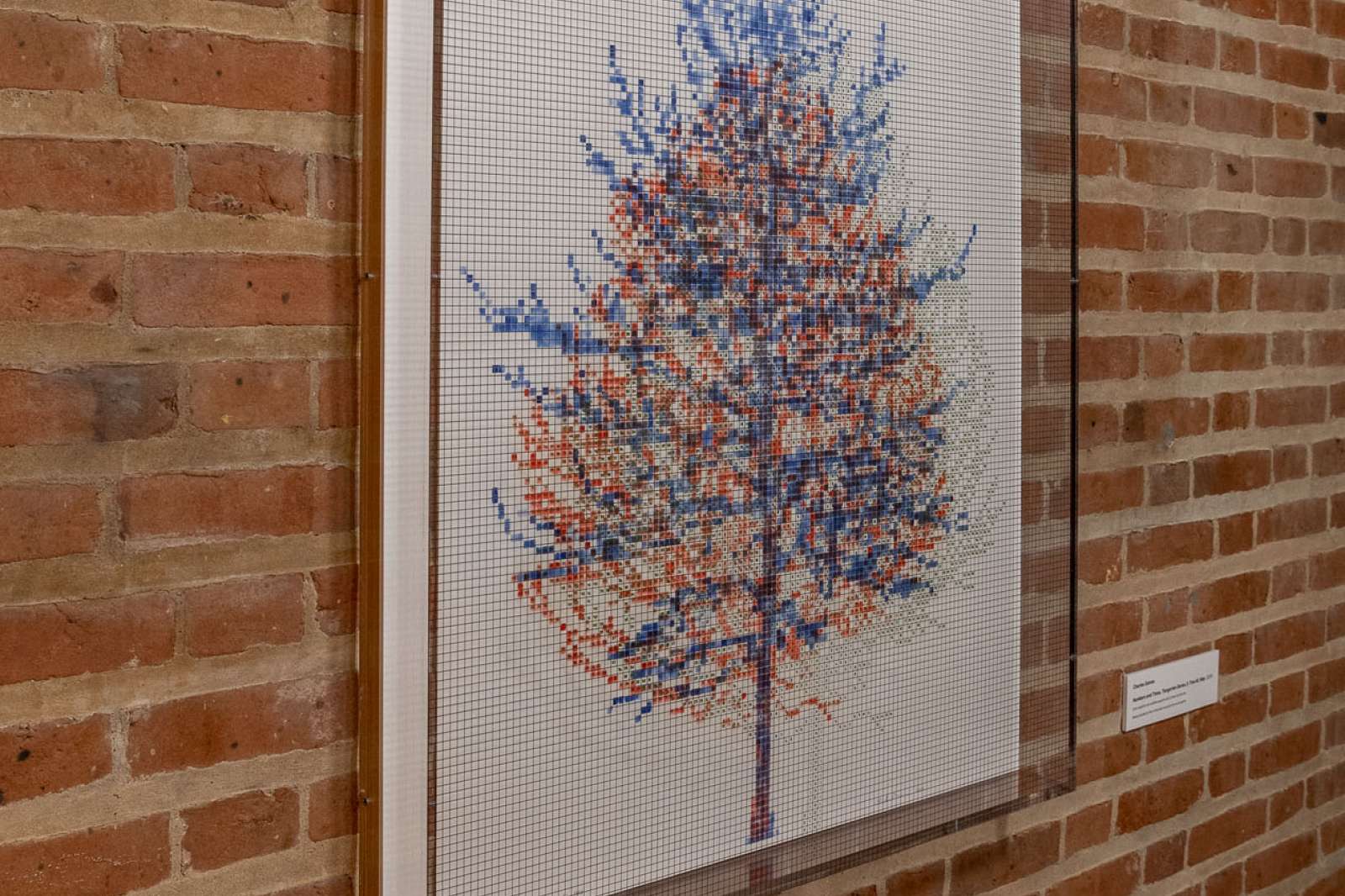 Image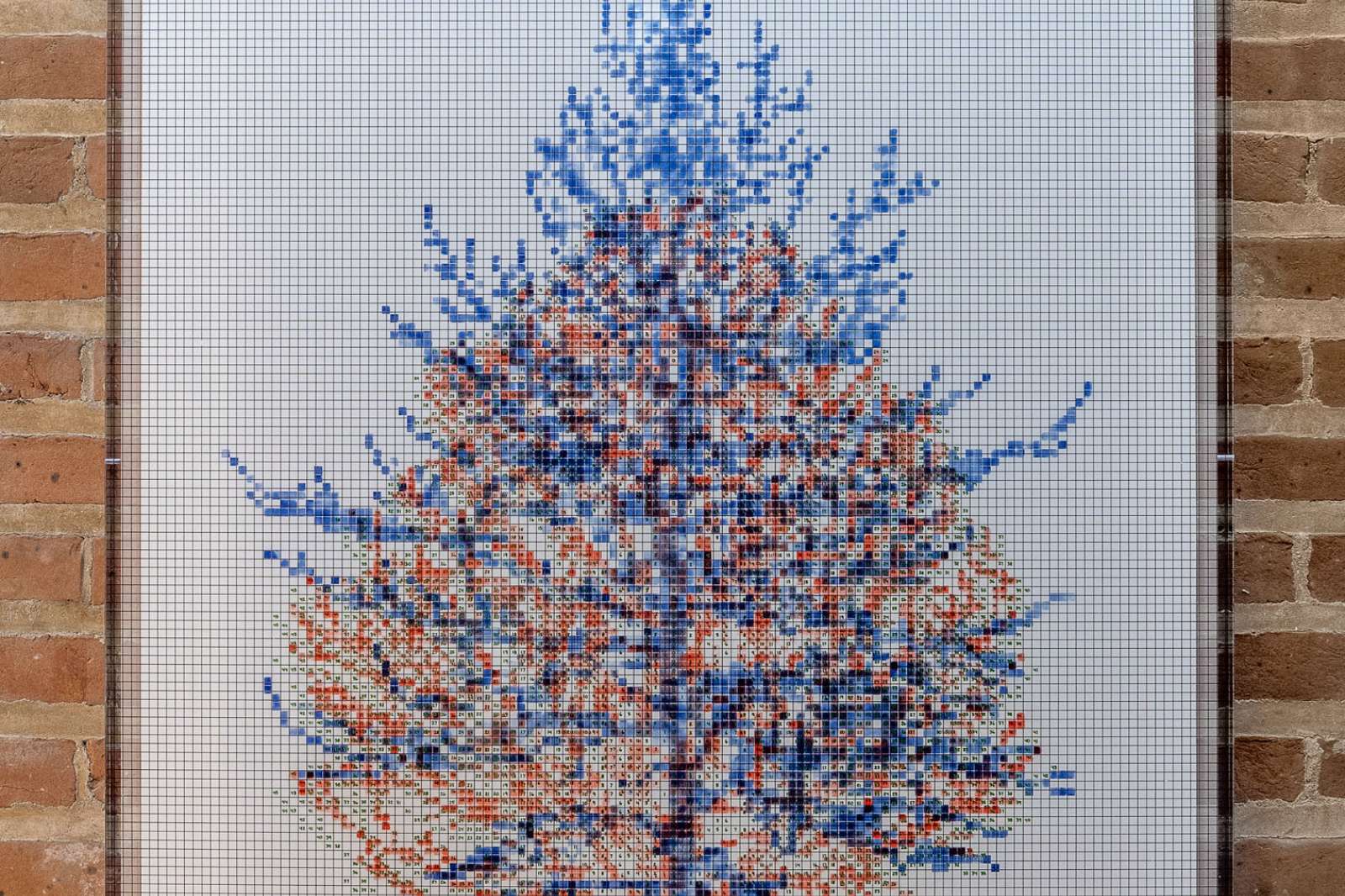 Charles Gaines
Charles Gaines, Numbers and Trees, Tiergarten Series 3: Tree #2, May, 2018
Color aquatint and spitbite aquatint with printed acrylic box
Ed. 13/25 + 10 AP
Maxfield Hall, second floor
Made possible by Rice University's percent-for-art program
One of the most prominent figures in the field of Conceptual Art, Charles Gaines uses quantitative systems, repetitive forms, and rule-based methods to explore the lines between objective and subjective perceptions of reality. Over the past four decades, in his photographs, drawings, and works on paper, Gaines has established his own unique method of overlaying numbers and grids on natural forms as a means of highlighting the tension between empirical observation and subjective response.
In Numbers and Trees, Tiergarten Series 3: Tree #2, May a tree is rendered in small squares of blue and red, resulting in a seemingly pixelated digital image. To the left and right of the tree trunk are numbers from 0 to 45. Their systemic arrangement in columns and rows progresses as they follow the tree's profile, reinforcing its silhouette. Floating atop the composition is an acrylic sheet printed with a black grid and green numbers that mimic the dimensions of the squares and the order of numbers beneath, creating the illusion of movement.  
The work invites viewers to consider ideas of image recognition and perception – for example, how we might immediately recognize the idea of a "tree" even if it is only partially there. While the numbers contribute to solidify the image, they also represent the mathematics of nature and the human desire to make sense of reality by applying meaning where it may or may not exist. The end result combines the rational system of numbers with the unpredictable beauty of the natural world.
About the Artist: Charles Gaines (b. 1944, Charleston, South Carolina) began his career as a painter, having received his MFA from the School of Art and Design at the Rochester Institute of Technology in 1967. After graduating as the first Black student accepted into the MFA program, he became a professor at California State University Fresno until accepting his current full-time faculty position at the California Institute of the Arts in 1989.
In 2019, Gaines received the 60th Edward MacDowell Medal, and in 2013 he received a John Simon Guggenheim Memorial Foundation Fellowship. His works are included in various national and international collections such as the Museum of Modern Art, New York, NY; Whitney Museum of American Art, New York, NY; The Studio Museum, Harlem, NY; Hammer Museum, Los Angeles, CA; Los Angeles County Museum of Art; Museum of Contemporary Art, Los Angeles; Städtische Galerie im Lenbachhaus, Munich, Germany, among many others.
In the last two decades, Gaines has had solo exhibitions at the Museum of Modern Art, San Francisco; the Institute of Contemporary Art, Miami; the Studio Museum in Harlem; and the Museum of Contemporary Art, San Diego. He has participated in multiple biennials, including the Venice Biennale in 2007 and 2015 and the Montreal Biennial in 2014. Gaines lives and works in Los Angeles.