Image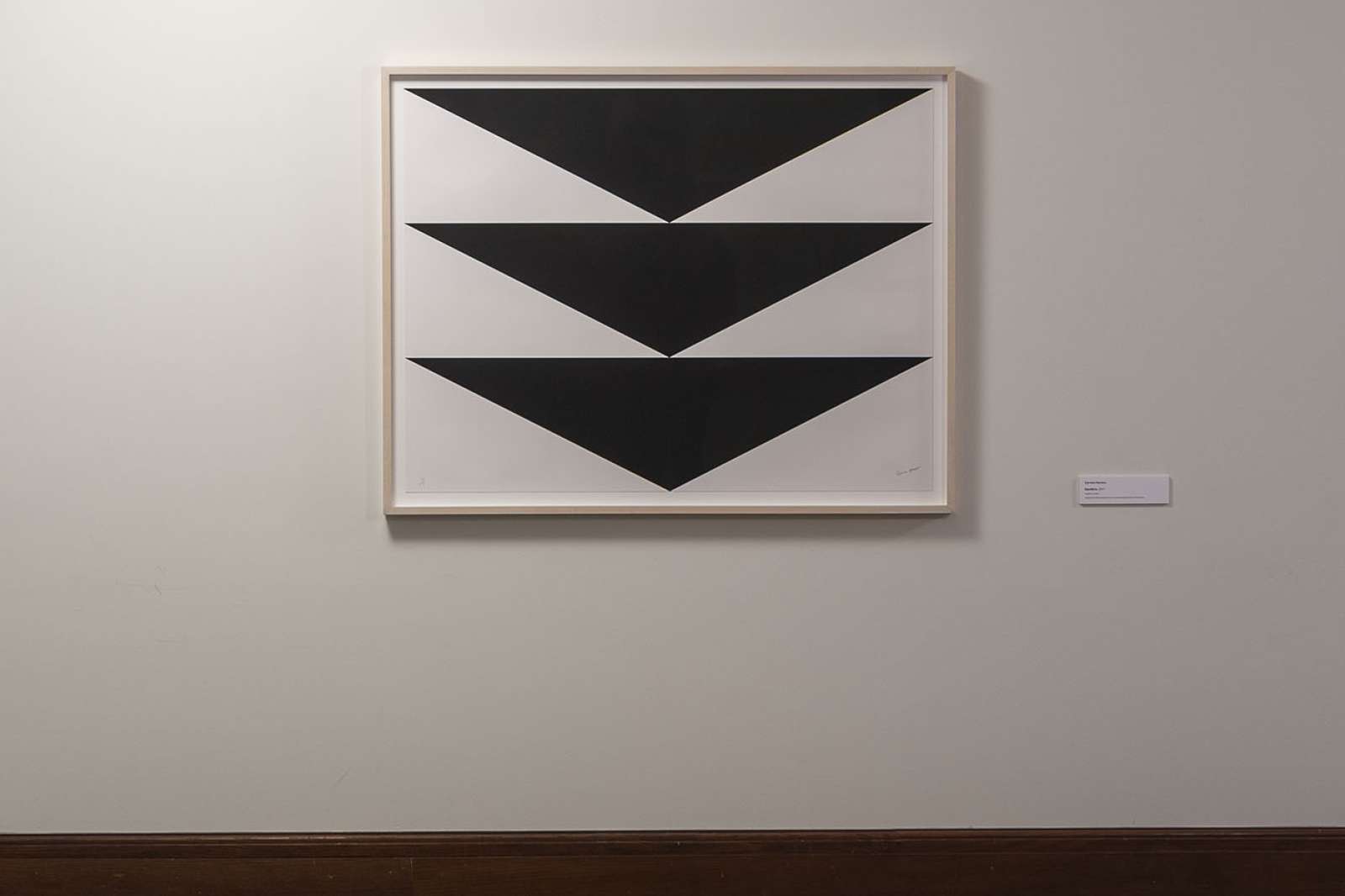 Image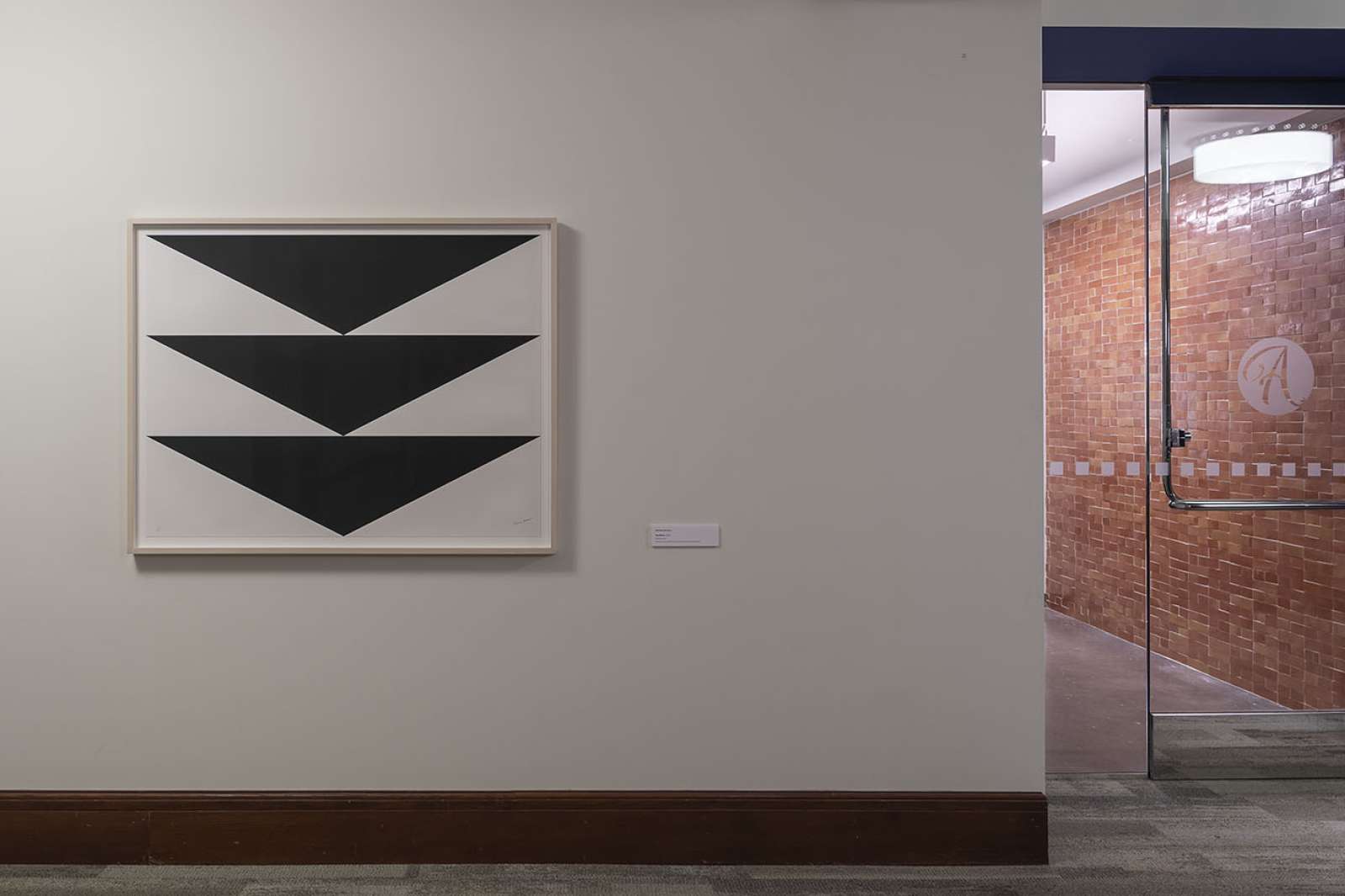 Image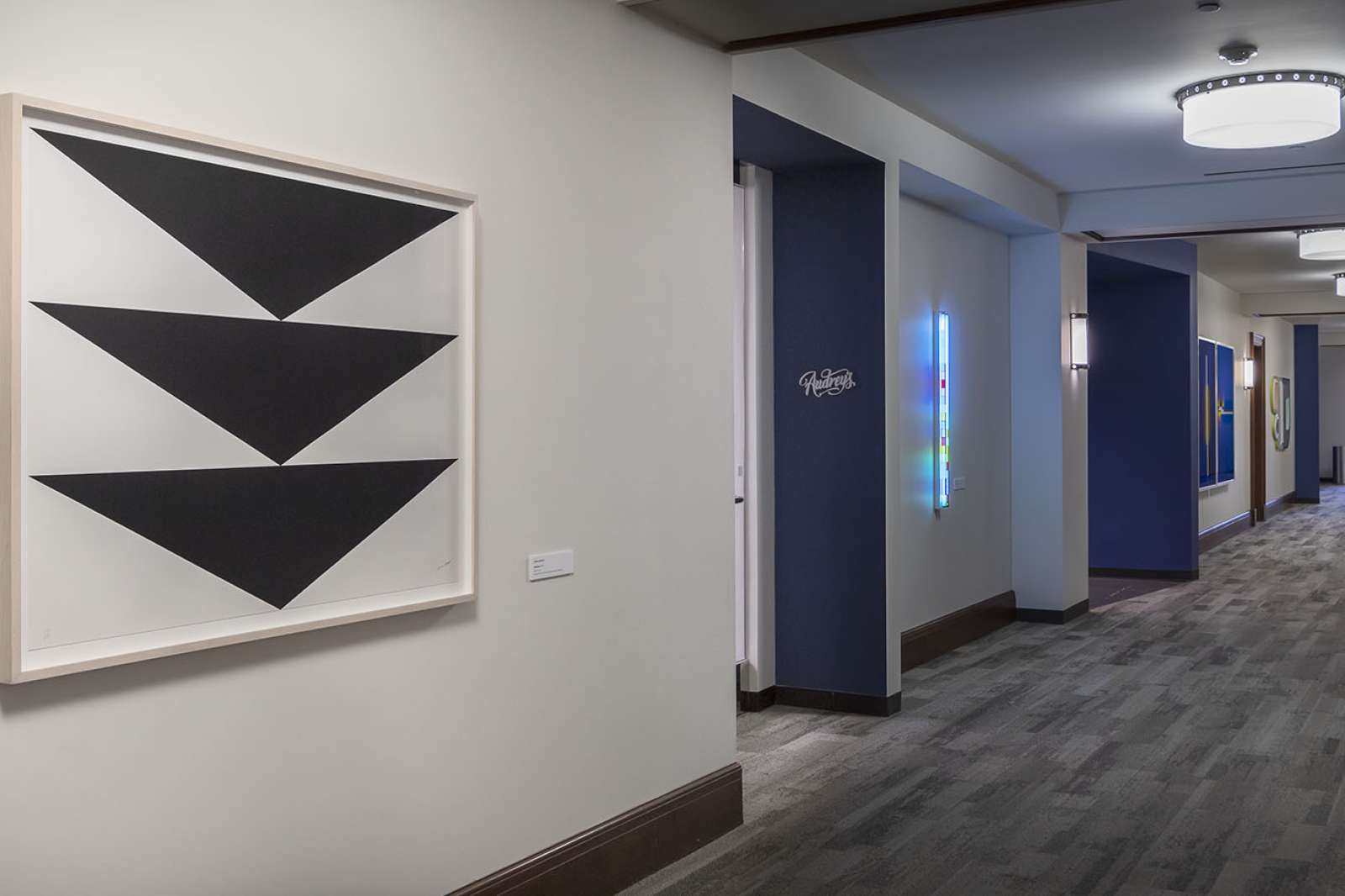 Carmen Herrera
Equilibrio, 2017
Intaglio
Corridor adjacent to Audrey's at the Jones Graduate School of Business
Acquisition made possible by the Jones Graduate School of Business
Celebrated as a groundbreaking artist of geometric abstraction, Carmen Herrera worked consistently since the 1940s. She developed a unique visual language that conveys spatial tensions through minimalist means based on symmetry and asymmetry, color and rhythm. Merging formal simplicity and chromatic contrast, Herrera excised non-essential elements in her paintings, sculptures, and prints to emphasize pure form. Drawing from both Latin American and Western art traditions, Herrera produced a unique cross-cultural interpretation of modernist abstraction.
Equilibrio captures core aspects of Herrera's style with its sharp, simple forms and reductive palette. Herrera's interests in symmetry and rhythm are manifested through the print's stacked triangular motif that extends to the edge of the sheet. The three central black triangles suggest a continuous downward motion, creating a symmetrical smaller set of white triangles on both sides of the composition. The difference between the black shapes and white ground is balanced; the composition thus embodies a perfect "equilibrium."
Equilibrio was made through a print technique known as intaglio wherein the initial design is etched into a metal plate. Ink is then rubbed into the incisions, and the design from the recessed areas is then applied to paper, placed on the plate, and transferred to the paper through a high-pressure press.
About the Artist: Carmen Herrera (b. 1915, Havana, Cuba, d. 2022) studied architecture at the Universidad de La Habana, Havana, Cuba and then enrolled at the Art Students League in New York. She spent time in France and exhibited at the Salon des Réalités Nouvelles and at the Musée d'Art Moderne de la Ville de Paris in the 1940s and early 1950s. Herrera settled permanently in New York in 1954.
Herrera has been featured in numerous exhibitions across the United States and Europe, including a solo retrospective at the Whitney Museum of American Art, New York, Carmen Herrera: Lines of Sight (2016). Among her other exhibitions are Epic Abstraction: Pollock to Herrera (2018-2020) at the Metropolitan Museum of Art, New York, Carmen Herrera: Structuring Surfaces (2020-2021) at the Museum of Fine Arts, Houston, and Women in Abstraction (2021) at the Centre Pompidou, Paris. Her Estructuras Monumentales, a series of monumental aluminum sculptures that she conceived in the late 1960s and 1970s, was first shown at City Hall Park in New York in 2019, and then exhibited at Buffalo Bayou Park in Houston in 2020-21. Her work is in the collections of numerous public institutions, including the Museum of Modern Art, New York, the Whitney Museum of American Art, New York; the Metropolitan Museum of Art, New York; NY; the Hirshhorn Museum, Washington DC; the Pérez Art Museum, Miami, FL; Kunstsammlung Nordrhein-Westfalen (K20), Düsseldorf, Germany; and the Tate Collection, London, UK.