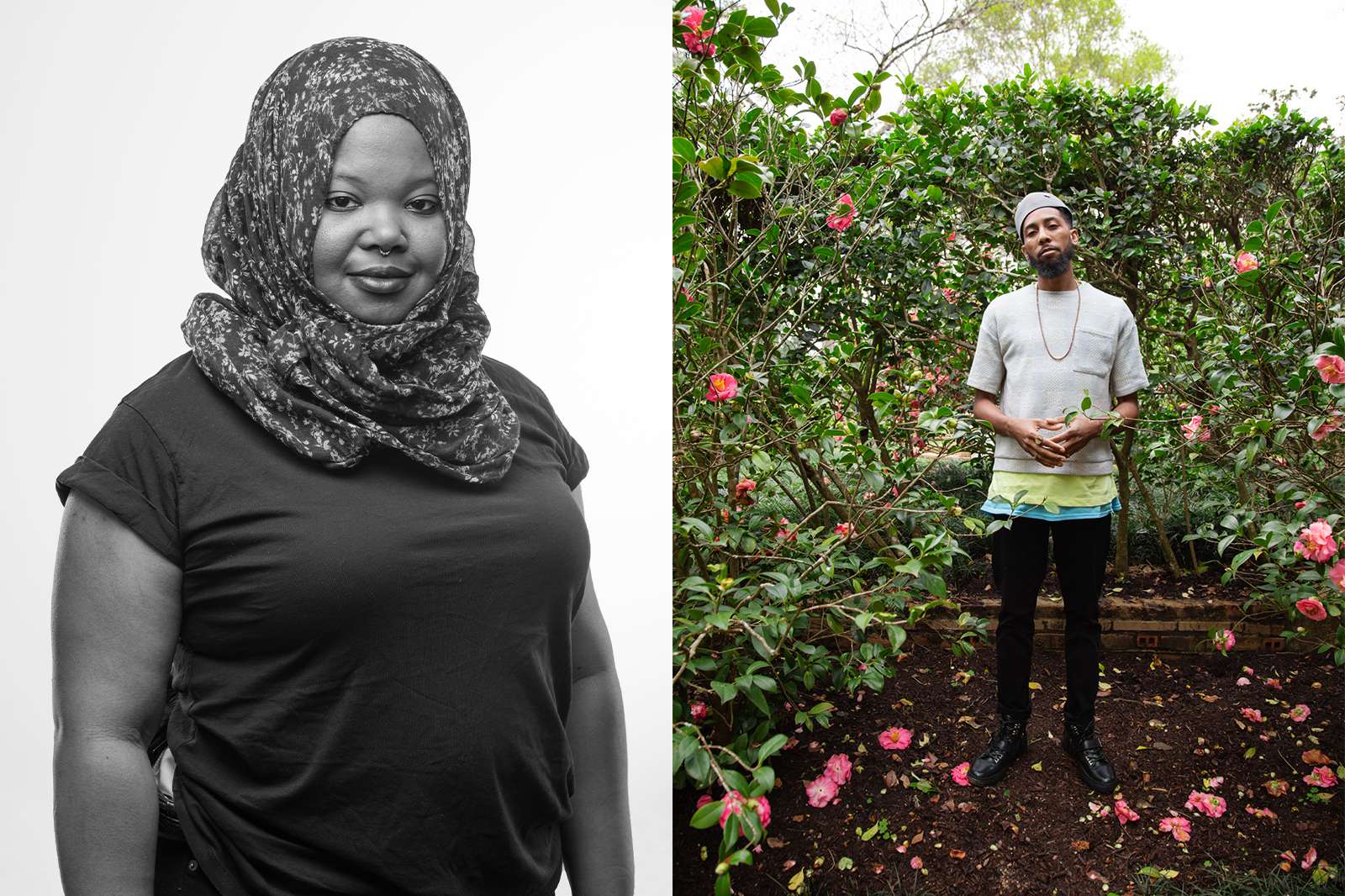 Opening Reception: Platform: Kameelah Janan Rasheed
perhaps, there is no sequel
Tuesday, February 18, 2020

5:00

-

7:00 pm
Join Rice Public Art to celebrate the opening of the third iteration of the Platform series featuring a newly commissioned text-based installation by Brooklyn-based artist Kameelah Janan Rasheed. Installed across four large-scale vinyl banners located in the lawn to the west of the Brochstein Pavilion, Rasheed's new poetic gesture, titled perhaps, there is no sequel, grapples with concepts of futurity, certainty, and underscores critical issues of inclusion, race, and human vulnerability through lyrical yet unequivocal words.
The event will feature a performance by Houston-based trumpeter, composer, and hip-hop artist Jawwaad at 6pm. The performance will draw inspiration from composer Benjamin Patterson's Ants, a work he initiated in the early 1960s and revisited in 2010. Using images of the eponymous insects sprawling on a white background as a starting point for a score, Patterson developed a musical composition based on their pheromone driven movements. Rasheed and Jawwaad will similarly combine extemporaneous actions, musical interventions, and electronic sounds to generate a multidisciplinary, heterogeneous score.
Platform: Kameelah Janan Rasheed, perhaps, there is no sequel is on view through September 1, 2020
About Kameelah Janan Rasheed
Kameelah Janan Rasheed (b. 1985, East Palo Alto, California) is an interdisciplinary artist whose practice addresses themes of blackness, spirituality, and literacies. In her multifaceted text-based work, the artist confronts and interrogates the viewer with inquisitive language which she presents on large-scale banners, in immersive installations made of black-and-white Xerox paper, or as performative gestures. She has exhibited at the Contemporary Art Gallery of Vancouver (2019); Brooklyn Public Library, New York (2019); Brooklyn Museum, New York (2019); New Museum, New York (2018); Institute of Contemporary Art, Philadelphia (2017); Pinchuk Art Centre, Kiev (2017); The Kitchen, New York (2017); Queens Museum, New York (2016); Project Row Houses, Houston (2015—16); and the Studio Museum in Harlem, New York (2015), among other institutions. She is the author of two artist's books— No New Theories (Printed Matter, 2020) and An Alphabetical Accumulation of Approximate Observations (Endless Editions, 2019)—and the founder of Mapping the Spirit, a digital archive encompassing documentation of lesser-known black religious experience in the United States. Rasheed is on the faculty of the MFA fine-arts program at the School of Visual Arts, New York, and is a social studies curriculum developer for New York public schools. She holds a BA in public policy and from Pomona College (2006) and an MA in secondary social studies education from Stanford University (2008). Rasheed lives and works in Brooklyn, New York.
About Jawwaad
Jawwaad is a trumpeter, composer, producer, educator, and hip-hop artist. He is a founding member of the group Shape of Broad Minds whose critically acclaimed album Craft of the Lost Art (2007) brought international attention. He also is the co-founder and producer of The Young Mothers, a band that merges modern jazz, improvisation, hip hop, indie rock, and caterwauling Afro-grooves. Jawwaad faces the challenges of sickle cell disease, and like artists T-Boz, Prodigy, and allegedly Miles Davis, he has channeled this in his work, transforming his personal struggles into provocative, thought-provoking lyrics, sounds, and music. He is a long-standing collaborator of artist and MacArthur Fellow Carrie Mae Weems, for whom he composed pieces for the performance Grace Notes: A Reflection for Now (2016). He has performed at national and international festivals such as the Hove Festival, Norway; Sónar Festival, Spain; Meltdown, United Kingdom; and the Bonnaroo Music and Arts Festival, Tennessee; among many others. In addition, Jawwaad teaches music to displaced youth and children impacted by mass incarceration and undocumented immigration status. He lives and works in Houston.