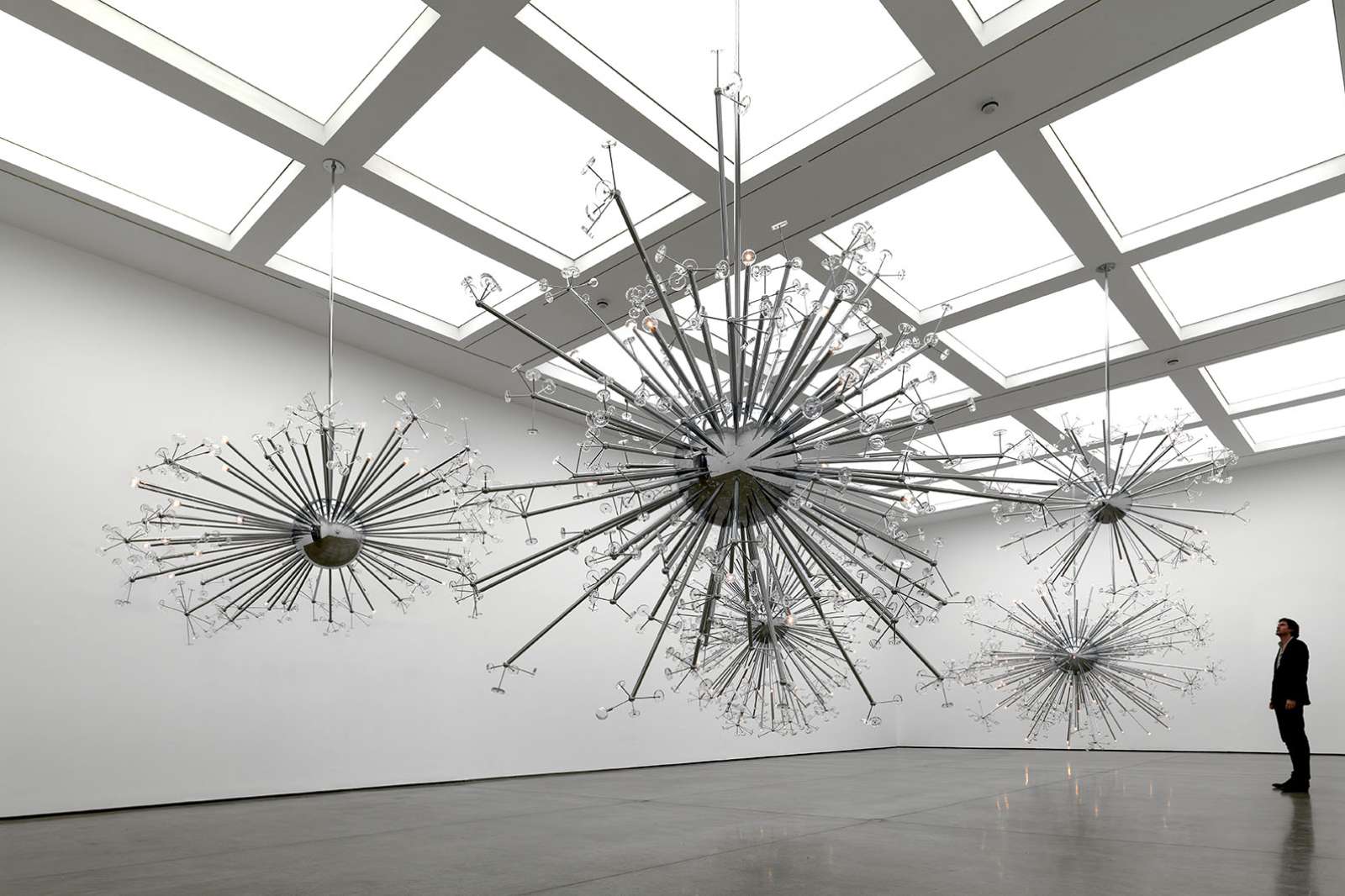 Campbell Lecture Series: Josiah McElheny
Tuesday, March 20, 2018

6:00 pm
Wednesday, March 21, 2018

6:00 pm
Thursday, March 22, 2018

6:00 pm
Lois Chiles Studio Theater
Josiah McElheny will deliver the prestigious 2018 Campbell Lecture Series. Invited by Rice's School of Humanities, McElheny will speak about Imaginary Modernism: Three Lectures on Alternative Paths in the History of 20th Century Art, Architecture, and Music.
McElheny's lectures will focus on six essential figures from the histories of art, architecture, and music across the 20th and 21st centuries. He proposes that there are a set of paths toward undiscovered alternate futures to be found in the work of specific artists, architects, writers, musicians, and composers. Each night will include visual or auditory components. The final evening, March 22nd, will include special guest Joe McPhee, the inimitable free-jazz musician, who will both perform and conduct the audience in a participatory performance following the lecture.
March 20:
The series opens with an introduction to McElheny's proposal for an Imaginary Modernism, a modernism that has yet to happen, followed by Literary Architecture: The mythic, futuristic, comedic poetic architectures of Paul Scheerbart and Bruno Taut. This lecture describes the collaborations between poet-theorist Paul Scheerbart (German, 1863-1915) and activist-architect Bruno Taut (German, 1880-1938) and how their ideas speak to the present.
March 21:
The second evening will continue with Invisible Painting: The work of Hilma af Klint and Blinky Palermo depicting the world beyond the visible and the space we inhabit. McElheny will discuss the work and thought of these two disparate and reticent painters, Hilma af Klint (Swedish, 1862-1944) and Blinky Palermo (German, 1943-1977), and their attempts to make visible a world beyond and the nature of the imperfect spaces we inhabit.
March 22:
The lecture series concludes with Cosmic Listening: The cosmo-political thinking of Sun Ra and Pauline Oliveros and concludes with a special guest performance by visionary musician and poet Joe McPhee. McElheny pays homage the political, exuberant, unbounded sound-making of Sun Ra (American, 1914-1993) and the feminist, radical, and communitarian propositions by composer, electronic musician, and audience conductor Pauline Oliveros (American, 1932-2016).
About Josiah McElheny
Josiah McElheny is a New York-based sculptor, performance artist, writer, and filmmaker best known for his use of glass with other materials. Through sculpture, writing, performance, and film, Josiah McElheny investigates the history of twentieth-century modernism in hopes of expanding on the dominant historical narratives of art, aesthetics, design, and architecture, and the criticality of our relationship to them. Recognized for his conceptually rigorous approach, and a physical mastery of materials, such as glass, McElheny explores vastly-ranging topics from astronomical cosmology and the infinite, to under-recognized artists or oeuvres. His practice mines the past to lay the groundwork for a path forward, giving a glimpse into not only what could have been, but visions for what might be.
McElheny has exhibited widely including two major survey exhibitions, Towards a Light Club at the Wexner Center for the Arts, Columbus, Ohio (2013), and Some Pictures of the Infinite at the Institute for Contemporary Art in Boston, Massachusetts (2012), as well as exhibitions at The Museo Nacional Centro de Arte Reina Sofía, Madrid (2009), Henry Art Gallery, Seattle (2008), Moderna Museet, Stockholm (2007), Madison Square Park, New York (2017), and the Museum of Modern Art, New York (2007). He is currently the 2017-2018 Keith L. and Katherine S. Sachs Visiting Professor in the Department of Fine Arts at the University of Pennsylvania School of Design.
About Joe McPhee
Joe McPhee, a Miami, Florida native, is a multi-instrumentalist, composer, improviser, conceptualist, and theoretician. He began playing the trumpet at age eight, taught by his father, himself a trumpet player.
He continued on that instrument through his formative school years and later in a U.S. Army band stationed in Germany, at which time he was introduced to performing traditional jazz. Clifford Thornton's Freedom and Unity, released in 1969 on the Third World label, is the first recording on which he appears as a side man. In 1968, inspired by the music of Albert Ayler, he took up the saxophone and began an active involvement in both acoustic and electronic music.
His first recordings as leader appeared on the CJ Records label, founded in 1969 by painter Craig Johnson. These include Underground Railroad by the Joe McPhee Quartet (1969), Nation Time (1970), Trinity (1971) and Pieces of Light (1974). In 1975, Swiss entrepreneur Werner X. Uehlinger release Black Magic Man by McPhee, on what was to become Hat Hut Records.  Quoting Time Out New York: "His magical take on avant-garde sax remains one of the wonders of the scene. He still has one of the most beautiful tones on the planet, even when he's reaching for jazz's outer limits."