Image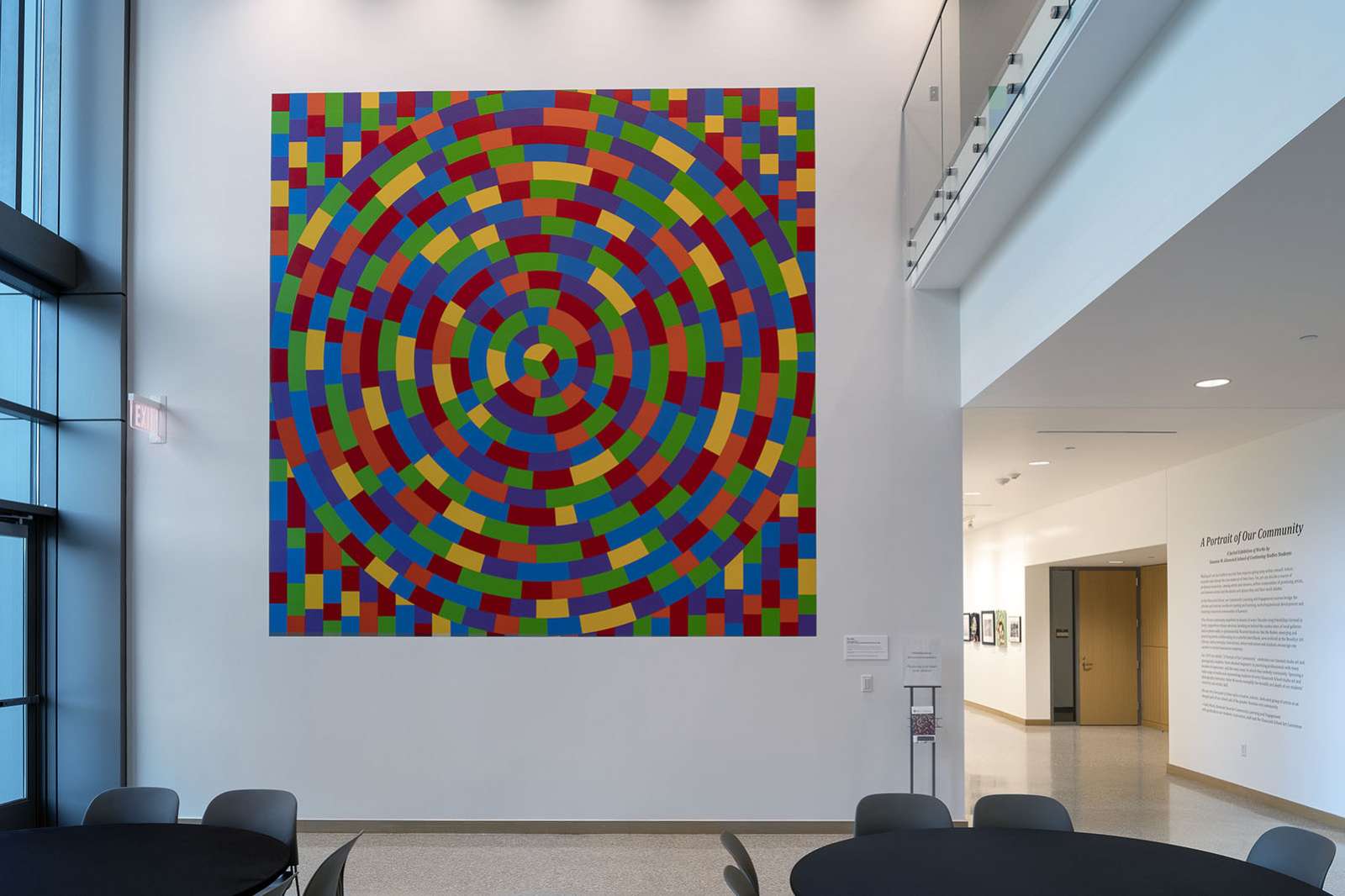 Image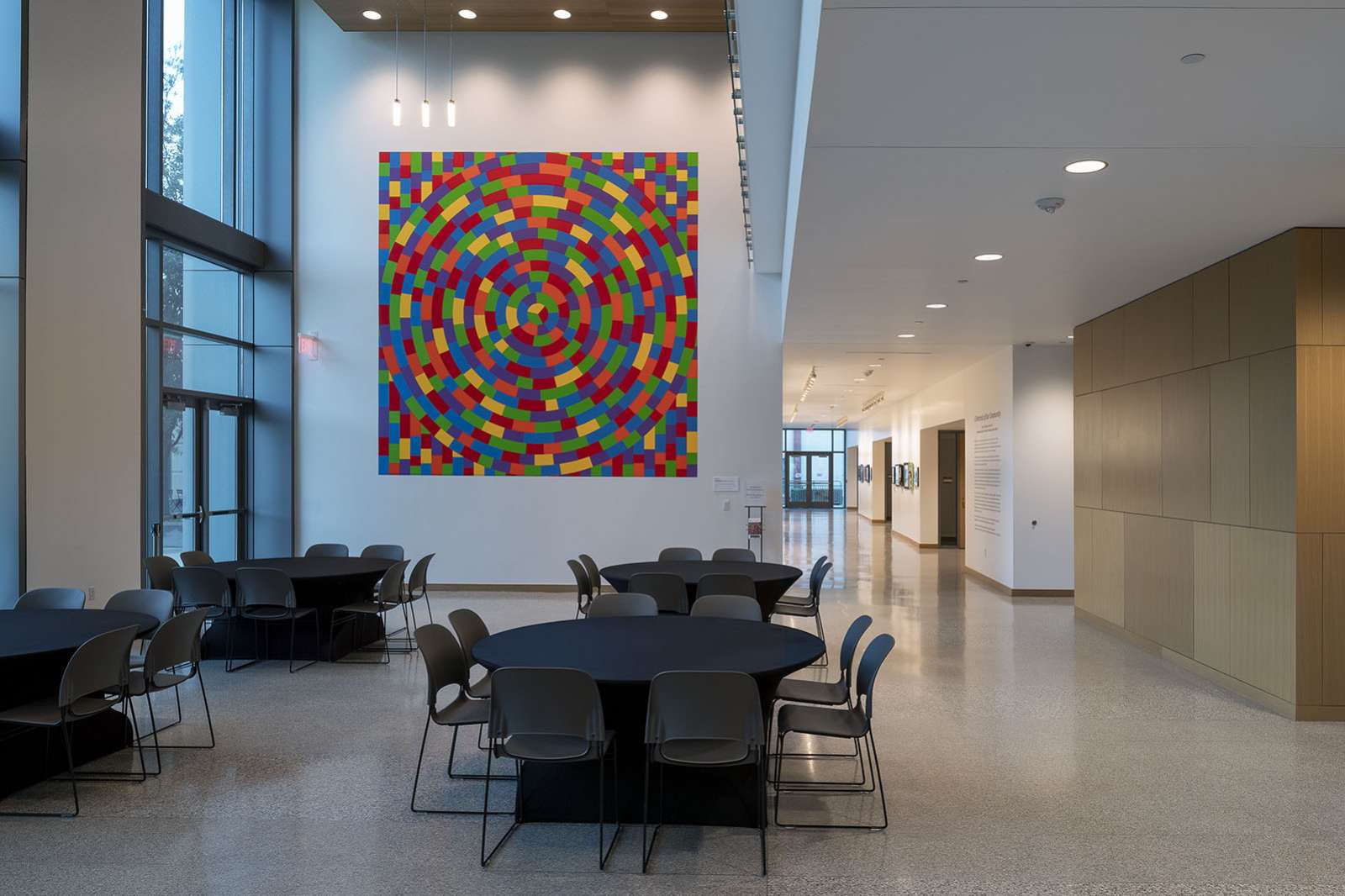 Image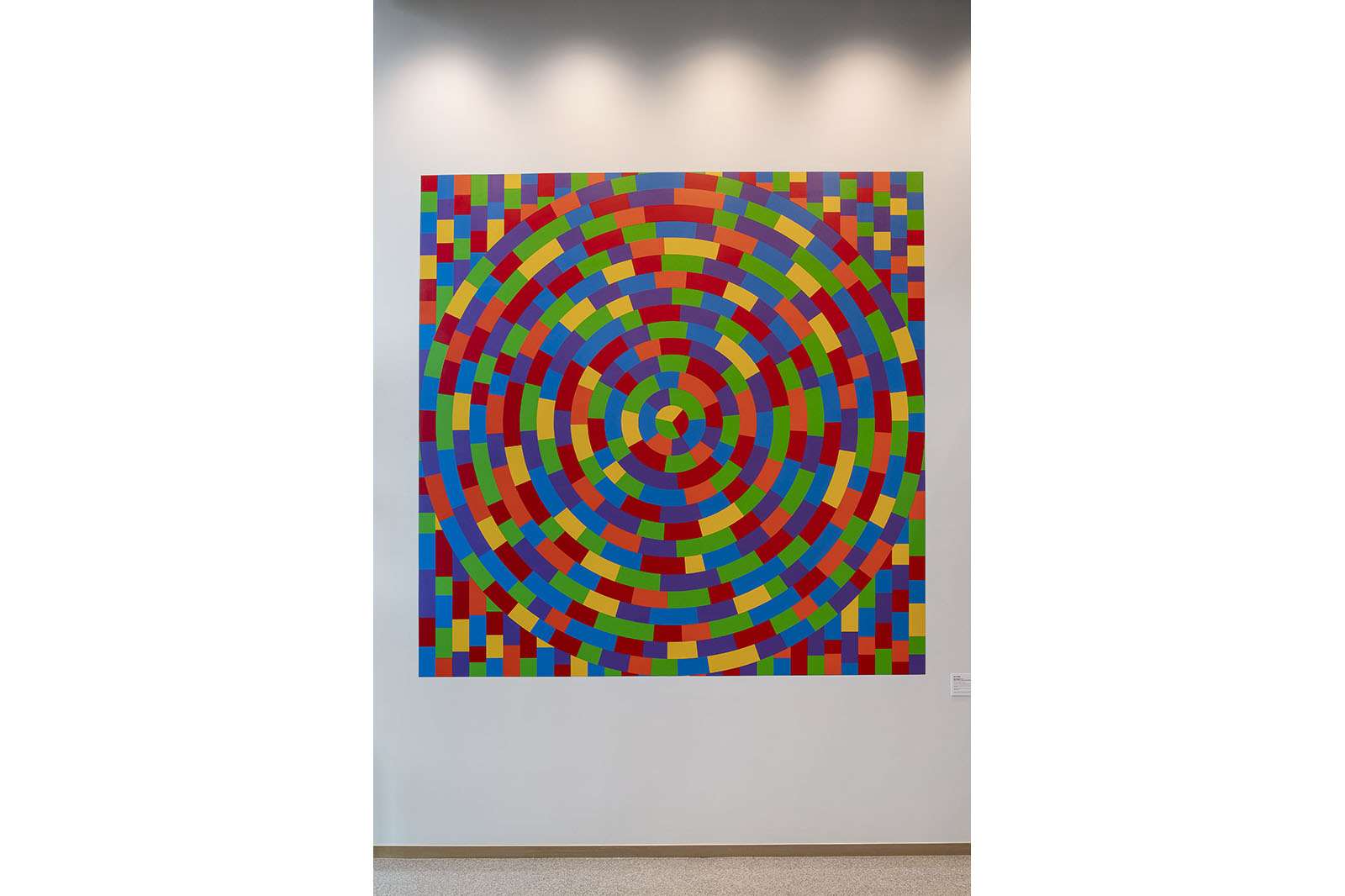 Sol LeWitt
Wall Drawing #1115. Circle Within a Square, Each with Broken Bands of Color, 2004
Acrylic paint, 14' x 14'
First drawn by: Takeshi Arita, Patrick Gavin, Glenn LaVertu, Laura Ostrander, Sara Saltzman. First installation: Museum of Art, Rhode Island School of Design, Providence, RI. February 2004.
Installation at Rice University drawn by: Gabriel Hurier, David Krueger, Cat McCaully, Jacob Villalobos, November 2019
Dean's Commons, Glasscock School of Continuing Studies, Anderson-Clarke Center
A gift to Rice University from H. Russell Pitman '58
Recognized as one of the most innovative and influential artists to have emerged in the 1960s, Sol LeWitt left an enduring mark on both the idea and the practice of art. LeWitt began making wall drawings in 1968 and created more than 1,000 wall-based works during his lifetime, each of which is numbered. Conceptual art privileges the idea inherent in a work of art over its physical execution. Each wall drawing is therefore temporary and can be recreated according to a set of instructions provided by the artist. Like an architectural drawing or musical score, it is uniquely interpreted each time it is installed.
In 1968 LeWitt executed his first wall drawing at the Paula Cooper Gallery in New York. The earliest versions consisted of pencil lines in systematized arrangements of verticals, horizontals, and diagonals. LeWitt eventually engaged teams of assistants, providing minimal instruction, and embraced the ephemeral and unpredictable variations of each installation. Later wall drawings adopted a greater variety of geometric forms, including circles and arcs, and the use of colored pencil, and eventually acrylic paint.
Wall Drawing #1115. Circle Within a Square, Each with Broken Bands of Color is an example of the highly saturated, colorful acrylic wall drawings LeWitt created in the last decade of his life. These large-scale works explore the optical effects of color and pattern. While the playful forms seem almost random, they are drawn according to exact guidelines established by the artist. The bands are a standard width, for example, and no colored section may touch another section of the same color. The vibrant pattern activates the Glasscock School's Dean's Commons, a public space that encourages lifelong learning and the development of new ideas.
About the artist: Sol LeWitt (1928-2007), one of the foremost American artists of the 20th and early 21st centuries, challenged the received art-historical discourse on what defines a work of art. He was born in Hartford, Conn., and later attended Syracuse University where he earned a B.F.A. in 1949. After moving to New York, he worked as graphic designer for architect I.M. Pei while continuing to paint in an Abstract Expressionist style.
LeWitt made substantial contributions to Minimal and Conceptual art, beginning in the 1960s. His writings helped define these new movements. His Paragraphs on Conceptual Art (1967) notably proclaimed: "The idea becomes a machine that makes the art." LeWitt has been the subject of hundreds of solo exhibitions in museums and galleries in the United States and abroad since 1965, and his wall drawings continue to be installed in public and private institutions around the world.
LeWitt has a meaningful history with Rice University. In 1997, he created a site-specific wall drawing, Glossy and Flat Black Squares (Wall Drawing #813), for the Rice Gallery in Sewell Hall. This extraordinary work was re-installed twenty years later, after the artist's death, as the Rice Gallery's final exhibition in 2017.