Image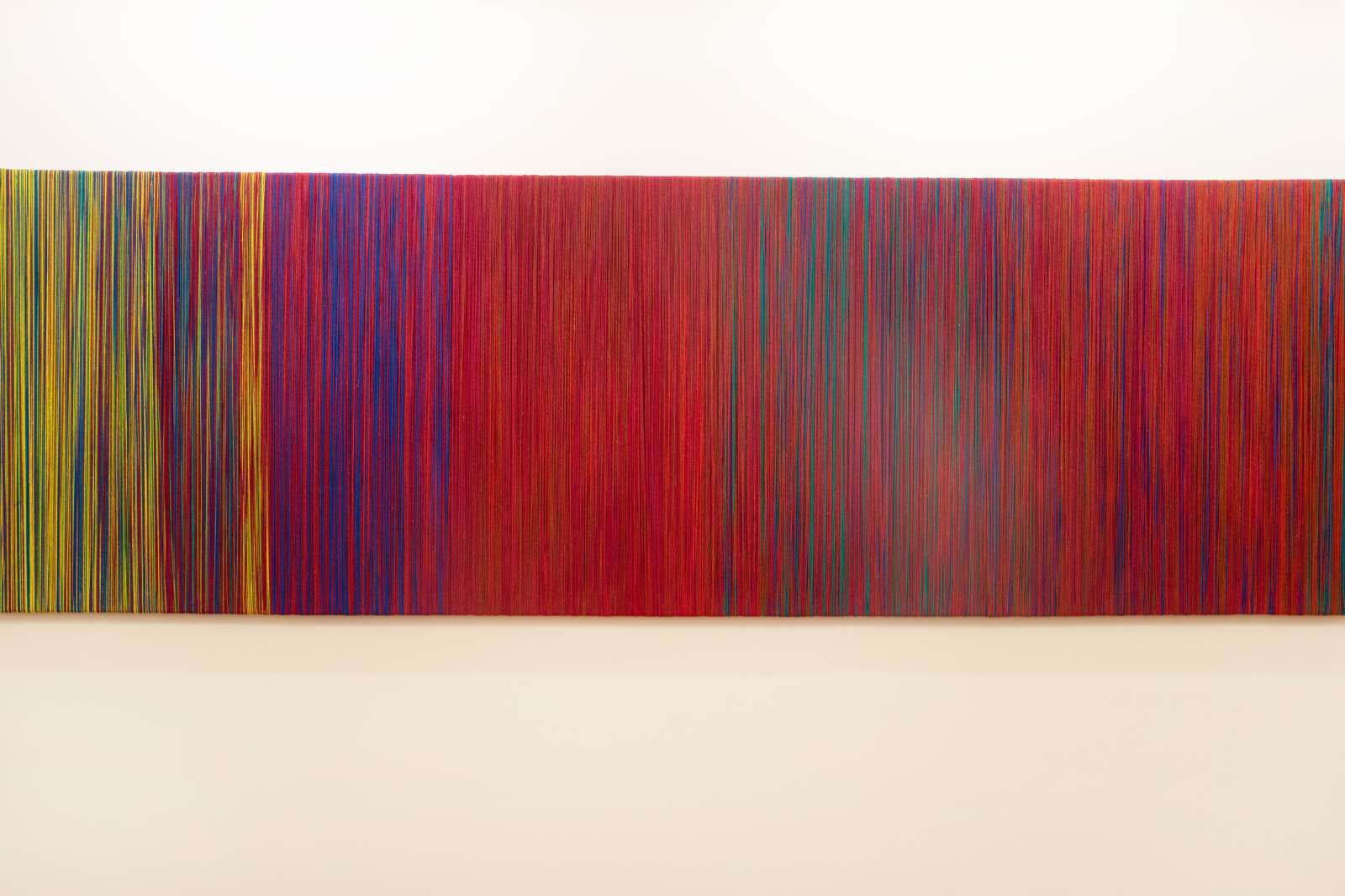 Image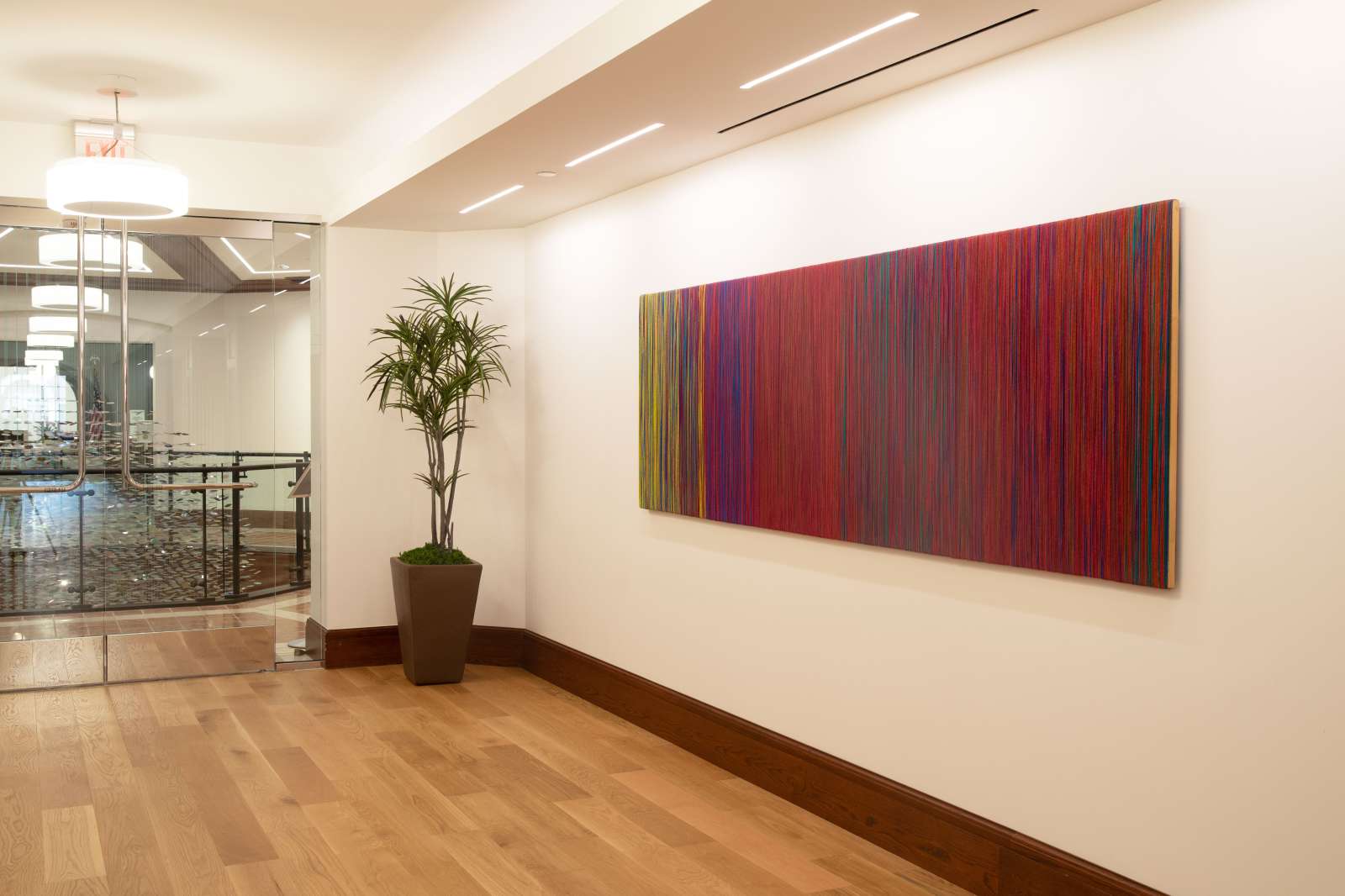 Image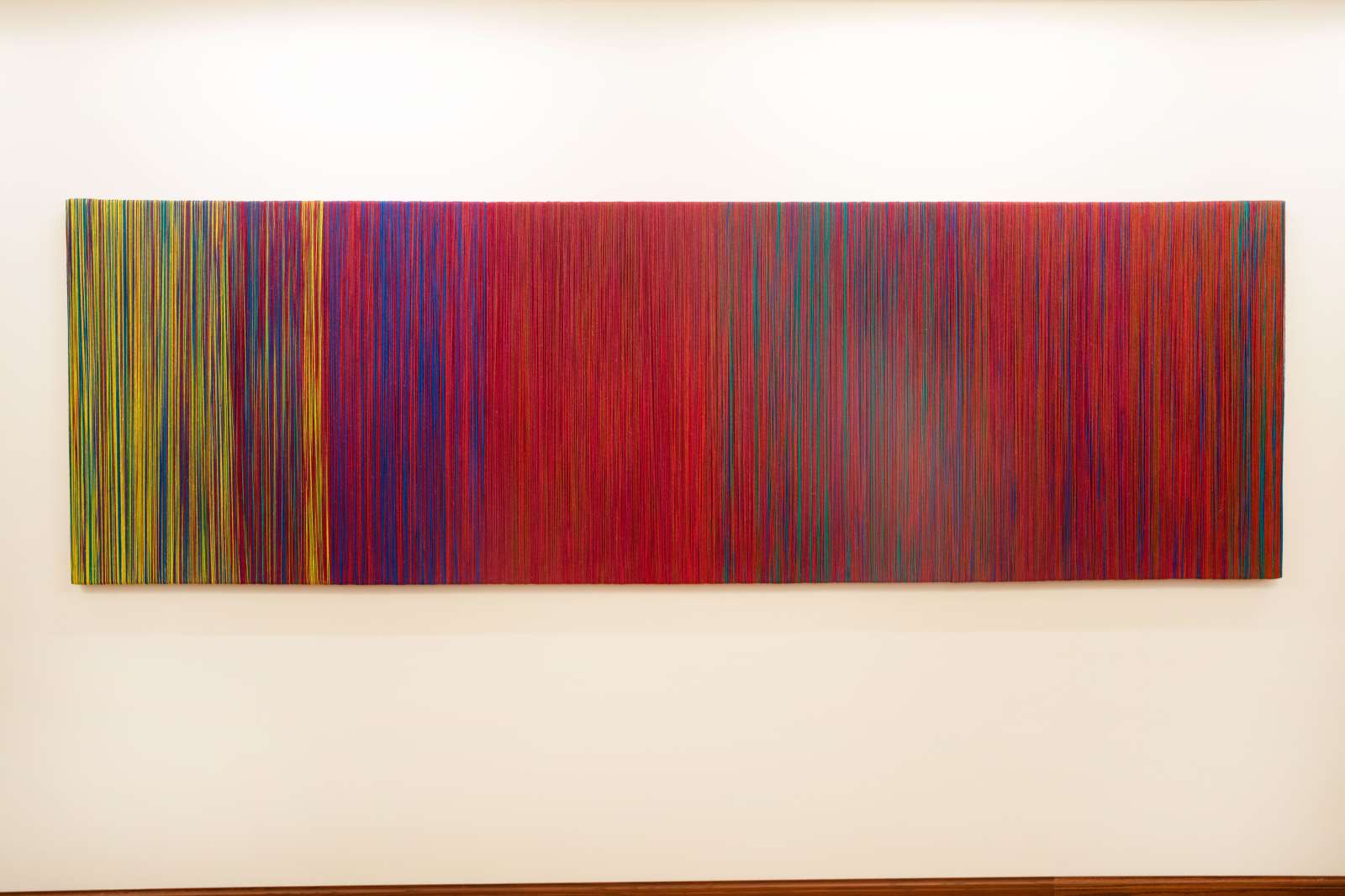 Sheila Hicks
Sheila Hicks
Minerve de la Sagesse, 2018
Linen, wood, metal
Dean's Suite, Jones Graduate School of Business, McNair Hall, second floor
Made possible by the Jones Graduate School of Business
Sheila Hicks is a pioneering artist working with fiber whose vibrant, polychromatic textile works blur the boundaries between painting, sculpture, and craft. Since the mid-1950s she has developed a formal language that combines sculptural, pictorial, and spatial concerns with chromatic abstraction. The investigation of line, color, and fiber has been Hicks's lifelong pursuit. Ranging from monumental installations that can be shown either indoors or outdoors to small-scale interior works, the artist's impressive oeuvre is characterized by tactility and sensuality.
Over the last few years, Hicks has created geometric, fabric-wrapped panels that interact with their architectural surroundings. Minerve de la Sagesse is covered with countless colored threads that occupy the whole surface. Made of red, blue, and yellow hues, the individual strands create a chromatic sequence that constantly shifts depending on your viewpoint. The flamboyant palette and irregular textile surface lighten the rigid geometric format of the panel and give the work a floating appearance. The title playfully alludes to Minerva (Minerve in French), the Roman goddess of wisdom, law, and victory, and the supporter of arts and trade. 
 
About the artist: Sheila Hicks (b. 1934 in Hastings, Nebraska) received her BFA (1957) and MFA (1959) from the Yale University School of Art. where she studied under Josef Albers, the influential modern artist, color theorist, and educator. Travels to South America, enabled by a Fulbright Scholarship, to investigate the artisanal fabrics and techniques of South America early in her career deeply informed her innovative experimentation with fibers. Hicks's work has been shown around the world since the 1960s, and she has created monumental site-specific works for the Ford Foundation in New York; The Duke Endowment in Charlotte, North Carolina; King Saud University in Riyadh, Saudi Arabia; the Fuji City Cultural Center, Japan; and the Institute for Advanced Study in Princeton, New Jersey, among others.
Hicks has been the subject of various solo exhibitions, notably at the Centre Pompidou, Paris, in 2018; at the Nasher Sculpture Center, Dallas, in 2019; and at the Hepworth Wakefield, Wakefield, Great Britain, in 2022. Her fiber sculptures have been shown in numerous group exhibitions such as Artists and the Rothko Chapel: 50 Years of Inspiration, Moody Center for the Arts, Houston, 2021; Surrounds: 11 Installations, Museum of Modern Art, New York, 2020; Beyond Craft, Tate Modern, London, 2018; VIVA ARTE VIVA, Venice Biennale, 2017; and various others.  Hicks's artworks are included in the collections of many international art institutions including the Museo de Bellas Artes, Santiago, Chile; Centre Pompidou, Paris; the Tate Gallery, London; Museum of Modern Art, New York; the Metropolitan Museum of Art, New York; Smithsonian American Art Museum, Washington, D.C. She has received numerous awards, including the Smithsonian Archives of American Art Medal (2010), and she was named a Chevalier de l'Ordre des Arts et des Lettres by the French government in 1987, and elevated to Officier in 1993. Hicks has been living and working in Paris, France, since 1964.